Flash explosion caused by improper cleaning
By ZHAO YIMENG | China Daily | Updated: 2020-08-07 08:58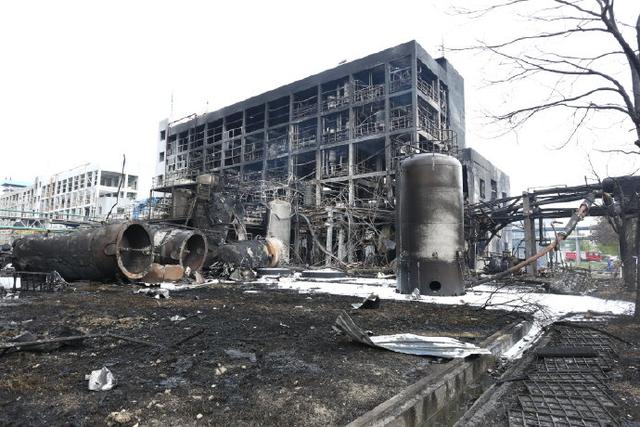 The flash explosion at a chemical plant in Hubei province was due to improper cleaning procedures in the facility, according to a circular released by the Hubei provincial department of emergency management on Wednesday.
The explosion occurred on Monday in a workshop of an organic silicon company in the city of Xiantao, claiming six lives and injuring four people.
According to the investigation, the direct cause of the accident was that the operator didn't comprehensively recognize the safety risks or strictly obey the parking safety measures while cleaning a layered tower at the chemical plant, the circular said.
"The accident mainly resulted from the company's chaotic safety management. The safety law was not implemented," it said.
The ongoing extreme weather in midsummer easily results in safety production accidents in the dangerous chemicals industry.
Affected by both the COVID-19 epidemic and massive floods, most chemical enterprises chose to conduct maintenance, parking and irregular operations in August.
Given the concentrated safety risks, the provincial department of emergency management urged chemical companies to strictly implement safety regulations, especially the supervision of special operations.
"The whole process of special operations should be video recorded and reserved for three months before uploading to a provincial information platform," it said.
The department on Wednesday also issued a circular demanding enterprises motivate their employees to summarize the lists of irregular operations and better recognize the potential safety risks. Workers must obey stringent safety rules amid irregular operation and take emergency measures at once if they find abnormal situations.
Companies specializing in dangerous chemicals are supposed to enhance safety management in the special period by further preventing fire, blasts, thunder, static and toxication. Meanwhile, chemical equipment should be regularly inspected and maintained to prevent accidents, according to the circular.
Tuesday's massive explosion in Lebanon's capital Beirut, which has so far claimed more than 100 lives and wounded thousands, cast a spotlight on the increasing safety risks in China, a big player in the chemical industry with large numbers of ports, harbors and warehouses that involve dangerous chemicals.
The characteristics of the production devices and the mental traits of operators during the hot summer should also be taken into consideration, it added.
The Ministry of Emergency Management plans to launch a national inspection on the safety of dangerous chemical storage during a video conference on Wednesday.
The ministry has organized several supervision teams to inspect 7,600 dangerous chemical enterprises and 22,000 major dangerous sources nationwide, according to a notice released by the ministry.