Fresh rise in virus cases across Europe
By EARLE GALE | China Daily Global | Updated: 2020-08-07 10:20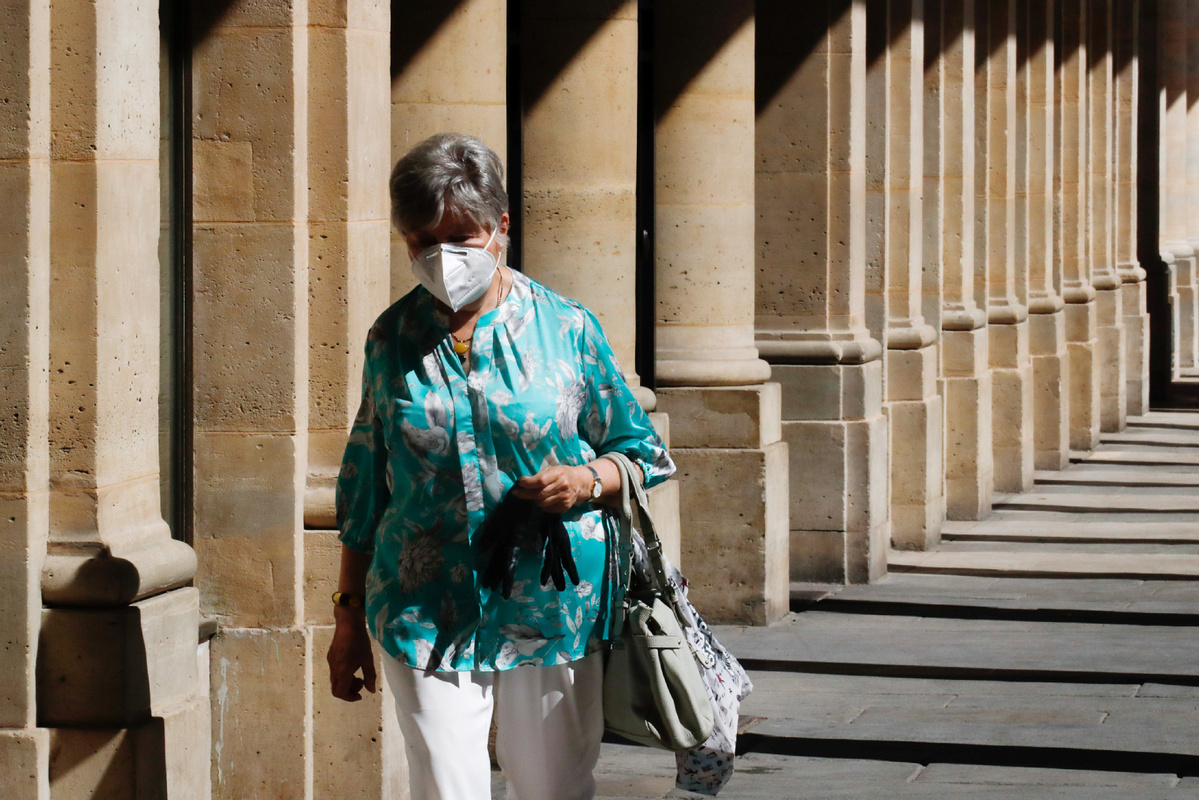 Europe has seen a resurgence of novel coronavirus infections in recent days, with France, Spain, and Greece particularly hard hit.
France recorded 1,695 new cases on Wednesday; its highest daily total for more than two months. While Spain's 1,772 new novel coronavirus infections recorded on Wednesday were the most since Madrid started to ease its lockdown in early June. Greece recorded its highest single-day increase for weeks on Wednesday, when 124 confirmed cases were logged, prompting Prime Minister Kyriakos Mitsotakis to urge vigilance.
The United Kingdom, which recorded 891 new novel coronavirus cases on Wednesday, has sounded repeated warnings about the risk of a full-blown second wave and the government says it could bring in localized lockdowns and even internal travel restrictions if necessary.
The prospect of a tightening of the UK's lockdown will likely have sent shockwaves through the nation's business sector, after months of stagnation during which companies have failed and employees have been laid off. The Bank of England heaped the bad news on the business sector on Thursday when it said Britain's economy will likely take longer than first thought to get back on its feet.
The Reuters news agency said that in announcing it will leave its key interest rate at 0.1 percent, the UK's central bank signalled that it does not expect the economy to get back to pre-pandemic levels until the end of 2021. Earlier, it had predicted a recovery part-way through the year.
It also said unemployment will likely hit 7.5 percent, double recent levels. And it said the British economy will shrink by around 9.5 percent.
The performance of the UK economy is in marked contrast to that of Sweden, which was one of the few nations globally not to bring in a national lockdown in a bid to restrict the spread of the novel coronavirus and COVID-19 disease it causes.
Sweden's economy shrank by 8.6 percent during the April-to-June period, in comparison to the previous three months, according to the Swedish statistics office, which said the country had fared better than other European Union nations that took stricter measures. The EU economy, in contrast, has constricted by 11.9 percent.
But Statistics Sweden said: "The downturn in GDP is the largest for a single quarter for the period of 1980 and forward."
Nordea bank's chief analyst, Torbjorn Isaksson, told the BBC: "It is, as expected, a dramatic downturn. But compared to other countries, it is considerably better, for instance if you compare to southern Europe."
The Swedish economy is forecast to shrink by about 5 percent overall this year.
With the virus hitting the UK's economy hard, job losses are widespread and the nation's recruiters have noted a corresponding sharp rise in the number of people seeking work, the Financial Times reports.
The Recruitment & Employment Confederation, which is also known as the REC, told the paper the increase in the number of people seeking work in July was the largest in its 23 years of record-keeping.
"There is a wave (of unemployment) coming towards us quite quickly now," said Neil Carberry, REC's chief executive.
He said workers who have been hardest hit have been from the hospitality sector and other consumer-facing enterprises.
Citizens Advice added that, during July, it offered one-to-one redundancy support to six times the usual number of people.
But some parts of the economy are doing well, including the biotech sector, which got more good news on Thursday when the UK government and the French biotech company Valneva announced they will each invest 14 million pounds ($18.4 million) in a laboratory in Livingston, Scotland to facilitate the production of 60 million doses of a potential vaccine, creating 75 jobs for scientists.
Business Secretary Alok Sharma said: "I'm incredibly grateful to our highly skilled scientists and technicians in Livingston who are supporting the global effort to research, develop, and manufacture a safe and effective coronavirus vaccine."
But, until such a vaccine is available, prevention of transmission and treatment of those with severe symptoms will be the main areas of focus, and that fight will have to do without 50 million face masks that the government bought in April for 252 million pounds that the National Health Service says are unsafe because they have ear-loop fastenings instead of the safer head loops.
The news that the masks are not fit for purpose is sure to be followed by much criticism of the government's procurement processes.