'Silver web celebs' strike gold online
By Zhang Yi | China Daily | Updated: 2020-08-13 08:46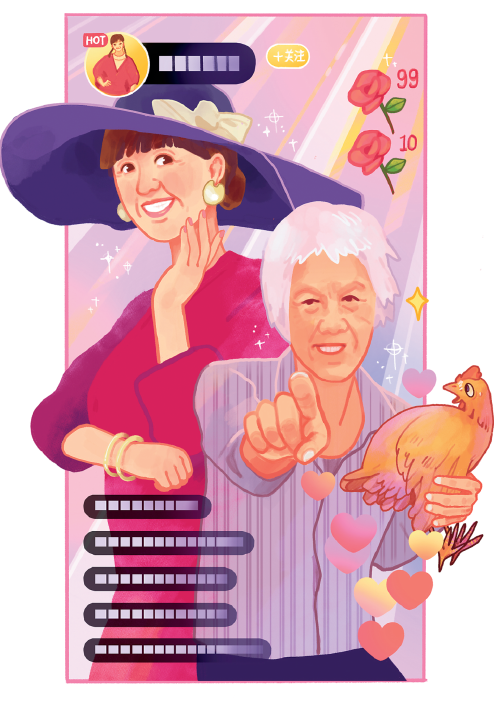 Making short videos with her grandsons has dramatically changed the life of Lao Yaolian, 76, who has spent most of her existence farming the countryside in Beihai, the Guangxi Zhuang autonomous region.
The physical toll of hard work shows on Lao, who has a wrinkled face, short gray hair and walks with a slight stoop. Despite her tribulations, she likes to wear bright floral shirts and has a mischievous sense of humor.
All of this has added up to Lao, who only received two years of primary school education, becoming an unlikely social media star with millions of followers.
Her humorous and heartwarming performances in her grandsons' clips have become popular on short-video applications, including Douyin, Kuaishou and Huoshan. "It makes life in my later years colorful and full of fun," she said.
Lao's "village grandma" videos are each less than one minute long and tell simple stories about her life in the countryside with her two grandsons and other family members.
Popular episodes include grandma receiving gifts from her grandsons, the family discussing who should eat the chicken legs, grandma learning how to put on makeup, and grandma urging her grandsons to find girlfriends.
The everyday interactions between Lao and her grandsons are made even funnier by the way she speaks Mandarin with a strong accent.
The homey nature of the scenes-shot in a farmyard, fields and on country roads-elicit a sense of nostalgia in Lao's fans. Many of her followers say the videos remind them of their own hometowns and grandmothers.
Lao is eager to hear feedback from her supporters and is often astonished that so many people like her clips. She has about 10 million followers on the short-video platforms.
Her supporters even visit her village to meet their idol. Walking on the streets in Beihai, she is often surrounded by people who want to take pictures with her.
Due to her fame, she has been invited as a guest of honor to many events in the city.
However, Lao is not the only elderly social media star who has become popular with younger generations.
Old charmers
The growth of middle-aged and elderly internet users has spawned a batch of "silver web celebs" on video-sharing platforms, who are a welcome relief from the plethora of young and pretty presenters.
A report by Kuaishou confirms that videos featuring middle-aged and senior people are becoming more popular. Last year, shares on Kuaishou of videos made by users born in the 1960s received more "likes" on average per day than other age groups. Videos shared by those born in the 1970s received the most comments from viewers.
Older actors are among the favorite silver web celebs. You Benchang, who in the 1980s played the role of "mad monk" Ji Gong in a famous television series of the same name, started uploading humorous videos last year. The 87-year-old now has about 11 million followers.
However, most silver celebrities are ordinary people without acting experience. Some are signed up with online celebrity management companies, while others simply make videos on their own.
The content of their videos varies: however, most like to buck the stereotype of older people living a sedentary, contented life. Senior online celebrities have exhibited their talents for fitness, cooking or dancing, all of which send a positive message about aging.
Some seniors like to present themselves in groups, most typically a family or couple, in their clips. These videos are often full of homespun wisdom, which helps attract a large number of young followers.
A video of four older women dressed in qipao modeling the traditional attire in an alley topped Douyin's search list last year. Their gray hair and makeup were elegantly styled, indicating that the four women were enjoying a vibrant and sophisticated retirement.
All in their 60s, they formerly worked as a bank executive, university teacher, company employee and engineer. They have more than 3 million followers on social media. "Seeing you age gracefully, I'm not afraid of getting old," was one comment typical of their followers.
Without professional assistance or any formal training, many of the older video producers are learning as they go. Although some of their productions are basic, the amateur producers are still keen to share their videos.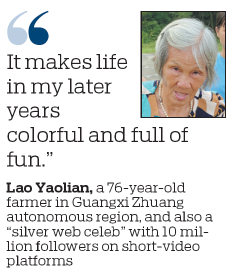 A star is born
In 2017, Huang Shenglong, one of Lao's grandsons, uploaded the first video of his grandmother, which showed her eating jackfruit in a courtyard. People shared the video and it eventually ended up with 400,000 views.
"At that time, there were hardly any videos of old people on social media and my grandma was certainly one of the earliest ones," the 25-year-old said. "Many viewers called her the most popular granny back then."
Huang discovered that his grandmother's great acting "gift" was her ability to keep a straight face while saying something funny. Other villagers admired her acting skills because they couldn't control their laughter.
"Grandma thinks it's just like making a movie, and people around the country can see it on their phones, so she is excited and eager to make more," Huang said.
He said Lao likes watching videos of other older people and compares them to hers. She also contributes story ideas for her own videos.
"The short-video platforms give ordinary rural women like my grandma a chance to shine," Huang said. "When she is recognized by strangers, she is shy but happy," he added.
The majority of fans of "grandma and grandson" videos are young people, Huang said. He believes the reason is because young people in cities don't spend much time with their grandparents, and the videos comfort them.
"The countryside scenery in the videos, including the old tile-roof houses and farmland, also invoke childhood memories for the audience because many villages have been abandoned as cities expand," he said.
Cash me outside
Wang Biyun, also known as "Granny Wang", has 15 million followers on Douyin and is the most popular of the silver web celebs.
The 79-year-old wears high heels and body-hugging skirts and impresses netizens with her Latin-dancing skills during her livestreams to promote various products. She preaches a life of elegance to her followers and offers tips to young women on how to keep fit and manage their personal relationships.
In April, Wang sold makeup worth 5.3 million yuan ($756,800) during an eight-hour livestream, a sales record for social media celebrities of all ages.
At the other end of the spectrum is 80-year-old villager Cui Shuxia from Taipingbu village in Xi'an, Shaanxi province. In May, she became an online celebrity when she helped her grandson livestream the sale of homegrown apricots. Memorable lines from Cui during the livestreams included "Let me try one for you, although I've lost my teeth".
She also recounted the history of apricot trees in her village and her growing them. Netizens were charmed by Cui's humorous and natural way of speaking.
Her grandson does the majority of the livestreaming, but when she appeared on the show sales skyrocketed. About 8,000 boxes of apricots were sold in a week.
The earnings of the grandma-and-grandson streams come from bonuses given by the platforms for original works, along with rewards from viewers and advertisers.
Products are placed in the video stories and one advertisement can earn tens of thousands of yuan, according to Huang.
"The money is not bad," he said, "But we have to keep updating every day to maintain our popularity and fans. Each episode takes about two hours to finish."
Huang said the team wants to do more to promote local farm produce and tourism places to their followers through videos and livestreams.