War against food waste heats up
By XING YI in Shanghai, XIN WEN in Xi'an, ZHU LIXIN in Hefei, and ZHANG YU in Tangshan, Hebei | CHINA DAILY | Updated: 2020-08-17 07:47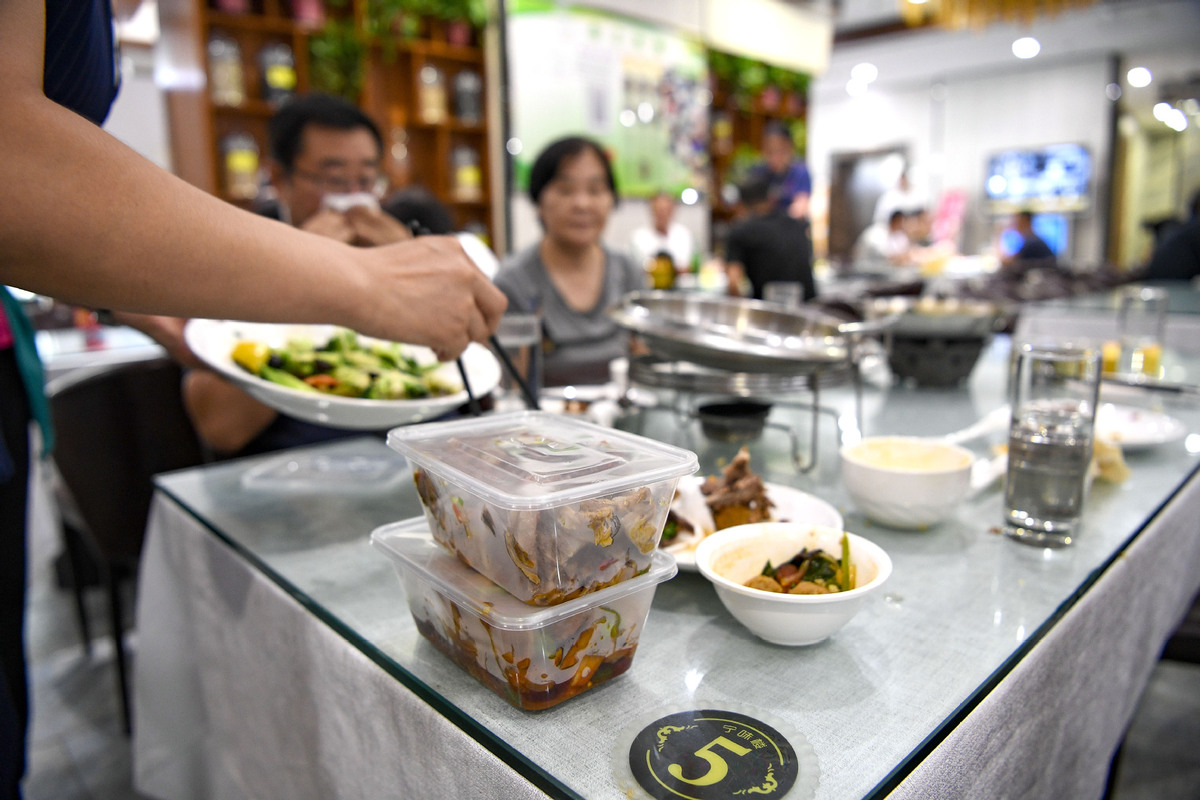 Series of campaigns launched nationwide
After a satisfying lunch, Qian Bingkun and his wife watched a waitress pack their leftover stir-fried tofu and dessert into takeout boxes as their daughter paid for the meal.
"You've upgraded the appearance of your to-go boxes, right?" Qian, 80, asked the waitress at the Yongmama restaurant in Lubei district, Tangshan, Hebei province, on Thursday.
Busily packing the uneaten food into a microwaveable box bearing a design of traditional blue-and-white Chinese porcelain, the waitress replied, "Yes, it's to encourage customers to take leftovers after they've eaten."
Qian said: "Good! Very good! Too much waste should be avoided."
Dong Xiujie, the restaurant's manager, said a series of measures have been introduced to remind customers not to order too much food. The slogan "food is a gift from nature, let's not waste it!" adorns a wall at the eatery.
Some measures were first rolled out two years ago when the 22-table restaurant noticed that leftovers each day amounted to more than 250 kilograms.
"Some food had hardly been touched, because customers were used to ordering more than they could eat to show their generosity," she said, adding that the measures have succeeded, as the amount of daily leftovers has since halved.
Campaigns against food waste were launched nationwide after President Xi Jinping on Tuesday reiterated the need for greater awareness of the risks posed to the country's food security and called for resolute efforts to promote thrift and combat food waste.
Citing the words of a Tang Dynasty (618-907) poem-"Who knows that of our meal in the dish, every grain comes after hard toil?"-the president urged the nation to constantly be aware of huge food wastage despite consecutive years of bumper grain harvests. The impact of the COVID-19 pandemic had sounded alarm bells, he said.
Xi, also general secretary of the Communist Party of China, has made a number of remarks on safeguarding food security and halting food waste.
In 2013, he said, "Food waste in the catering sector is shocking and distressing, as a large number of people are still experiencing poor livelihoods … Food waste must be stopped, and the virtuous tradition of thrift should be promoted."
In 2018, during an inspection tour in Heilongjiang province, he said, "The rice bowl of the Chinese people, in any situation, must be firmly held in our own hands."
Responding to the president's call, restaurants, trade associations and local governments have come up with measures to reduce food waste.
The China General Chamber of Commerce, the China Cuisine Association and the China Hotel Association jointly proposed that the catering industry should curb food waste and promote thrift.
In Hubei province, the Wuhan Catering Association suggested that diners adopt the "N-1 mode", meaning that if they eat together, they should order dishes as though there was one fewer person in the group.
In Shaanxi province, the Xi'an municipal commerce bureau called for local eateries to provide smaller dishes or to serve half portions to avoid waste.
In the Yaohai district of Hefei, Anhui province, local authorities used more than 500 volunteers to distribute leaflets about table etiquette, including taking away leftovers and using serving chopsticks to select food from shared dishes. The leaflets went to more than 2,300 eateries.