Partnership triumphs in testing time
By LI XINFENG | China Daily Global | Updated: 2020-08-20 07:50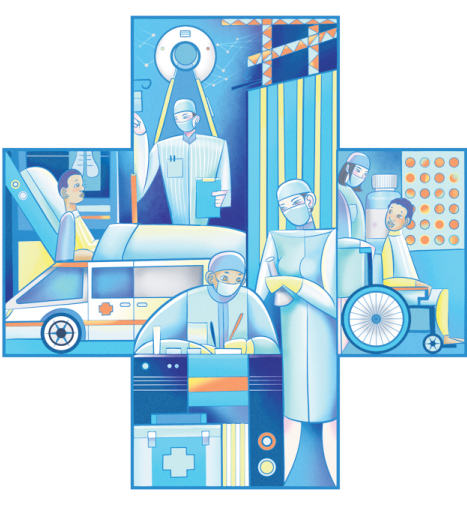 Working together to combat the pandemic, relations between China and Africa have transcended the volatile uncertainties roiling the international political landscape
Cooperation on medical and health services has been one of the priorities of China's relations with Africa since the middle of the last century. But the outbreak and spread of the novel coronavirus has highlighted the significance and necessity for strengthened medical and health cooperation between China and Africa. The Extraordinary China-Africa Summit on Solidarity Against COVID-19, held online in June, enabled Africa and China to uphold their traditional partnership while providing the incentive to explore ways to realize a China-Africa community of health, which can help advance China-Africa relations in the new era and help guarantee the establishment of a community with a shared future for all humankind.
Regarding infectious diseases, China adheres to the principle of "prevention first, combined with further treatment". Through prophylactic vaccination and public health campaigns, the incidence rate of infectious disease in China has been reduced, and the prevalence and spread of infectious disease have been effectively controlled.
China's experiences in the prevention and control of infectious diseases can be summarized in three steps. First, targeted prevention and treatment. By means of combining Chinese traditional medical with modern medical science, as well as national mobilization, China has adopted targeted approaches to the treatment and prevention of infectious diseases in different areas, which has prevented the spread cholera, the bubonic plague and leprosy. Second, national immunization. The national immunization program now provides vaccines for 15 infectious diseases which covers both children and adults.
Third, public health campaign. By means of exterminating pests and eliminating diseases, providing health education, improving the quality of drinking water and sanitation in public urban areas and rural areas, China has effectively reduced the threat of infectious diseases.
By dispatching medical teams, China has fulfilled its international obligations. These medical teams are dispatched according to bilateral agreements reached between China and different African host countries. These medical teams are dedicated to providing free medical services, including Chinese traditional medical treatments to local people. By 2018, China had dispatched over 20,000 medical workers to 47 African countries to provide medical and health services to more than 220 million Africans. Acupuncture therapy, which is well-known for its low cost and effectiveness, has been widely welcomed among African patients.
Ever since the 1970s, China has been dedicated to improving the medical infrastructure in Africa. By 2014, China had helped build about 80 medical facilities, including general hospitals, mobile hospitals, community healthcare centers, specialist clinics and Chinese medical centers. These have not only effectively eased the pressure on medical facilities in the recipient countries, they have also brought medical equipment and medicines.
During the outbreak of Ebola in West Africa, China provided four rounds of assistance to African countries at the epicenter of epidemic. Since the novel coronavirus outbreak, China has sent medical experts to 11 African countries to share their expertise and experience.
China-Africa cooperation on public health is one of 10 areas specified in the cooperation plan adopted at the 2015 China-Africa Cooperation Forum on China-Africa Cooperation (FOCAC) Johannesburg Summit and one of the eight major initiatives declared at the 2018 FOCAC Summit in Beijing. The novel coronavirus outbreak demonstrates the importance and urgency for China and Africa to strengthen their cooperation in healthcare. The following recommendations could be taken into consideration to strengthen cooperation between two sides.
First, China-Africa cooperation should improve the public health systems in Africa. China should support African countries establishing effective public health systems, which they are now commonly lack, and promote the dissemination of public health knowledge. Both sides should cooperate on the prevention, control and monitoring of infectious diseases commonly found in Africa, with AIDS, malaria and tuberculosis as the priorities.
Second, China-Africa health cooperation should be conducted in terms of both software and hardware. Regarding the hardware, their less-developed medical infrastructure and shortages of medical facilities are common challenges to African countries. Concerning the software, insufficient talent reserves and lack of technology application are also a practical frustration for African medical and health services. In this regard, China should help Africa to build medical facilities, including the headquarters for the Africa Centers for Disease Control and Prevention (Africa CDC), and promote the integration of high-level medical experts and high-end technology into African countries' medical and health services.
Third, China-Africa cooperation should focus on capacity building. For decades, China has trained a large number of medical professionals for Africa, but the number is far from being enough. For this purpose, China should help African countries foster public health management professionals and medical staff, and increase the transfer of public health technology.
Finally, China-Africa cooperation should promote the development of African public health industries. China-Africa cooperation should combine aids with investments and integrate the development of public health services with African industrialization, which can give more incentives to guide Chinese pharmaceutical and medical companies to invest in Africa. This will not only enhance the capacity of Africa's public health services, but also facilitate Chinese medical and health industries to go overseas along the routes of the Belt and Road.
The author is the executive president of the China-Africa Institute and the director-general of the Institute of West Asian and African Studies at the Chinese Academy of Social Sciences. The author contributed this article to China Watch, a think tank powered by China Daily. The views do not necessarily reflect those of China Daily.