COVID-19 test wins Chinese scientists UK award
By ANGUS McNEICE in London | China Daily Global | Updated: 2020-08-21 11:57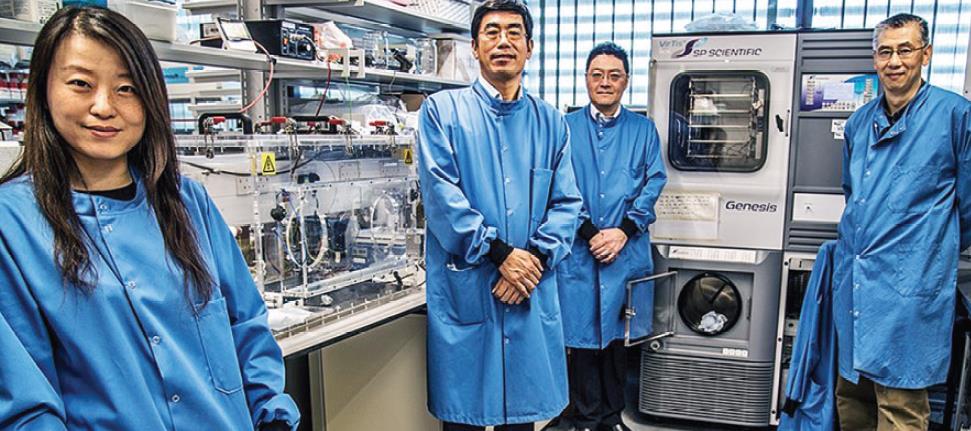 A team of researchers based in China and the United Kingdom has received an award from the UK's Royal Academy of Engineers for the development of a rapid COVID-19 test that provides results in half an hour.
The test, which is called Oxsed RaViD Direct, will soon be commercially available and could have a large impact on the fight against the spread of the virus, allowing for inexpensive, swift testing without specialist equipment in homes and offices and in public areas such as hospitals, ports of entry, schools and universities.
The team is led by two Chinese professors at Oxford University-chemical engineer Cui Zhanfeng and synthetic biologist Huang Wei. Cui said that widespread availability of such rapid, uncomplicated testing will aid "returning to work and education" and is "crucial to economic recovery globally".
"Our test is ideal for use in community or field settings by lay persons and allows immediate decisions to be made," said Cui, who is founding director of the Oxford Suzhou Centre for Advanced Research, which is a partnership between Oxford University and the Suzhou Industrial Park in Jiangsu province.
The team of 13 scientists, the majority of whom are Chinese, first began work on the test in late January and published initial results in March. When clinical sampling at Shenzhen Luohu People's Hospital in China proved its methods successful, the team formed a social venture spinout, Oxsed Limited, which is now in discussion with large pharmaceutical and medical device companies with hopes to mass-manufacture the tests.
The test is also undergoing evaluation by global companies as a return-to-work test, by border control authorities for screening passengers, and by clinics in the UK, China, Greece and India.
The test works by isolating and amplifying genetic material from the novel coronavirus in saliva samples or mouth or nose swabs. The team chose a form of amplification called reverse transcription loop-mediated amplification (RT-LAMP) to detect viral RNA, rather than the more commonly used polymerase chain reaction (PCR) process. Cui said RT-LAMP is advantageous because it is quicker than PCR, and reactions take place at one constant temperature, whereas PCR requires adjustments in temperature and more machinery.
In the test, a sample is deposited in a tube that contains reagents. The tube is then heated at 65 degrees celsius for 30 minutes, after which results are revealed by a color change in the liquid.
Cui says the test is so simple that it could eventually be used in people's homes, and would be particularly transformative in developing countries with limited laboratory resources. The test will cost no more than 20 pounds ($26.20) per unit, according to Oxford University, which is considerably cheaper than most of the products currently on market. A screening program recently announced by aviation companies in the UK plans on charging 150 pounds for a test, while some private clinics in London charge upwards of 300 pounds.
This week Cui, Huang and their colleagues were among 19 teams to win a President's Special Award for Pandemic Service, bestowed by the Royal Academy of Engineers in recognition of "exceptional engineering achievements in tackling COVID-19 throughout the UK".