Nation tackles drinking water problem
By LI LEI | CHINA DAILY | Updated: 2020-08-22 07:17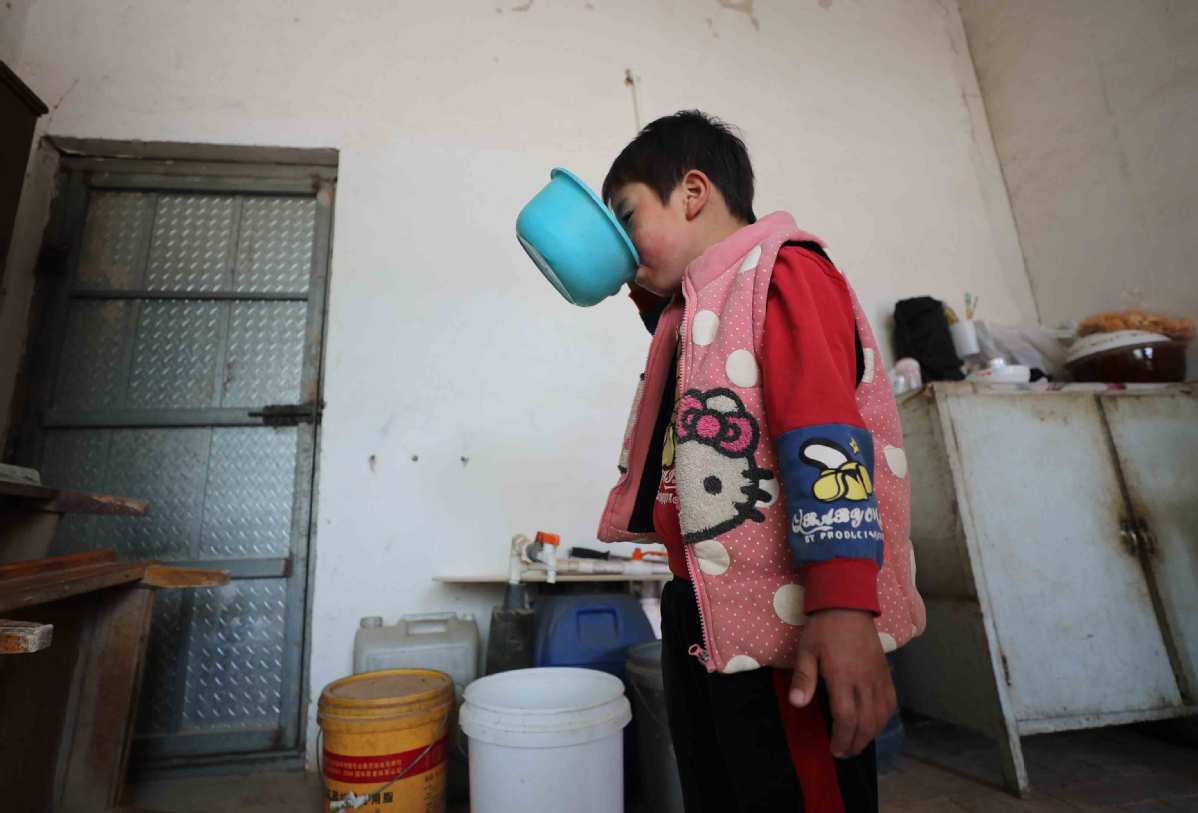 Vice-minister of water resources Tian Xuebin said on Friday that they have "comprehensively" tackled the safe drinking water issue facing impoverished communities.
Tian told a news conference held by the State Council Information Office in Beijing that more than 80 percent of the rural population has access to tap water, and the quality of the water supply has increased significantly.
"Poor farmers have bid farewell to an era when they have to wrestle with drinking water shortages and search for water supplies," he said.
The rest of the rural population, mostly inhabitants of mountainous regions or plateaus where large-scale water projects prove impractical, have all reached reliable supplies through cellars, wells and a host of smaller facilities, his subordinate Chen Mingzhong said at the conference.
The announcements came in the latest sign that China is winning its antipoverty battle as planned, despite the domestic COVID-19 outbreak earlier this year and the more recent massive flooding in southern provinces, which have caused delays to water and other poverty relief projects.
The push for safe drinking water in rural areas is a crucial component of the nation's antipoverty drive, which aimed to scrap domestic poverty and build China into a "moderately prosperous society in all respects" before 2021, the centenary of the Communist Party of China.
The campaign against absolute poverty, which gained momentum as early as in 2012, has also moved to bolster the access to compulsory education, affordable healthcare and safe housing among rural poor.
Figures offered by the ministry show China had pumped 198 billion yuan ($28 billion) into rural water projects by end of July, which has benefited 256 million farmers, including 17.1 million impoverished ones.
To facilitate the campaign, the ministry has rolled out detailed standards describing what is safe drinking water in different regions.
For example, in water-rich provinces in China's south, the per capital water supply needs to reach 35 liters per day to fulfill that goal, whereas the number is 20 liters in dry regions.
Areas with centralized supply should stick to the established water treatment standards, while for regions where smaller projects are prevalent, safe drinking water should be free from visible impurities and won't cause health issues if consumed over the long run.
Despite the progress, Tian noted the water supply situation in rural areas is still in its primary stage due to several reasons, including uneven distribution of water resources.
The ministry would continue to consolidate water supply capacity in rural areas to ensure reliable water supply, and ensure poverty relief results stand the test of time.