China is winning hearts of international students through soft power
By Dambar Bahadur Sunar | chinadaily.com.cn | Updated: 2020-08-31 16:07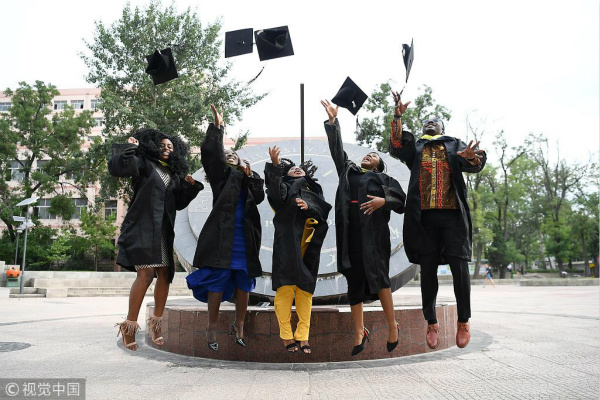 China has demonstrated an amazing feat in achieving development in the past decades. China's opening-up heralded its entry into the world arena. Within four decades, China has now become a major player in the global order. In 1980, China was United States' 24th largest trading partner, the 16th largest export market, and the 36th most extensive import source. Currently, China is the second-largest economy in the world, and will soon surpass the US.
According to the National Bureau of Statistics, the number of people living in poverty has fallen from 100 million in late 2012 to 16.6 million by the end of 2018, and by 2020, China will become a "moderately prosperous society" in all respects.
The remarkable position where China stands today is because of hard work, relentless effort, disciplined population, and visionary leadership. The dream of leadership becomes the dream of the whole of China and people. Napoleon Bonaparte said, "China is a sleeping giant. Let her sleep, for when she wakes, she will move the world." Bonaparte's prediction has become a reality.
There is a practice of labeling soft power and public diplomacy distinctly in many countries. In contrast, China defines and constructs the political and cultural narrative based on cultural values and norms.
The world order is preferring soft power influence rather than hard power in the present era. The proponent of soft power, Joseph Nye, has defined it as "power is the ability to influence others' behavior to get the outcomes you want." The medium of soft power can be culture, education, and diplomacy.
Chinese have historically had a vast network for promoting this kind of influence. China's economic progress has been dominated by anchored growth in its cultural and diplomatic power globally. There are various big programs such as the Belt and Road Initiative, Made in China 2025, Chinese Dream, and China Standards 2035, which have been unpacking the hope of the Chinese global leadership role in an international order.
According to the Ministry of Education, in 2018, 492,185 international students from 196 countries pursued higher education in China. In early 2000 there were 36,000 overseas students, which rose to 240,000 in 2010. The highest number of students comes from Asia, which accounts for 59.9 percent, whereas Oceana holds 1.27 percent. In 2001, few students came to China for higher education, but in 2017, China became the third destination of international students after the US and the UK, accounting for 10 percent.
International students are the goodwill ambassador of their respective countries, and they are means to play a significant role in flourishing relations between two nations through track-2 diplomacy. In this regard, China seems to be very scientific and progressive.
Therefore, students pursuing higher education in China are treated with respect and care not only by the faculty but also from their colleagues. The significant section of international students is given prestigious scholarships. The pedagogy and the education system hold a scientific approach and practical basis.
As China has been doing noteworthy enhancements in science and engineering technology, overseas students are highly fascinated and wish to pursue higher education in China. International students are attracted to China for higher education because of its infrastructure and development. Most of the students and visitors from developing countries feel excited and overwhelmed when they first land at the airport.
People who visit around will have an opportunity to learn how China has maintained its development by preserving cultural aspects and nature. China has become the source of trade for most of the developing nations. People and political leaders from different countries are getting aware of Chinese culture, traditions, societies, economy, and development. Therefore, China is trying to focus on winning the hearts of today's youth and future leaders across the world.
The author is a Doctoral fellow in International Relations at Central China Normal University, Wuhan, China.
The opinions expressed here are those of the writer and do not necessarily represent the views of China Daily and China Daily website.