The artist behind Pixar's latest hit animation
By Xu Fan | China Daily | Updated: 2020-09-03 07:30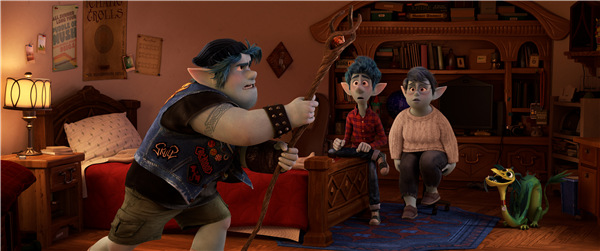 When Pixar Animation Studios' shading artist Tang Lan, a Shanghai native who graduated from the San Francisco Art Institute, heard director Dan Scanlon sharing his inspiration for the film Onward, she couldn't hold back her tears.
As the latest and 22nd feature produced by Pixar and distributed by Disney, Onward was released across Chinese mainland theaters on Aug 19, and received plaudits, exemplified by a score of 7.7 points out of 10 on the country's popular review site Douban.
"Onward is rooted in the director's own life. It resonates with me, and has stirred me to explore my own past," says Tang, during a telephone interview with China Daily.
Perhaps best known for Pixar's animated film Monsters University, Scanlon lost his father when he was about a year old. He and his 3-year-old brother were raised by their single mother in suburban Detroit.
His late father had remained a "mystery" to the siblings. That changed when a cassette tape sent from a relative helped Scanlon and his elderly brother-who were respectively 16 and 18 years old then-by giving them a rare glimpse of their father for the first time.
Recorded on the eve of their parents' wedding in the 1970s, the tape mostly contains the conversations of their mother's and father's parents. But when Scanlon heard the two simple words-"hello "and "goodbye"-from their late father, it was like a magical moment.
Onward is built on this sort of sad, yet also heartwarming, theme. Set in a suburban fantasy world, the tale fictionalizes two sibling elves, 16-year-old introvert Ian and his fun-loving brother, 19-year-old Barley.
With a wizard's staff, a spell and a gem, the siblings try to bring their late father back to life to spend one more day with them. Unfortunately, the magic goes awry and only conjures half the father, his legs, forcing the brothers to embark on a quest to find out if there is still a little magic left to bring the rest of their father back.
For Tang, who started working at Pixar in 2008, the film is reminiscent of her own life.
As her parents were assigned to work in Urumqi, Northwest China's Xinjiang Uygur autonomous region, she had grown up with her father's parents in Shanghai, barely seeing her father and mother before she was 10.