China's answer to global data security
By Pan Yixuan | China Daily | Updated: 2020-09-12 09:51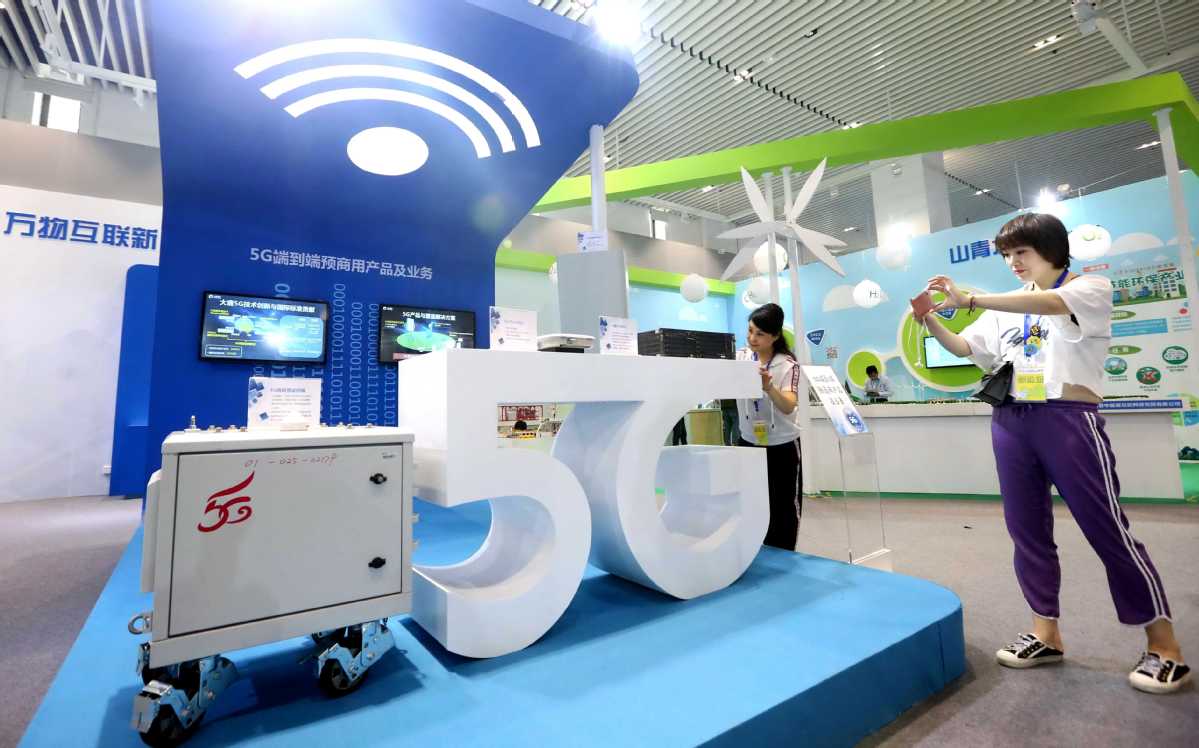 Editor's note: China launched the Global Initiative on Data Security at a seminar on global digital governance on Tuesday. Two experts share their views on the initiative with China Daily's Pan Yixuan. Excerpts follow:
Collective action needed to secure all types of data
The United States had started discouraging the use of Chinese telecommunications technology and equipment much before it launched a "Clean Network" program last month. At a meeting in the Czech Republic in May last year, for example, the US tried to issue a non-binding statement, titled "Prague Proposals", against Huawei, China's telecom giant and world leader in 5G technology.
Washington fears that Beijing might challenge it as the world's leading digital economy due to its rapid development in information and communications technology (ICT). So it has launched a vicious attack against Chinese high-tech sectors, supply chains and social media apps.
The Global Initiative on Data Security unveiled by State Councilor and Foreign Minister Wang Yi on Tuesday is a reply to the "China threat" theory that the US has been hyping up to stigmatize China. Among the US' unfounded allegations is one claiming Chinese high-tech equipment and apps have "backdoors" which can be used by the Chinese government to access the data of global users.
Cyberspace is now an integral and important part of the international community and global economy, with ICT, especially big data, playing a vital role in national security. And a complex connection has been established between multiple domains, compounding the big-power games, particularly in cyber-related issues, due to advances in science and technology.
Data security is a multi-level project that concerns not only individuals' privacy protection-the most discussed topic today-but also cross-border data flows which could compromise economic and national security. Similar to production factors, data flow is necessary for the development of the digital economy. Yet the national regulations to guide and monitor them are still in their early stage. Also, unified international rules to safeguard global data security are not in place.
The European Union took the initiative in data protection with the General Data Protection Regulation, which is aimed mainly at securing individual data security. And the EU and the US have been making efforts to facilitate data transfers.
China, on its part, initiated data protection by issuing the draft Measures for Data Security Management and launching security management pilot projects of cross-border data transmission in 28 provinces and cities for three years.
The international community has been trying to safeguard data security by conducting experiments and exploring new avenues amid big-power games. In June 2020, the World Economic Forum released a report, Data Free Flow with Trust: Paths towards Free and Trusted Data Flows. But different national conditions and governance philosophies have made global coordination on data security very challenging. For instance, China regulates data flow based on data risk levels while the EU's regulations are based on the concept of equivalent protection.
China's initiative demonstrates its willingness to contribute to global data security regulations. Next, the follow-up work to push forward China's proposals is also very crucial. Despite all the major differences, the international community needs to work together to build an open, fair and non-discriminatory business environment, and maintain the supply chain security of global ICT products and services, for everyone to benefit from the digital economy.
As such, China outlined three principles to address the risks and challenges to data security: multilateral cooperation, security and development balance, and fairness and justice.
Talks should continue on how to protect data globally
The information society is in transition from the world of internet to the world of artificial intelligence. Technological progress has made life more convenient, but it has also created problems of privacy protection, data application and data security.
The global data security initiative shows China's perspective about data security.
The internet, in a way, is an outcome of globalization and hence, the problems its development has given rise to are global issues. Proposing the initiative, Wang Yi said, "the mounting risks of data security have put national security, public interests and personal rights at stake, and posed new challenges to global digital governance".
Yet China's data security initiative is not a countermeasure to the US attacks against China. Instead, the initiative should be considered China's suggestions to deal with global problems such as massive cross-border data flows, divergence of data laws and regulations in different countries, politicization of security issues, and the double standard resorted to by Western countries.
China has also proposed that the principles of multilateralism be upheld, security and development be balanced, and fairness and justice ensured. As Wang said, we "hope the Chinese initiative will serve as a basis for international rules-making on data security and mark the start of a global process in this area".
China's proposals reflect the country's practical concerns and open-mindedness.
The international community has not reached a consensus on basic issues such as what data can be developed and used, where to draw the line between over-protection and insufficient protection of data. So all countries should continue negotiating to build mutual trust for a global digital governance order.
Lang Ping, a research fellow at the Institute of World Economics and Politics, Chinese Academy of Social Sciences.
Huang Chengqing, vice-president of the Internet Society of China.
The views don't necessarily represent those of China Daily.
If you have a specific expertise and would like to contribute to China Daily, please contact us at opinion@chinadaily.com.cn, and comment@chinadaily.com.cn