Deeper Russia ties vowed to face challenges
By Ren Qi in Moscow | China Daily Global | Updated: 2020-09-14 09:39
China's foreign minister pledges even closer collaboration on global issues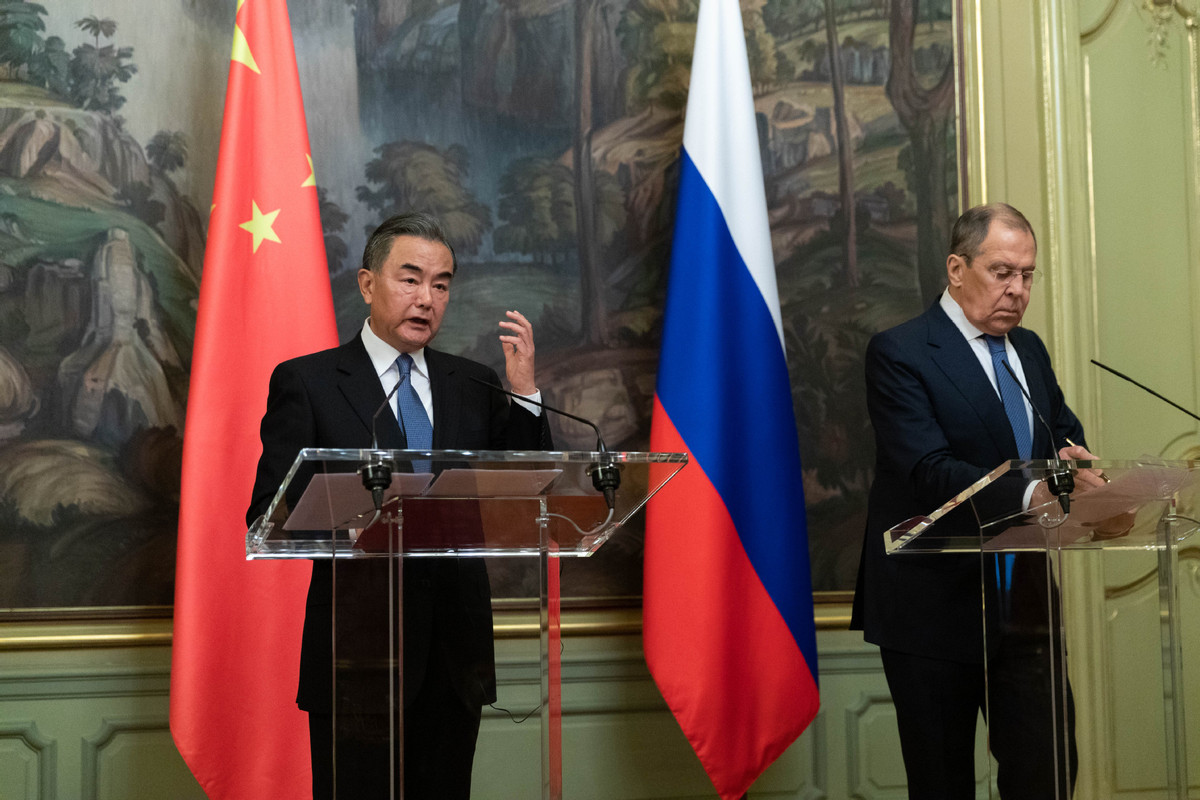 China is ready to work with Russia to make comprehensive preparations for future high-level interactions and plan for further cooperation on a range of areas, Chinese State Councilor and Foreign Minister Wang Yi said in Moscow.
Wang made the remarks during a meeting with his Russian counterpart Sergei Lavrov on Friday before departing for Kazakhstan. China and Russia later published a joint statement by the two foreign ministers that presents the two countries' common stance on global challenges.
It was the last meeting that Wang had with Russian officials on the three-day visit. On Thursday, he participated in a meeting of the Shanghai Cooperation Organization Foreign Ministers Council in Moscow. On the same day, he met his counterparts: Abdulaziz Kamilov of Uzbekistan, Shah Mahmood Qureshi of Pakistan, Sirojiddin Muhriddin of Tajikistan and Subrahmanyam Jaishankar of India.
Wang and Lavrov had in-depth discussions on international and regional issues of common concern, and met the media together after the talks.
Wang said that China and Russia have firmly backed each other in the international arena, defending both countries' rightful interests, and effectively responding to the attacks and defamation from extremist forces in the United States.
Lavrov said Russia is willing to closely interact with China to push forward important events on bilateral and multilateral agendas, and deepen cooperation in various areas to inject new impetus into ties.
The US has been taking destructive steps by following a Cold Warstyle "Indo-Pacific strategy" in the Asia-Pacific region, he said. The discord that the US has created among countries in the region has caused rifts and even confrontations, Russia's top diplomat said.
Russia stands ready to strengthen strategic coordination with China, and attaches importance to the central role of the Association of Southeast Asian Nations in regional cooperation as part of joint efforts to maintain regional peace and stability, Lavrov said.
Under the strategic leadership of China's President Xi Jinping and his Russian counterpart Vladimir Putin, bilateral ties have withstood the tests of the COVID-19 pandemic and the changing international situation this year, Wang said, adding that in both countries, economic and social activities are returning to normal and the governance capacity has grown to a new level.
As this year marks the 75th anniversary of the end of World War II and the founding of the United Nations, the two countries have jointly preserved the outcome of the victory in World War II, maintained the core position of the UN, upheld international fairness and justice, and served as a stabilizer in volatile international situations, he said.
Both countries should continue their close coordination, better cooperate in epidemic prevention and control, explore new ways of cooperation amid the pandemic, and facilitate the cross-border movement of people and freight, he said.
Cybersecurity efforts
Cybersecurity is an important area of bilateral and international cooperation. Some countries are using their technological advantages to brazenly monitor other countries and steal their information, he said.
China recently proposed the Global Initiative on Data Security in response to these common concerns about data security and with an aim to create international rules on digital security with partners, Wang said.
The initiative, announced by Wang on September 4, aims to respond to new challenges emerging in the field of data security and contribute to global digital governance.
Lavrov said Russia holds positive views on the China-proposed Global Initiative on Data Security. It is conducive to the creation of international rules on data security as well as furthering Russia-China cooperation on international information security.
He noted that the backdrop to the initiative was the efforts by some countries to politicize information technology and cybersecurity, seeking to contain other countries under the pretext of safeguarding national security.