Chinese broaden their horizons at UN
By LIU XUAN | China Daily Global | Updated: 2020-09-15 09:13
Guo Lei's story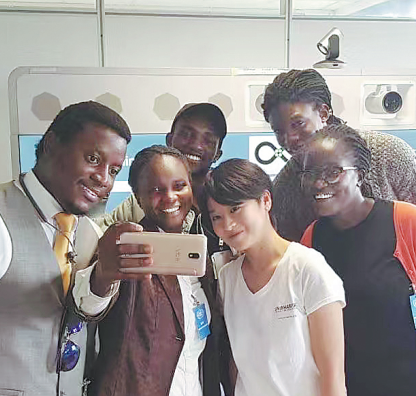 After leaving Nairobi, Kenya, and transiting in Dubai, United Arab Emirates, for two days and then Sri Lanka, Guo Lei finally arrived in Shanghai last month.
"Our office in Nairobi was closed because of the pandemic, so I decided to come back to China," she said. "It may be impossible for everyone to return to the office this year."
The 29-year-old works as a project leader on innovation initiatives at the UN Human Settlements Programme, headquartered in the Kenyan capital.
The agency supports member states in improving living conditions through sustainable urbanization, promotes urbanization as a positive transformative force for people and communities, and helps reduce inequality, discrimination and poverty.
Guo's department, a newly established division, focuses on exploring innovation to promote the better development of cities.
"We look for the kind of cutting-edge technology that can help us solve urban problems more efficiently. We also focus on some nontechnological ways of innovation, such as policy and institutional innovation," she said.
Policy changes are needed to drive development in some areas with limited resources, as it can be impossible for such places to adopt the most-advanced technology, Guo said.
In February, she helped organize the Tenth World Urban Forum in Abu Dhabi, UAE.
The event, with the theme "Cities of Opportunities: Connecting Culture and Innovation" called for united action to ensure a better future for cities and towns.
"We were quite fortunate, because the pandemic hadn't broken out in the UAE at the time," she said, adding that the virus has had a significant impact on their work.
"We have had to adjust what we were advocating before the pandemic. For example, unemployment and food issues were not top of our list, but now they have become more urgent. We have also had to change our working methods."
Guo is involved in Block by Block, an innovative collaboration project involving UN-Habitat and Mojang, which makes the popular adventure game Minecraft. UN-Habitat, which is based in more than 90 countries, promotes the development of socially and environmentally sustainable cities, towns and communities.
The project is part of the agency's approach to using information and communication technology to encourage the younger generation to take part in urban design and governance.
Minecraft players enter a virtual community marked with the UN-Habitat logo for city construction.
"The game allows players to better understand urban planning, such as how to improve traffic flows, make cities more connected and safer, and reduce carbon emissions," Guo said.
"In the real world, people may not have the chance to learn about urban planning, but in the game, they can."
In Nairobi, Guo and her colleagues also focus on environmental protection projects and programs related to property rights and land ownership.
"The development problems facing each region or country are quite different," she said.
In 2016 and 2017, Guo worked at the UN Educational, Scientific and Cultural Organization's office in Beirut, Lebanon, handling issues related to refugees' education and employment.
"In Lebanon, we basically focus on refugee-related topics, because the country hosts many Syrian and Palestinian refugees, but when I was in Africa, development was the priority," Guo said.
Different concerns and focus points usually reflect contrasting conditions in countries and cultures, and Guo said this was one of the main features that drew her to work for the UN.
"I like to work, study and communicate in a multicultural environment, where people are not trapped by the culture they represent. Everyone here sticks to universal values. With this common ground, the convergence of different cultures is very interesting," she added.
Working at the UN has given Guo the opportunity to visit different places around the world, and she describes herself "not as a nationalist, but more a global citizen".
"I don't just look at the interests of a certain country, but think about how to solve social problems and how to promote systematic transformation," she said.