China to capitalize on cheaper solar costs
By Barry He | China Daily Global | Updated: 2020-09-16 10:06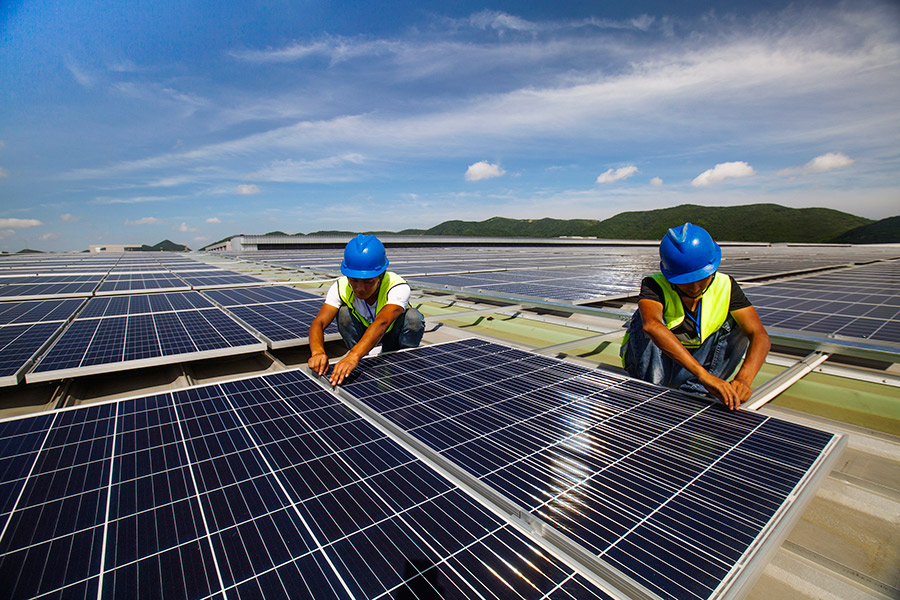 China, like all nations during the COVID-19 pandemic, has experienced a huge drop in emissions.
The large and industrial country saw emissions fall by around 25 percent during the first quarter of 2020.
Videos from around the world have shown wildlife returning to natural habitats that they had left years before, or even venturing into new ones. Social media has been rife with stories of endangered dolphins returning to previously polluted rivers, and deer reclaiming suburban, and even urban areas to the bewilderment of locals.
It has been a beneficial glimpse of how animals have been affected by human activity, and of how our actions affect climate change, and has included plane-free skies appearing more blue.
It was as if some animals had left their lockdown, which began with the start of the industrial age.
The Ministry of Ecology and Environment stated early in the summer that China will, despite COVID-19 restrictions, continue to implement nationally determined contributions on climate change as agreed under the Paris Agreement. The aim is to cut out carbon emissions per unit of GDP by up to 40-45 percent. The country reduced total national carbon emissions last year by 4.9 percent.
Further improvements may be made possible in future by the dramatic reduction of renewable energy costs, as technology improves. Utility-scale solar panels fell in price by around 77 percent between 2011 and 2018, according to research by Stony Brook University. Battery storage technology has also come a long way in the last few years, falling in price by around 85 percent.
Countries including Norway have already capitalized on this by introducing tax subsidies for electric cars that rely on battery storage, resulting in a huge uptake in brands including Tesla. Likewise, similar changes may be apparent in China during the coming years, as research into energy storage continues to improve. Future national predictions on carbon emission targets may have to take into account the morphing cost-effectiveness of renewable energy.
This large fall in solar energy costs will be good news for certain regions of China where solar capacity is predominantly located. The Beijing area, along with Shanxi and Hebei provinces, are net exporters of solar electricity to the rest of the country, and, given the lowering cost of solar power, could serve areas including the Yangtze River Delta and the Pearl River Delta area with up to twice the capacity that exists today.
Not taking into account existing infrastructure, more than 60 percent of all new Chinese solar installations in Q1 of this year were also in other areas of the country, mainly in the eastern and southern areas that are more densely populated.
Construction of high-voltage transmission lines that connect solar installations from the North and West to the South and East are also underway. The Chinese enthusiasm for solar power seems undaunted by the COVID-19 pandemic.
China's role is critical in ensuring that the world meets climate change targets outlined by the Paris Agreement. Beijing has invested billions of dollars in renewable energy, and is one of the largest markets for solar and wind power. China also exports two-thirds of the world's solar cells, providing a boost to industries internationally.
Individual countries are each making their own efforts, but without a combined sharing of industry knowledge and technology there is little chance of facing a challenge that threatens the entire planet. Local officials in the United States state of Oregon have blamed recent severe wildfires on climate change. In the future, we may continue to see further natural disasters of this scale indiscriminately, wherever we are in the world. The stakes are therefore high enough for everyone to have an interest in the dropping costs of renewable energy, and being enthusiastic about their integration into national infrastructure.
Barry He is a London-based columnist for China Daily.