Foreign catering brands grab bite of Chinese market
By LI YINGXUE | China Daily | Updated: 2020-09-22 08:21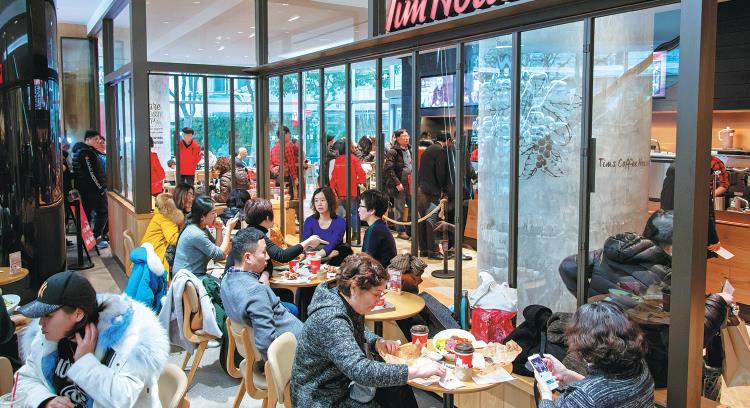 Franchises draw up and implement expansion plans
International catering brands, from fast food franchises to cafe chains and pastry shops, are continually entering and expanding rapidly in China, with their sights set firmly on young customers.
They usually launch in Shanghai, then Beijing, and are nearly always located in busy shopping malls.
Even though the coronavirus pandemic forced these brands to hit the pause button for two months, it has failed to dent their overall expansion ambitions.
This month, Peet's Coffee, a 54-year-old brand from San Francisco, opened its first store in Beijing's central business district. Two weeks earlier, French bakery Gontran Cherrier made its debut in the capital at Chaoyang Joy City.
However, the launch of Taco Bell's first branch in Beijing on Aug 21 drew more attention. In addition to the long lines that formed after it opened, when the branch was being built, inquisitive onlookers were drawn to the site by a large poster hanging over the frontage.
The branch joined the ratings platform Dazhongdianping after many people uploaded photos of decoration work at the premises, even though they had not yet had the chance to sample any food at the outlet.
Taco Bell, one of the world's largest Mexican-inspired restaurant chains, operates more than 7,000 restaurants in the United States alone and has over 600 outlets outside the US.
In 2016, it opened its first restaurant on the Chinese mainland in Shanghai near the Oriental Pearl Tower in the Lujiazui area. The decor features a classic Californian-inspired look and design, including guitars, graffiti art and surfboards hanging from the ceiling.
In addition to the Beijing branch, it recently launched outlets in Shenzhen, Guangdong province, and Ningbo, Zhejiang province, and now has 11 restaurants on the mainland.
The Beijing branch, at Hello Mart, Liangmaqiao, features a locally inspired graffiti wall celebrating the city's landmarks and culture.
The menu includes the brand's favorites, adapted to cater to local tastes, as well as new items developed exclusively for the Chinese market, such as a rice bowl dish, seasoned chicken bone and taco pizza.
Jim Boyce, a Canadian working as a consultant in the alcoholic beverage industry, who moved to Beijing in 2008, has fond memories of Taco Bell from his days as a college student in Waterloo, Ontario, as the franchise offered him a "cheap, reliable and delicious option".