Forging ahead despite headwinds
By LI YAN | China Daily Global | Updated: 2020-09-23 08:47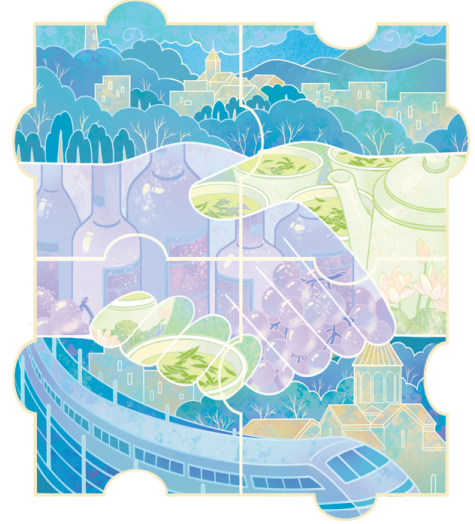 China and Georgia are combating COVID-19 together and will develop stronger ties to further unleash their potential
Georgia is one of the major countries along the route of the ancient Silk Road and has developed a longstanding friendship with China. In recent years, China-Georgia relations have remained stable, with fruitful exchanges and cooperation taking place in various fields.
Georgia has participated in the Belt and Road Initiative, taken the lead in signing cooperation contracts with China and successfully held the Tbilisi Silk Road Forum three times. The China-Georgia free trade agreement is the first one signed between China and a country in the Eurasian region, driving the bilateral trade volume from $3.68 million in 1992, when the two countries established diplomatic relationship, to more than $1 billion in the past two years. Chinese enterprises have participated in fields including infrastructure, investment, industrial parks and agriculture, developed high-quality projects and created a great number of jobs in Georgia. The two sides are also seeing increased people-to-people exchanges.
The Georgian government last year included Chinese language teaching in the national education system. And an increasing number of Chinese tourists are visiting Georgia, which is known as "the Eden of the Caucasus" and "the cradle of wine". During the battle against the novel coronavirus this year, China and Georgia have supported each other and jointly overcome difficulties, attesting to and further strengthening the friendship between the two countries and peoples.
The close ties between China and Georgia stand out despite headwinds. Amid China's struggle to contain the virus, Georgia expressed its stance to stand with China and provided firm support at the earliest time. Georgian President Salome Zurabishvili and Prime Minister Giorgi Gakharia sent letters of condolence to President Xi Jinping and Premier Li Keqiang, respectively. Senior government officials, including Georgian Foreign Minister David Zalkaliani and Health Minister Ekaterine Tikaradze, expressed their support for China. Many Georgians offered encouragement to China by recording and posting videos with tags saying "Come on Wuhan" and "Come on China" on social networking sites, and making phone calls and writing letters to the Chinese embassy.
Some Georgian netizens volunteered to rectify false statements online about the epidemic situation in China. TV24, a major television station in Georgia, broadcast the documentary China's Fight Against COVID-19, which was dubbed into Georgian, during the peak viewing period in the evening to demonstrate the efforts, sacrifice and achievements made by the Chinese government and people to control the pandemic. The documentary received good reviews.
When the virus spread to Georgia, China launched in-depth anti-pandemic cooperation with the country, adhering to its goal of building a community with a shared future for humankind.
China has sent several plans on COVID-19 prevention and control, diagnosis and treatment, developed by Chinese medical experts, to Georgia, invited Georgian counterparts to participate in videoconferences three times to have exchanges on the respective pandemic prevention and control experiences, and provided urgently needed test kits to Georgia at the earliest possible time.
China has also donated medical supplies including masks, gloves and protective suits, and the government facilitated Georgia's procurement of medical facilities and supplies from China, and promoted the building of the first production line of meltdown fabric masks following Chinese standards in Georgia. All the Chinese in Georgia have been strictly abiding by the Georgian government's containment regulations with zero infections so far, contributing to epidemic prevention and control in the country.
Georgia has lauded the mutual cooperation between the two countries. Foreign Minister Zalkaliani and Health Minister Tikaradze have spoken highly of China's sharing of prevention and control experience and its medical assistance multiple times. According to the director of Georgia's National Center for Disease Control and Public Health and the Georgian ambassador to China, Georgia has attached great importance to the experience of China, which has been the key for Georgia's effective containment of the coronavirus. Various social sectors and the public in Georgia have also commented positively on the two countries' anti-pandemic cooperation and achievements.
Although the pandemic has temporarily suspended large-scale personnel exchanges between China and Georgia, it has not affected the China-Georgia cooperation in various fields. Thanks to the China-Georgia Free Trade Agreement, Georgia's participation in the China International Import Expo for two consecutive years, and its rising demands of importing medical supplies from China, bilateral trade between China and Georgia saw positive growth, with a year-on-year increase of 10.5 percent in the first seven months of this year. This happened at a time when Georgia's foreign trade shrank significantly due to the pandemic.
China has remained Georgia's third-largest trading partner. At the request of Georgian clients, the Chinese-funded enterprises working on transportation infrastructure projects in Georgia have continued construction amid strict containment measures. More than 500 Chinese technicians recently returned to Georgia in four chartered planes to resume production, which has continued to boost social and economic development of Georgia.
June 9 this year marked the 28th anniversary of the establishment of the two countries' diplomatic relations. That evening, the Tbilisi TV Broadcasting Tower, a landmark building in Georgia's capital Tbilisi, was lit up in red to commemorate the China-Georgia anti-pandemic cooperation. As Shota Rustaveli, a leading literary figure from Georgia once wrote, "We need friends the most in difficult times," which is in tune with the Chinese saying "a friend in need is a friend indeed".
China and Georgia have weathered difficulties together and will develop stronger ties and closer cooperation with further unleashed potential and fruitful results in various fields.
The author is the Chinese ambassador to Georgia. The author contributed this article to China Watch, a think tank powered by China Daily. The views do not necessarily reflect those of China Daily.