Report manifests China's promise to intl development cooperation
By Li Xiaoyun | chinadaily.com.cn | Updated: 2020-09-30 20:53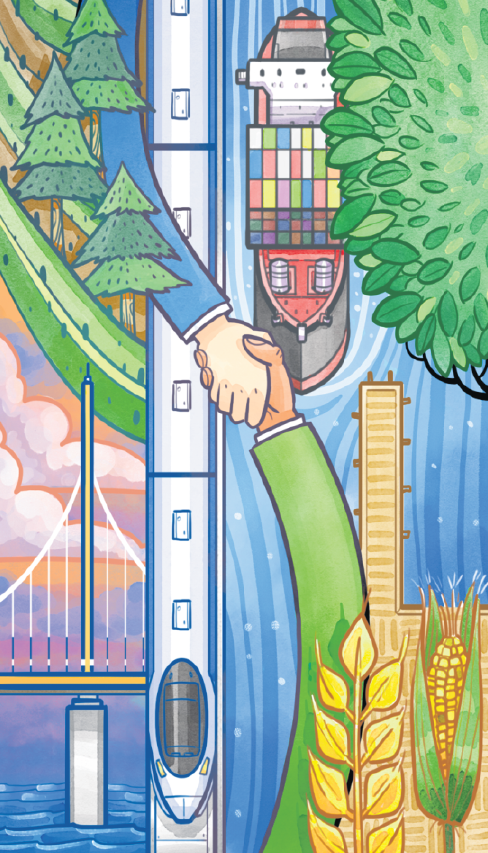 Poverty eradication is a common challenge facing the world. At present, nearly 700 million people worldwide still live in extreme poverty. The cause of poverty reduction is further challenged by the continued spread of COVID-19 in the world, and it is estimated that 70-100 million people worldwide could fall into extreme poverty again due to the epidemic. In this context, it is particularly necessary to implement effective pro-poor policies and measures to relieve the plight of the extremely poor.
As a responsible major country, China has the obligation to work with the international community to deepen international cooperation in reducing poverty with confidence and the vision of building a community of shared future for mankind, and to contribute to the global cause of poverty reduction with its own wisdom and approach.
On September 25, 2015, 193 member states of the United Nations formally adopted Transforming our World: the 2030 Agenda for Sustainable Development at the sustainable development summit, which listed 17 sustainable development goals, aiming to solve the development problems in social, economic and environmental dimensions from 2015 to 2030. "Ending poverty in all its forms everywhere" is listed as the primary sustainable development goal, including "eradicating extreme poverty for all people everywhere by 2030", charting the course and marking a new era of international poverty reduction. Cooperation in poverty reduction has become the core area of international development cooperation and the most dynamic and potential area under the framework of South-South cooperation.
In order to sort out and summarize China's experience in poverty alleviation and development and provide reference for other countries, especially developing ones, in their effort to overcome the impact of the COVID-19 pandemic, achieve poverty reduction targets and implement the 2030 Agenda, the Ministry of Foreign Affairs of the People's Republic of China and the Leading Group Office of Poverty Alleviation and Development of the State Council (LGOP) compiled and released the Eradication of Extreme Poverty: China's Practices (hereinafter referred to as the report), which contains specific and detailed cases showing China's poverty reduction practices in various fields to inform the world poverty reduction cause.
The report represents China's achievements in reducing poverty over the past four decades based on the implementation of the "Seven-Year Priority Poverty Alleviation Program", and introduces the targeted pro-poor policies and measures with strong support from the government in recent years.
In the course of more than 70 years of development, the Chinese government and people have made remarkable achievements in poverty reduction through active exploration and practice based on China's national conditions. Over more than 40 years of reform and opening up since 1978, more than 700 million Chinese people have been lifted out of poverty, accounting for more than 70% of global poverty reduction over the same period, creating "a legend of poverty alleviation" in contemporary history.
In recent years, China has vigorously implemented targeted poverty alleviation and rural revitalization, actively advanced inclusive development, made great efforts to lift all people out of poverty, and achieved remarkable results. Since 2012, the average annual poverty reduction has exceeded 13 million for six consecutive years. We will eliminate absolute poverty by 2020 and achieve the first sustainable development goal ten years ahead of schedule.
Openness brings progress, while seclusion leads to backwardness. Over the 40-odd years of reform and opening up, China has grown from an impoverished and backward developing country into the world's second largest economy. China's successful experience not only confirms the correctness of its own choice, but also provides a new choice for those countries and nations who want to accelerate development and maintain their own independence, thus contributing China's wisdom and approach to solve human problems.
On the one hand, poverty alleviation in China benefits from the introduction and learning of relevant advanced ideas and experience across the world, as well as the full utilization of both domestic and international markets and resources. By means of opening up, China has promoted reform, development and innovation, and achieved mutually beneficial results with other countries. On the other hand, while advancing its poverty reduction process, China is also devoted to contributing to the global cause of poverty reduction with its own wisdom and approach and assisting other developing countries to the best of its abilities.
In the past decade or so, China has been actively engaged in bilateral, trilateral and multilateral international development cooperation with the international community, and has successively set up the China-UN Peace and Development Fund and the Assistance Fund for South-South Cooperation, implemented the "100 poverty reduction programs" announced by President Xi Jinping at the High-Level Roundtable on South-South Cooperation in 2015 and steadily promoted the implementation of cooperation projects under the framework of "the Cooperation Initiative on Poverty Alleviation in East Asia" and "the China-Africa Poverty Reduction Plan". By the end of 2019, China had facilitated the construction of 24 agricultural technology demonstration centers in Africa, benefiting more than 500,000 local people, and held more than 100 poverty reduction training courses for nearly 3,000 professionals from 116 developing countries.
China continues to promote synergy between the Belt & Road Initiative and the UN 2030 Agenda for Sustainable Development, providing a new engine for poverty reduction and development. According to a World Bank research report, the Belt & Road Initiative will help lift 7.6 million people out of extreme poverty and 32 million people out of moderate poverty in the relevant countries, providing strong momentum for international poverty alleviation.
The elimination of extreme poverty in 2020 marks a new stage of poverty reduction in China, when a long-term mechanism will be established and implemented to alleviate and solve relative poverty. China is willing to work with other developing countries to continuously strengthen exchange and cooperation with the international community in poverty reduction and development, deepen South-South cooperation and tripartite cooperation, and jointly promote the implementation of the 2030 Agenda for Sustainable Development so as to contribute to the cause of global poverty reduction.
The author is lead chair professor of China Agricultural University (CAU) and honorary dean of College of International Development and Global Agriculture (CIDGA).
The opinions expressed here are those of the writer and do not necessarily represent the views of China Daily and China Daily website.