Japanese island a paradise for thrill seekers
By WANG XU in Naha, Okinawa | CHINA DAILY | Updated: 2020-10-03 09:05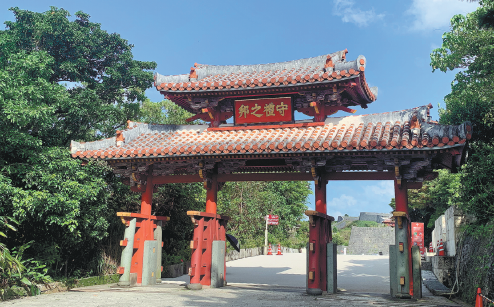 Shureimon is one of the main gates of the Shuri Castle, a palace designated by UNESCO as a World Heritage Site. WANG XU/CHINA DAILY
Search Okinawa, and the internet shows up enduring battles between the United States and Japan over its military bases on the island, or one of the last major battles of World War II.
There's more to Okinawa than that. It's a chain of hundreds of islands and Japan's southernmost prefecture with its own history as an independent kingdom that few foreigners and not many Japanese have ever seen.
Starting point
About 1,600 kilometers southeast of Tokyo-and just 600 km from Taipei, capital of China's Taiwan province-is Naha, the capital of Okinawa, and the starting point for tourists who want to explore a "lost island dynasty" and a "modern-day kingdom of seaside pleasures".
Sixty percent of local residents live in this city, the biggest in Okinawa.
Naha is the center of Okinawa, where the laid-back Ryukyu culture-named after the independent kingdom that existed before it became part of Japan-is best perceived.
Naha Airport is the gateway to all of Okinawa's islands, and is only a 10-minute drive from the city center.
The best way to get around the main island is by renting a car. Companies offering cars for rent can be found at the airport as well as the city center.
People familiar with history may know that Okinawa didn't become part of Japan until 1879. Before that, the Ryukyu Kingdom had been China's "vassal state". The feeling that Okinawa is closer to China than to Japan, manifested by Naha's food, culture and architecture, remains to this day.
The mainland Japanese who have moved here are referred to as immigrants by locals.
The majestic buildings, such as the Shuri Castle, a palace designated by UNESCO as a World Heritage Site, and the terminal station of Naha's only monorail line, reminds of the architectural elements of China's Forbidden City.
The castle, which was first built in the 13th century, was palace of the Ryukyu Kingdom's rulers during the 14th century.
Shuri Castle has been destroyed several times over the centuries, with the recent one due to a fire in October 2019, which raged for more than 10 hours and left at least one-third of the palace's artifacts gutted.
Before that, the castle was destroyed in 1945 during World War II, and was rebuilt between the late 1980s and 1992.
After the palace was destroyed in the 2019 fire, the Okinawa government came up with a plan to rebuild it-its fifth rebuilding effort-by 2022 to commemorate the 50th anniversary of Okinawa's transfer to Japan by the US.