For millennials, health is the new wealth
By CHEN MEILING | China Daily | Updated: 2020-10-07 09:49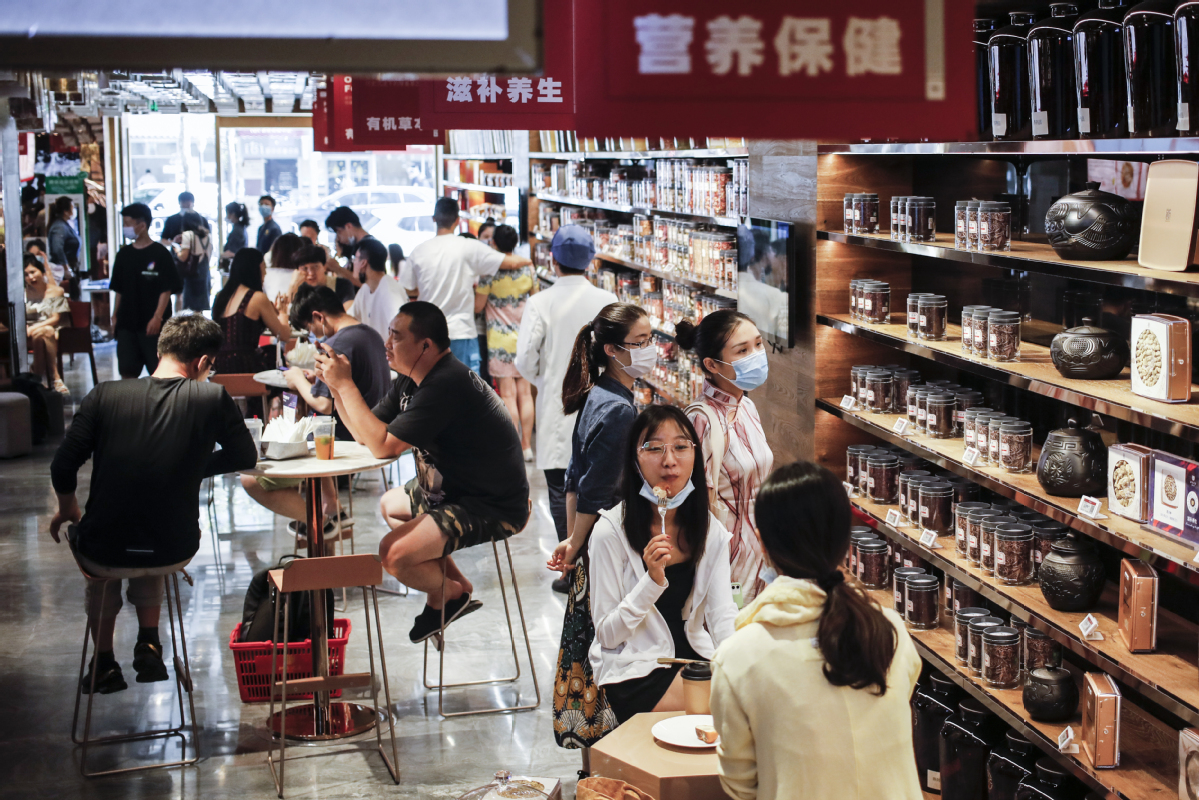 Overworked and stressed, young consumers spend big on novel products, services
The monthslong COVID-19 pandemic has made China's millennial generation even more health-conscious, giving lifestyle-related businesses a much-needed shot in the arm.
Pursuit of good health, a hallmark of Chinese culture for a long time, is getting a twist of innovation, spawning a multibillion-dollar industry, as upwardly mobile, lifestyle-conscious but stressed and overworked millennial consumers jump on China's tech-enhanced wellness bandwagon.
No longer are they limiting their expenses to apparel, electronics and entertainment products. On their shopping list are a slew of innovative health products and services like supplements, gadgets like wrist bands, beverages, dry fruits, organic foods, powders, diets, fitness regimens advised by professionals, what have you.
Zhao Kunjie, 25, a marketing executive in Beijing, is one such consumer. In recent years, heavy work in her job made her age faster, weakening her physically and mentally, she said.
That's when she began consuming a women's multivitamin tablet every morning, complemented by an acai berry capsule each at lunch and dinner, topped off by a bilberry lutein tablet before going to bed.
Multivitamins nourish her with nutrients. The capsules help keep her skin supple and glowing, besides boosting fitness. The bedtime tablets are for eye-care, she said.
"I use computer and cellphone too much. I'm always worried I might go blind," Zhao said, referring to her screen time of up to 12 hours a day due to late hours spent on finishing work.
Earlier this year, she bought an electric foot basin. Usually, she soaks Chinese herbal medicine into hot water in the basin and sinks her tired feet in, which helps improve the quality of her sleep.
In all, Zhao spends around 200 yuan ($29.6) a month to preserve her health and stay well and fit. "The last thing I want is ending up dead before getting wealthy."
She is concerned that many of her stressed-out colleagues complain of stomachaches or catch colds from time to time.
"An effective health regimen can't be developed overnight. But I think mine is taking effect. My periods are no longer painful. I don't have sore eyes anymore."
Zhao broadens her ken by reading books by health professionals and content on Zhihu, a Chinese Q&A platform.
Younger consumers such as Zhao are willing to spend more than what the previous generation did on good health.
Manufacturers, traders, suppliers, software and content publishers, and service providers are more than willing to tap rising demand for red dates, gouqi, or Chinese wolfberry, vitamin supplements, yogurt makers, machines that massage specific areas of the body, gym classes, sports apps, skin care and health insurance.
This follows reported higher incidence of health problems among young Chinese. Half of respondents to a CBNData health survey in July said they experienced hair loss and decreased vision; about 40 percent had obesity and weakened athletic ability; and 30 percent said their immunity worsened.
The research firm's report further stated that over 90 percent of people born after 1990 had awareness of the importance of a health regimen, and 50 percent actually took action.
Jason Yu, general manager of Kantar Worldpanel China, a market research firm, said many young people in first-and second-tier cities in China don't live a healthy lifestyle due to the rapid pace of urban life.
More youth are contracting serious diseases like cancer and cardiovascular disease. This is forcing them to care more about health, he said, adding social media channels have also amplified young people's anxiety about health.
Jiang Hao, global partner of consultancy Roland Berger, said the higher the education a person receives, the more willing he or she will be to invest in "health-related consumption".
"It refers to not only a cup of tea with gouqi, but also all health-related services," he said. "Many young Chinese pour big money into beauty and fitness. They would like to pay if it helps improve physical or psychological health."
Xie Aobo, 20, a college student in Hunan province, said the first time she was invited by her mother and aunt to visit a health and wellness service store in July, she instantly fell in love with it.
While she lay on a bed, a woman softly massaged acupuncture points on her head that often made her doze off. She steamed her feet in vapors of hot traditional Chinese medicine soup. She also tried moxibustion.