How can law better protect women?
By Peng Chun | China Daily | Updated: 2020-10-10 07:48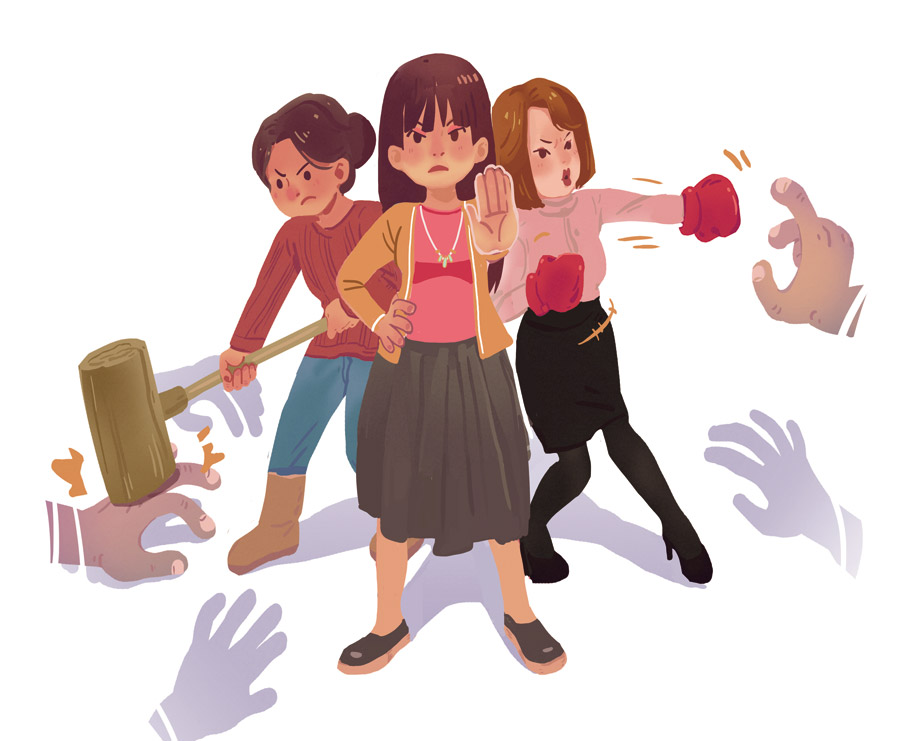 Over the last month or so, the tragedy of Lamu has left millions of Chinese distraught, demonstrating again the urgent need to better protect women against domestic violence.
Lamu, aged 30, a popular influencer on Douyin, the Chinese version of TikTok, was set on fire by her former husband on Sept 14 for livestreaming popular content and becoming an online influencer. She suffered serious burns and died on Sept 30, leaving behind two children.
Prior to the incident, Lamu had endured domestic violence for years and managed to get a divorce only in May.
Lamu's former husband, who has committed a horrendous crime, is expected to receive the severest punishment according to the Criminal Law. But no matter how harsh a punishment he gets, Lamu cannot be brought back to life. Which calls for revising our laws and strengthening their enforcement to prevent such tragedies.
China passed the Anti-Domestic Violence Law in 2016. Over the past four years, the landmark legislation has achieved some success. For instance, the All-China Women's Federation reported a 10 percent decline in domestic violence complaints in 2018 and 2019. Earlier this year, the Ministry of Public Security said police officers had stopped or prevented more than 6 million incidents of domestic violence in the past four years. And by December 2019, the courts had issued more than 5,700 protection orders for domestic violence victims, with the number increasing from less than 700 in 2016 to a little over 2,000 in 2019.
Nonetheless, there is still a long way to go to make the law truly effective. An estimated 30 percent of households in China have experienced domestic violence, and 60 percent of the women who have committed suicide have done so due to domestic violence. Yet on average a woman suffers domestic violence 35 times before she chooses to call the police. Even after the enactment of the Anti-Domestic Violence Law, a huge number of cases, even tragedies, have been reported, reflecting the whopping gap between the law and its enforcement. Which means the authorities have to do more than just enact a law and recommend harsher punishments to prevent domestic violence.
In fact, the law has many loopholes. It covers married couples, live-in partners and other family members, but not violence against former spouses or partners who don't live together. It covers physical and psychological violence, but does not include sexual violence such as marital rape, or economic control such as deprivation of financial resources.
Besides, there is much room for improvement when it comes to the enforcement of the law. Take the protection orders issued by the courts for example. Delays in and rejection of issuing these orders have been widely reported, especially because there are still no national implementation guidelines for standardization of criteria and procedures for recognizing domestic violence and protecting victims. As a result, while hundreds of thousands of women suffer domestic abuse, the number of protection orders issued by the courts adds up to only a few thousands.
Therefore, the law and its enforcement both need to be improved in order to deter perpetrators and become a robust protection mechanism for potential victims.
How?
Domestic violence often starts with verbal abuse and minor physical aggression. So both actual and potential victims of domestic violence should protest against the perpetrators and their actions-and seek the help of friends, family members and ultimately the police. Articles 16 and 17 of the Anti-Domestic Violence Law state that public security agencies must issue warning letters to minor offenders and share such letters with the local residents' committee or villagers' committee, which are legally obliged to keep an eye on the perpetrators and thus prevent further violence against the victims.
But in reality, due to the tradition of "do not wash your dirty linen in public", the victims are reluctant to report such cases to the authorities. Also, officials, including the police and judges, find it difficult to deal with such matters, especially if they involve divorce and custodial disputes.
The Anti-Domestic Violence Law requires social organizations including residents' committees, villagers' committees and medical institutions and their staff to report only violence against underage or mentally challenged victims. In contrast, in the United States, 47 states have made it legally obligatory for medical and social service institutions and their staff to report all types of domestic violence. Such a practice could create a better social safety net and facilitate easier abuse detection.
Moreover, since the victims are hesitant to bring their cases to court, the police and prosecutors should play a more active role in fighting domestic abuse. Norway, for example, introduced unconditional prosecution for domestic violence cases way back in 1988. So a criminal case can be brought before the court even if the victim withdraws the formal report. This is an effective practice, which China should look at closely.
Last year, the United Kingdom proposed an amendment to its domestic abuse law to ensure serial domestic abusers or stalkers are identified and monitored in the same way that serious violent and sexual offenders are. As some cases in recent years show, in China, it is quite easy for perpetrators of domestic violence to continue their criminal behavior even after remarrying or starting a new relationship. In order to protect women from such people, China should consider adopting a UK-like mechanism.
The somber lesson from Lamu's tragedy is that the authorities should improve the law and its enforcement, because we cannot afford to lose any more lives to such barbarous and cowardly atrocities.
The author is an assistant professor at Peking University Law School. The views don't necessarily represent those of China Daily.