Opera gala opens to wide applause
By Zhang Lei and Zhou Furong | China Daily | Updated: 2020-10-17 10:28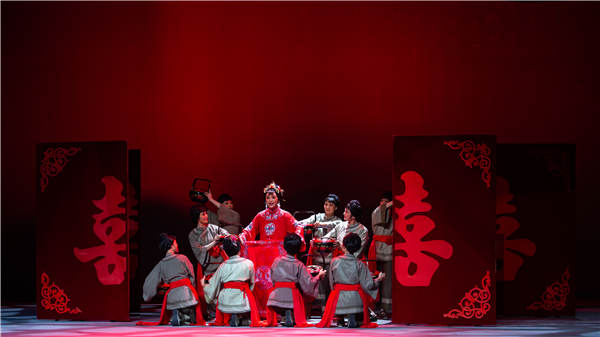 As the leading actors of this opera, it is not the first time that "Bai Suzhen" Liu Jingjing and "Xu Xian" Chen Pengju have performed together. As a new force on the stage of Yun Opera, the two have performed in Yun Opera Old Events in Junzhou and other repertoires. Even so, when co-starring The Legend of the White Snake: Tour of the Lake, it is still quite a challenge for Chen to play Xu Xian. Chen decided to learn from other versions of White Snake to get inspiration.
Hard work pays off. In the performance, The Legend of the White Snake: Tour of the Lake was the first opera excerpt to be unveiled, and was well received by the audience.
This is the third consecutive year that the Chinese Opera Gala has been held in Kunshan, and it is also its closing year. The goal is to use three years to gather all the existing types of 348 Chinese operas to be performed in Kunshan.
Wu Xinming, secretary of the Kunshan Municipal Party Committee, said in his speech that in recent years, Kunshan has comprehensively promoted the creative transformation and innovative development of traditional culture, especially around "polishing the cultural 'golden card' of Kunqu Opera, the 'ancestor of the hundred operas'".
This year coincides with the fifth anniversary of the Kunshan Contemporary Kunqu Opera Company. Qu Qixia, secretary of the Party branch of the company, said, "in order to achieve better development in traditional operas, new explorations must be made in talent transmission and repertoire innovation".