Time line
By Wang Ru | CHINA DAILY | Updated: 2020-10-22 07:28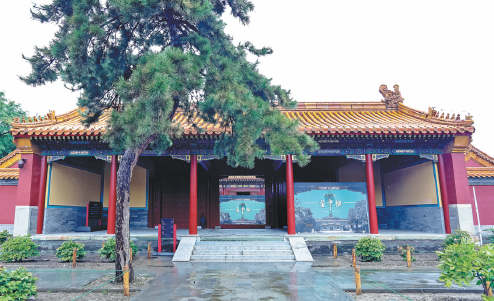 Beijing's Jingshan Park hosts the exhibition, A Panoramic View of Beijing Central Axis from Top of Jingshan Park. CHINA DAILY
In 1951, Chinese architect and architectural historian Liang Sicheng stressed the importance of Beijing's north-south central axis in his article, Beijing-the Incomparable Masterpiece of Urban Planning, saying: "Beijing's unique magnificent order was generated by the establishment of the central axis. Beijing's undulating and symmetrical shape and space distribution is based on this axis."
His highlighting of the importance of the central axis in the design of Beijing laid a solid foundation for the protection and world heritage application of the axis today. "Liang gave a clear definition of the axis. Seventy years later, we are still moved by his pride in ancient Chinese culture sensed between the lines, and I feel proud to work as a protector of the axis today," said Lyu Zhou, vice-president of the Chinese National Committee for the International Council on Monuments and Sites, at the opening ceremony of an exhibition about the axis at Jingshan Park on Sept 29.
Organized by the Architectural Design and Research Institute of Tsinghua University, the National Heritage Center of Tsinghua University and the management office of Beijing Jingshan Park, the exhibition, A Panoramic View of Beijing Central Axis from Top of Jingshan Park, runs until Dec 20.
"We hope our protection of the axis will motivate the protection of Beijing's old city areas. Although many professionals are working on the protection, it still needs support from all sectors of the society," says Lyu, who is an architecture professor at Tsinghua University.