Earlier peak
By HE JIANKUN | China Daily | Updated: 2020-10-30 08:27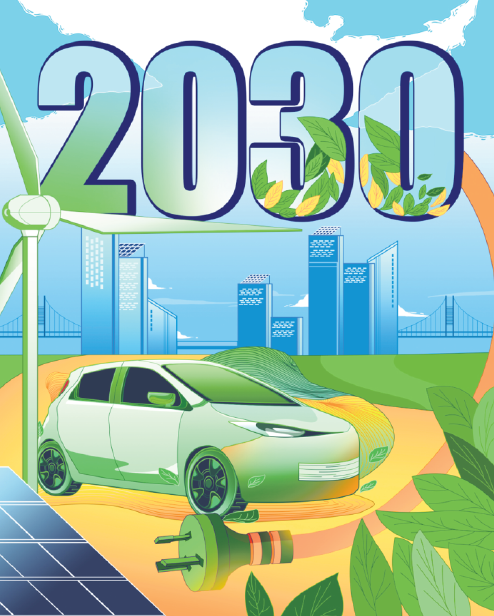 China is adopting more vigorous policies and measures to cut its carbon emissions
At the general debate of the 75th session of the United Nations General Assembly in late September, President Xi Jinping said that China aims to peak its carbon dioxide emissions before 2030 and achieve carbon neutrality before 2060. It signals that China is scaling up its Nationally Determined Contribution within the framework of the Paris Agreement.
Previously, China had vowed, in its NDC, to peak its carbon emissions around 2030, or sooner as best efforts allow. President Xi's recent announcement makes it clear that China aims to peak before 2030.
While reaching the goal "around 2030" was itself a tough mission, the move to complete the mission "before 2030" shows China's resolve to face climate change head-on as well as to facilitate domestic economic restructuring and industrial upgrading.
From the global perspective, China is sending a strong message to the world-the country will make high-quality and sustainable development its priority in the post-pandemic era. This will boost the world's confidence in pursuing a green recovery agenda and tackling climate change, and spur all stakeholders to take proactive steps.
In a few months, China will roll out its 14th Five-Year Plan (2021-25). It is undoubtedly China's overarching strategy to include the goal of peaking carbon emissions before 2030 in its 14th Five-Year Plan and even the 15th Five-Year Plan (2026-30), which requires strengthening of indicators and measures for energy conservation and emissions reduction. To be specific, China will focus on the following aspects.
First, carbon intensity should be cut further during the periods of the 14th and 15th Five-Year Plans. As China is still industrializing and urbanizing, energy demand is sure to increase. Therefore, the carbon intensity of GDP must be reduced to offset the carbon emissions increment brought about by rising energy consumption.
The GDP growth rate in China is expected to be 5 percent annually during the 14th Five-Year Plan period and not lower than 4.5 percent during the period of the 15th Five-Year Plan. Therefore, carbon intensity needs to drop by 4.5 percent to 5 percent annually if carbon emissions are to peak before 2030.
Second, we need to integrate digital technologies with low-carbon development to seek high-quality development. China's current recovery plan hinges around new infrastructure construction, new urbanization initiatives and major projects.
Regarding new infrastructure construction, priority should be given to those relating to the digital economy, high-tech industries and new-energy industries. During new urbanization moves, energy conservation and alternative energy sources should be encouraged in buildings and transportation.
With regard to major transportation and water conservancy projects, we need to optimize the structure and efficiency of public transportation systems and encourage the adoption of new energy vehicles.
Third, upgrade the energy mix by increasing the proportion of non-fossil fuels. For carbon emissions to peak before 2030, the ratio of non-fossil fuels in China's energy mix needs to reach 20 percent during the 14th Five-Year Plan and 25 percent by 2030, way higher than China's NDC commitment of 20 percent. Besides, more than 1 billion kilowatts of installed capacity of wind and solar power-what the United States currently has-will need to be added in the next decade.
Only in this way can non-fossil fuels meet the newly-increased energy demands without pushing up fossil fuel consumption. Another acceptable scenario is to increase consumption of natural gas, while coal consumption decreases and oil use peaks. This way, carbon emissions caused by increased natural gas consumption could be offset by reduced coal consumption.
At the same time, we should step up efforts to use electricity in energy end-use. For instance, electricity could replace coal for heating in industries and buildings, and replace oil by promoting electric vehicles. Electricity will mainly be generated by new energies and renewable energies, thus reducing carbon emissions.
In addition, with more renewable energy connected to the grid, we should build more smart grids to solve the problems concerning grid stability, energy storage and peak load regulation. It is of course a huge challenge, but also a great opportunity to spur technological innovation, create new growth points and new jobs.
Fourth, certain provinces, cities and industries could peak their carbon emissions in advance, particularly in the developed coastal regions in the east as well as western regions with abundant renewable energies. By peaking their carbon emissions during the 14th Five-Year Plan period they would create favorable conditions for the whole country to reach the target during the period of the 15th Five-Year Plan.
Meanwhile, we should help energy-intensive industries such as the iron and steel, cement and petrochemical industries reach their emissions peaks and limit their expansion. Domestic demand for such industries is nearly saturated and declining, which is a precondition to take such moves. This should be a shared goal and task for all localities in China.
However, considering different development stages, resource endowment and industrial mixes, there will be differences in time, paths and measures for different regions to reach their emissions peaks. It will be an important target for provinces and cities to complete the mission in advance and a major indicator of high-quality development.
The author is former executive vice-president of Tsinghua University, vice-chairman of the National Experts Panel on Climate Change, and the senior adviser of Green Development Think Tank Partnership. The author contributed this article to China Watch, a think tank powered by China Daily. The views do not necessarily reflect those of China Daily.