SE Asia poised to tap Shenzhen development
By PRIME SARMIENTO in Hong Kong | China Daily Global | Updated: 2020-11-04 09:33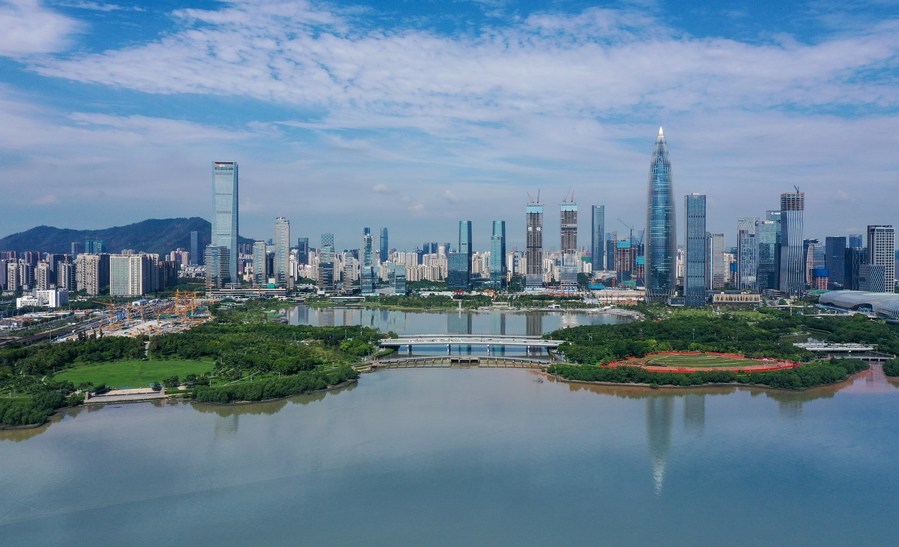 Special economic zone's tech advantage to fuel more opportunities
Plans to further open up fast-paced Shenzhen are expected to bring more opportunities to Southeast Asia - a region that has long attracted some of the top Chinese technology companies.
Shenzhen, which marked its 40th anniversary as China's first special economic zone in October, is being further developed into a pilot zone for socialism with Chinese characteristics.
Alfonso de los Reyes, head of insights at Momentum Works, a technology venture group in Singapore, said that Southeast Asia "can learn and benefit from close interactions with the ecosystem in China", alluding to the presence of Chinese technology and telecommunications firms in Southeast Asian countries.
Chinese authorities have laid out policy reforms that aim to further open up Shenzhen's economy. These include easing restrictions on the energy, telecommunication, public service, transport and education sectors; loosening limits on foreign investment in cutting-edge technologies; and strengthening the protection of intellectual property rights.
As an SEZ, Shenzhen was developed into a hub for manufacturing and international trade and has offered tax incentives to foreign investors. It has also encouraged entrepreneurship and innovation, and in the process created some of the world's most renowned companies including Tencent, Huawei, ZTE and drone manufacturer DJI.
President Xi Jinping praised Shenzhen's success, noting its "historic leap from a backward border town to an international metropolis with global influence". In a speech delivered at Shenzhen's anniversary celebrations, Xi said the city needs to become a demonstration area of socialism with Chinese characteristics.
He also said that it is important for Shenzhen, now home to over 13 million people, to have an innovation-driven strategy, foster new growth engines and become a leading hub in scientific, technological and industrial innovation with global influence.
Analysts said this bodes well for Shenzhen's homegrown companies. These technology giants can further expand and bring innovation to Southeast Asia. Companies in the region can tap Shenzhen as a base to explore the larger Chinese market.
De los Reyes said that Shenzhen is a hub for hardware, deep technology and e-commerce. He said plans to further open up Shenzhen will improve the flow of information, resources, human capital and potential business opportunities between Shenzhen and Southeast Asia.
"With the ease of restrictions, Shenzhen-based companies should be able to become more efficient and more competitive due to the improved flow of resources that will ultimately impact the levels of infrastructure, human capital and connectivity of the city. This should enable more companies to emerge in Shenzhen that will look at Southeast Asia among other regions as a business target," he said.
Economic links
Zeng Xiaofeng, vice-president of consultancy firm Niko Partners, said Shenzhen and Southeast Asia have an "economic connection". He said Shenzhen-based companies have been making inroads in Southeast Asia for years, attracted by the region's immense population, growing affluence and young, tech-savvy customer base.
He said the Chinese companies' expansion in Southeast Asia will have a huge impact as they will contribute to technology and telecommunications development in the region.
Tencent, for instance, is one of the main shareholders of Sea Ltd-the Singapore-based internet platform provider behind games publisher Garena and e-commerce site Shopee. It also has a stake in Voyager Innovations, the fintech subsidiary of Philippine telecommunications firm PLDT, and Indonesian ride-hailing firm GoJek. Tencent is setting up its regional hub in Singapore to further expand in Southeast Asia.
Huawei has partnered with local telecommunications companies to develop 5G networks in Cambodia, Malaysia, the Philippines and Thailand. ZTE has partnered with the Qatar-based telecommunications company Ooredoo to develop Myanmar's 5G network.
In Malaysia, the Selangor state government has allocated 2 million ringgit ($480,000) for DJI high-technology drones to monitor rivers in the western Malaysian state.
Innovation commitment
Maggie Lee, head of capital markets development at KPMG China, said that world-class technology firms have emerged in Shenzhen. She said policy reform plans for Shenzhen reaffirmed China's commitment to innovation and technology-benefiting the city as well as other international companies that will invest in it.
Lee said Southeast Asian companies that invest in Shenzhen can "take advantage of the perks (that come with its status as) a hub for innovation".
"While expanding to Shenzhen, Southeast Asian companies can also improve technology capabilities and tap into the high-quality talent pool," she said.
Apart from tapping a bigger market and talent pool in the Guangdong-Hong Kong-Macao Greater Bay Area, of which Shenzhen is part of, Lee said Southeast Asian companies can use the city as a venue to raise capital by listing in the Hong Kong bourse.