Can online learning replace experience of studying abroad?
By Yao Haitang | chinadaily.com.cn | Updated: 2020-11-06 11:11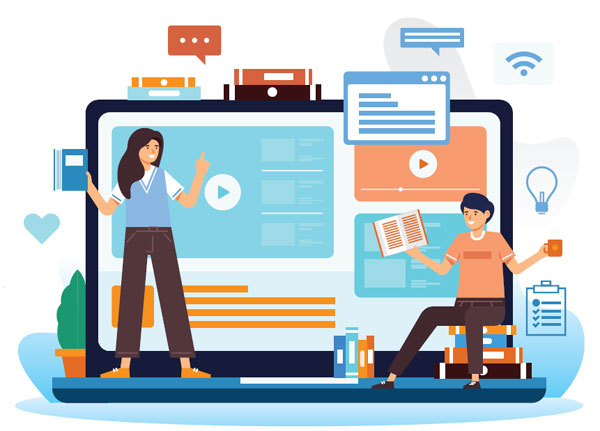 Every Wednesday afternoon, Zhang Yudong, the assistant professor in college of international education at Qingdao University, checks the internet before the class starts, because delivers lecture to foreign students online. He also takes six other classes per week, and they will last the whole semester.
Zhou Jiayu, who was just admitted by the University of Manchester, needs to take online courses every Tuesday and Thursday after 5 pm. Apart from taking classes, she has to finish three essays and one presentation.
The worldwide spread of the COVID-19 pandemic severely affected higher education as universities closed their campuses and countries shut their borders in response to lockdown measures.

The international education market is experiencing profound changes: foreign students are staying at home, online courses are becoming the main method, international cooperation among educational institutions and projects are expanding.
But international students' mobility was particularly badly hit during the crisis. To ensure the continuity of education, higher education institutions have sought to use technology and offer online classes as a substitute for traditional teaching.

It means that students have to decide whether to go back to home countries or remain in their host nations to take online courses, and they still have to pay the full tuition fees for the online classes.
But is online learning a good substitute for the experience of studying abroad?
We did a survey on the effects of COVID-19 on the international students and how felt about online learning. 124 international students from Qingdao University, Ocean University of China and Shandong University participated in this study.
The results show that 76.6 percent students hope to continue their study in China after the pandemic because they are tired of online learning, they believe that although China was the first country to close schools and start online learning in response to the COVID-19, many universities lacked the experience and time to conceive new ways to deliver instruction and assignments, so 56.45 percent students were dissatisfied with online learning during the COVID-19 compared with the traditional teaching before the pandemic.
"Most of classes are live broadcasts, we have to wake up late night or early morning, this is a big challenge," Mary from France said. "I miss Chinese food and high-speed railway, too." Apart from these reasons, the inability to communicate with tutors and their classmates are also what they dislike of online learning.
We also conducted a survey on the Chinese students who plan to apply to foreign universities. The study, which included 2004 graduates from most Chinese universities, showed little difference between Chinese and international students in China.
Around 5 percent students said they pay nearly 200,000 yuan ($31,160 dollars), but they just have to take recorded broadcast classes at home, some students said they envy those classmates who already took the national graduate and postgraduate entrance exams.
"They don't have to worry about when will the schools will reopen, they are now enjoying their campus life," Zhou Jiayu, a graduate from Qingdao University says. But some students were glad to have this period to improve their self-discipline and self-learning ability. And some foreign universities also provided alternatives to study in their Chinese campuses or their cooperative institutions, for example, NYU Shanghai,Duke Kunshan University, and some mutual recognition of credits projects.
To solve this problem, the Ministry of Education allowed some Chinese-foreign cooperation in running schools and projects to expand their enrollment this year. But most students do not think this is a good way, because these institutions are like independent colleges.
During the pandemic, online learning and commercial presence has become a lifeline for education but are online learning and commercial presence good substitutes for the experience of studying abroad? We need to think about it.

The author is an assistant professor, Qingdao University. The opinions expressed here are those of the writer and do not necessarily represent the views of China Daily and China Daily website.
If you have a specific expertise and would like to contribute to China Daily, please contact us at opinion@chinadaily.com.cn , and comment@chinadaily.com.cn