It's a long road to e-learning for HK's needy students
By Gu Mengyan | chinadaily.com.cn | Updated: 2020-11-06 16:34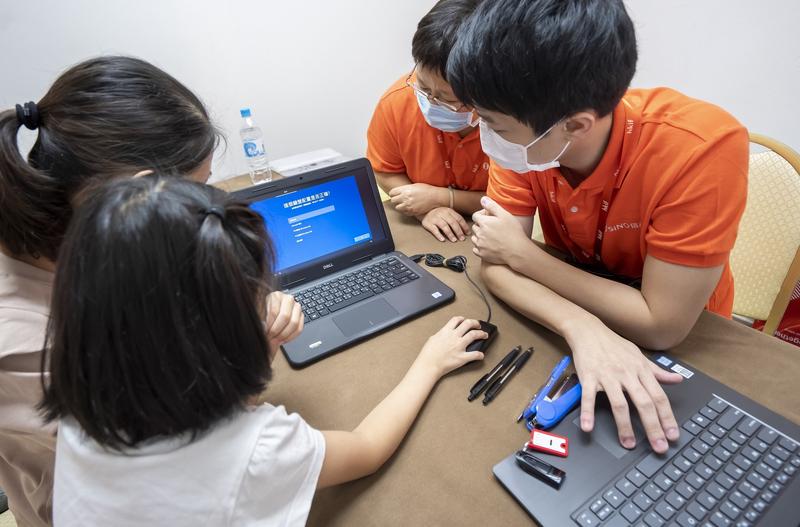 HONG KONG – Twelve-year-old Kitty's sole portal to online lessons was the tiny screen of her mobile phone for more than half a year of remote learning with the COVID-19 pandemic closing schools for months in Hong Kong.
The Secondary One student, who only gave her English name for privacy reasons, told China Daily over the phone that she could not see the faces of her classmates and could barely decipher questions during Math lessons however hard she peered at her phone screen.
Her struggles may have been mirrored by thousands of other children from Hong Kong's underprivileged families who couldn't afford a computer for home learning when on-campus classes had been suspended.
Kitty is lucky, though. She received a laptop in late September as part of an outreach by Hong Kong Innovation Foundation (HKIF) and Sino Group. As part of the drive, 1,019 laptops were donated to local needy students from Primary Four to Secondary Three, more than 60 percent of whom do not have a computer at home. More than 2,300 children had applied for the devices, all referred by principals, teachers, registered social workers or NGOs.
Little help
While the city's schools, on behalf of the needy students, could have applied for funding from the Education Bureau's Community Care Fund Assistance Programmes, it seems many have chosen not to. The scheme adopted from the 2018/19 school year for three years aims to subsidize needy primary and secondary students studying in public sector schools in purchasing mobile computer devices.
But according to a July survey report compiled by Alliance for Children Development Rights, 305 primary and secondary schools, or 70 percent of the city's schools were not helping their students apply for the subsidy.
The organization conducted another survey in early September, involving 900 parents of needy children. Eighty percent said they did not have a computer at home; nearly 70 percent said the schools their children went to, did not apply for funding. For schools which applied for the subsidy on behalf of their needy students, less than 8 percent of the parents surveyed indicated they had received the device while 80 percent had no idea when they would.
An education sector source told China Daily that the entire process starting with application and then review, purchase and delivery could take up to four months or more, and by the time students received their devices, face-to-face classes would have resumed.
It is telling that the city's needy children should be denied an equal chance at online learning at times of compulsory school closure when Hong Kong's latest official child poverty rate stands at 16.8 percent. As per the figure released in December 2019, 170,000 Hong Kong residents aged below 18 are living in poverty.
Although currently no government data indicate that child poverty worsened as a result of the COVID-19 pandemic, the latest Quarterly Report on General Household Survey showed more families slipping into the low-income bracket for the second quarter of 2020, suggesting more children have joined the ranks of those feeling financial pressures. In fact, in the lowest listed monthly income bracket of below HK$4,000 (US$515), the corresponding number of households swelled by 1.1 percentage points in the second quarter. Listed income brackets below HK$20,000 showed a similar rise in corresponding number of households in the second quarter of 2020.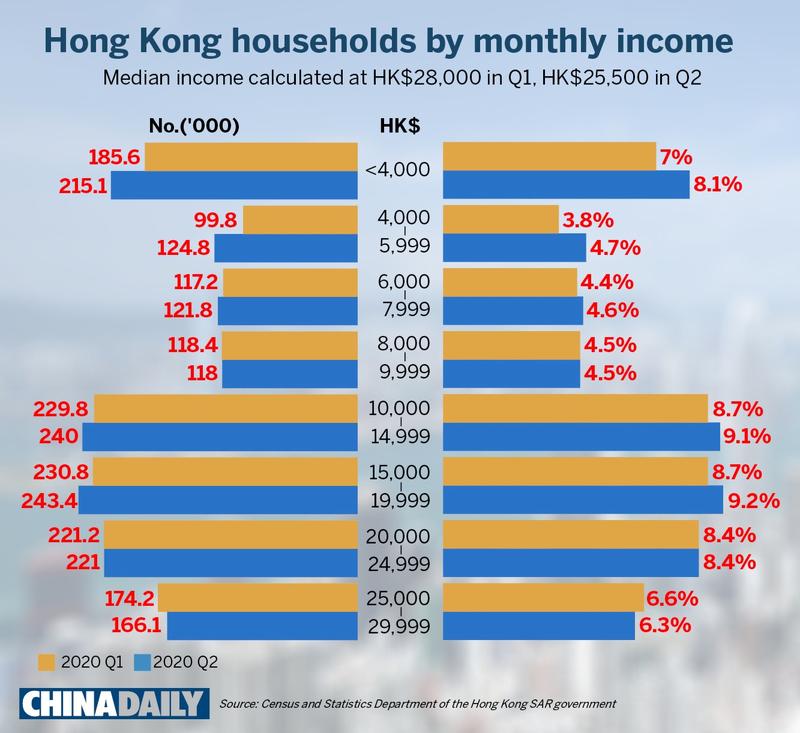 Wider welfare net
Stefan Kühner, associate professor at Lingnan University's Department of Sociology and Social Policy, said perhaps expanding the social welfare net for the needy would work better for the government than targeted "economic stimulus" to mitigate the indirect economic consequences of the pandemic. He said in an emailed response to China Daily that even a temporary expansion of the social safety net "would have much more directly benefited local children in the most affected families dealing with job losses, reduced working hours and declining incomes".
The public policy expert said that to address child poverty, Hong Kong's NGOs and philanthropic arms of big corporations always have an important role to play, but an ideal outcome would only be achieved with the Hong Kong government's clear intervention. He said that boosting employment opportunities for parents and offering learning equipment to needy children should be at the top of the government's agenda.
Daryl Ng, chairman of HKIF and deputy chairman of Sino Group which launched the laptop program, said in a written reply that in addition to hardware support, long-term education support for low-income families is also important, and therefore, the program also offers a series of online training courses and daily support to the beneficiaries. The Ng family, which owns Sino Group, has sponsored more than 30 local NGOs to support the community amid the pandemic.
May Wong, social worker at Tung Wah Group of Hospitals Jockey Club Tai Kok Tsui Integrated Services Centre, conceded over the phone that community social workers rarely communicated with school authorities over needy students' predicaments, although schools can also help, as in the case of applying for an e-learning device subsidy.
Maggie Lau Ka-wai, acting director of Lingnan University's Centre for Social Policy and Social Change, said the importance of collaboration between the government and NGOs should not be neglected in addressing unmet social needs.
For a relatively surmountable problem such as rightly equipping needy children for e-learning, Lau said in an emailed reply that the Education Bureau can play the role of a coordinator, the private sector can provide equipment and expertise and NGOs may help identify those who need urgent help.