Exhibition shows peking opera through the lens of contemporary arts
By CHEN NAN | China Daily | Updated: 2020-11-28 09:33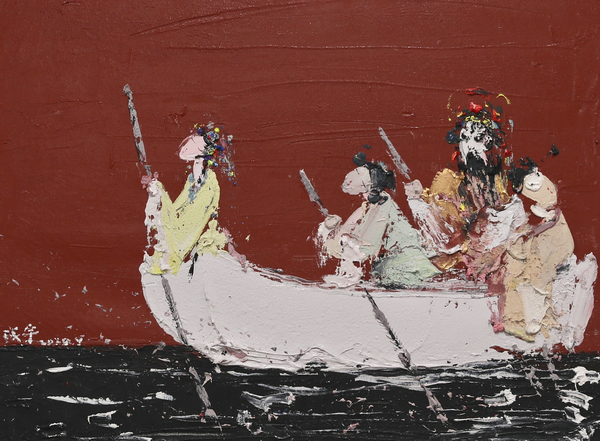 Mei Baojiu (1934-2016), the son of Mei Lanfang, who also played the role, wrote an inscription in calligraphy on the painting, praising the painter's techniques. Li, used to work as a stage designer at China National Peking Opera Company for four decades.
There are 18 stage photos of Peking Opera masters, including Mei Lanfang, Tan Fuying (1906-1977) and Li Shaochun (1919-1975), from a photo studio in Tianjin during the 1940s, displayed in the exhibition. According to Guan, since Star Theater has been dedicated to presenting Chinese traditional operas, the theater has collected a number of old photos of Chinese opera artists.
Teachers from National Academy of Chinese Theater Arts have made two animations based on classic Peking Opera stories: Shi Qian Dao Bao, which is about thief Shi Qian, a fictional character from the 14th-century Chinese classic novel Water Margin by Shi Nai'an, and San Cha Kou, which presents a fight between two men in the darkness.
"We try to capture the essence of Peking Opera with the latest animation technology, which is a way to attract young fans," says Ma Chi, who is a teacher of New Media Arts department of National Academy of Chinese Theatre Arts. Last year, along with his students, Ma displayed an animation work based on classic Kunqu Opera piece, The Peony Pavilion."
chennan@chinadaily.com.cn