Panel to decide on who gets vaccine first in US
By AI HEPING in New York | China Daily Global | Updated: 2020-11-30 09:28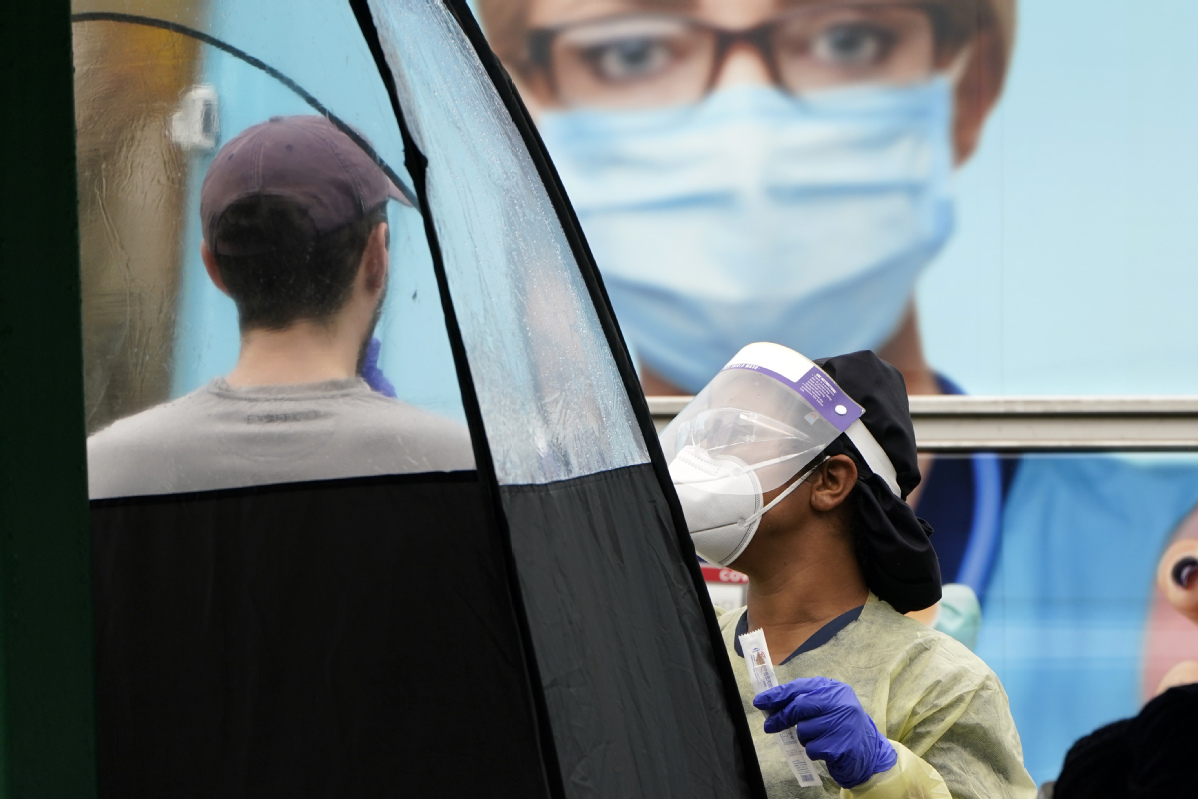 A panel of advisers will meet on Tuesday to vote on how a coronavirus vaccine will be given out when one has been approved.
The government almost always follows the advice of the panel, the Advisory Committee on Immunization Practices, established by the Centers for Disease Control and Prevention.
Experts have proposed giving the vaccine to health workers first. High priority may also be given to workers in essential industries, those with certain medical conditions and those aged 65 and over.
President-elect Joe Biden will leave it to health experts to decide who gets the COVID-19 vaccine first, Dr Celine Gounder, a member of his coronavirus advisory board, said on Friday.
By Saturday 13.2 million Americans had contracted the coronavirus and 266,000 had died as a result, Johns Hopkins University said.
The total number of coronavirus cases in the country this month surpassed four million on Saturday, more than double the record set in October of 1.9 million cases.
Forty-four states have set weekly case records and 25 states have set weekly death records in November, and officials worry that Thanksgiving gatherings may cause infections to spread still more widely in coming days.
"We're going to be regularly hitting 2,000 deaths per day, but then going up to 3,000 deaths and 4,000 deaths per day," Dr Peter Hotez, dean of the National School of Tropical Medicine at Baylor College of Medicine in Houston, told CNN on Friday.
"We're talking about numbers that are approaching what we experienced in the 1918 flu pandemic, except it's happening over a much shorter period of time."
Without a national program in place, hospitals are being overwhelmed, Hotez said.
"We know when hospital staff starts to get overwhelmed, that's when the death rates really go high. This is what happened in New York in March and April; it's what happened in southern Europe in March and April; it's what's happening now as we speak in the US."
In Los Angeles County, the most populous in the United States, with 10 million residents, new COVID-19 stay-at-home restrictions will take effect on Monday until at least Dec 20 that will ban most public and private gatherings.
The restrictions established by the county's Public Health Department on Friday will prohibit public and private gatherings except for those already living together. Religious services and protests will be exempt.
The new measures will limit essential retailers to 35 percent capacity and non-essential stores to 20 percent. Outdoor fitness centers and museums will be limited to 50 percent normal capacity, and gatherings at beaches are banned. Playgrounds will remain closed.
The restrictions follow a new ban on Wednesday on outdoor dining (indoor dining was already banned), leaving restaurants to offer takeout and delivery only.
Pfizer and its German partner BioNTech have asked the Food and Drug Administration to allow emergency use of its COVID-19 vaccine candidate. Moderna Inc is expected to also seek emergency use of its vaccine soon. The agency's scientific advisers are holding a public meeting on Dec 10 to review Pfizer's request and to make a recommendation to the agency. Manufacturers have begun stockpiling coronavirus vaccine doses in anticipation of eventual approval.
On Friday the British government gave AstraZeneca's COVID-19 vaccine a vote of confidence when it asked its medicine regulator to assess the vaccine for a temporary supply, which could mean distribution in the country could begin in December.
Scientists in the US raised doubts about the vaccine last week after results showed the shot was 90 percent effective in a sub-group of trial participants who, by error initially, received a half dose followed by a full dose. AstraZeneca said administration of the half dose had been reviewed and approved by independent data safety monitors and the UK regulator, adding that the regulator publicly confirmed there was "no concern".