Production growth to ensure food security
By WANG XIAODONG | China Daily | Updated: 2020-12-03 09:08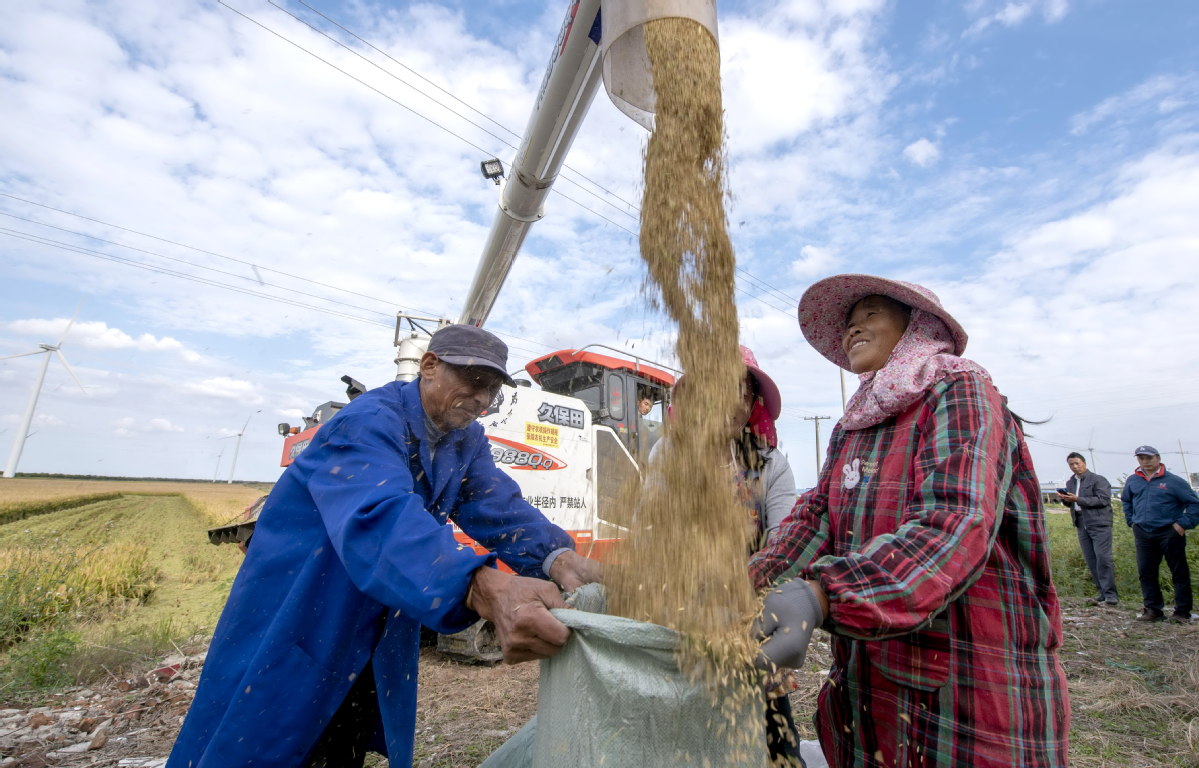 Production of grains in China should increase by about 15 percent-about 100 million metric tons-over the next 10 years to improve food security, a senior agricultural expert said on Sunday.
Wang Hongguang, executive director of Peking University's China Center for Strategic Studies, said at a forum on global food safety that although food security is ensured in China, risks include reliance on imports for certain major agricultural products, difficulties in further increasing yields and wasted food.
It is expected that by 2030, grain production capacity in China will have increased to 800 million tons, with actual output of more than 750 million tons, he said. By then, the per capita supply of grains in China will have increased to about 600 kilograms, including imports, close to the average for middle and high-income countries, said Wang, also an agriculture professor at China Agricultural University.
The per capita supply of grains in China is about 470 kg, above the international safety standard of 400 kg but far below many developed countries. With rising living standards, food production should jump over the next 10 to 20 years to meet increasing domestic demand and cope with possible fluctuations in international trade, he said.
The production of grains in China has more than doubled over the past four decades and reached 660 million tons last year, achieving a general balance between supply and demand, said Yin Chengjie, former vice-minister of agriculture.
Although it is the world's largest producer of grains, China is also a major food importer, importing about 100 million tons of grains every year. China is almost self-sufficient in rice, wheat and corn, but it heavily relies on imports for soybeans. Last year, China imported more than 88 million tons of soybeans, accounting for 85 percent of total domestic consumption, according to the Ministry of Agriculture and Rural Affairs.
"Such a reliance on imports poses a major risk to food security in China, in case of turmoil in international relations or food crises," Wang said. With the per capita supply of grains in China having just passed the safety line of 400 kg, more efforts are needed to expand grain production to improve food security, he said.
New technologies should be developed to further improve the per-hectare yield of major crops, such as rice, wheat, corn and soybeans, and farmland restoration should be conducted to increase total yield, he said. Other forms of food production, including ocean fishing, can also be promoted to reduce reliance on land farming, he said.
In addition, China can work with countries such as Brazil and Russia to develop grain production bases overseas to improve food reserves for China, Wang suggested.
"With efforts, I think we can well achieve the goal of improving the food production capacity to 800 million tons to ensure food security in China," said Yuan Longping, a member of the Chinese Academy of Engineering.
Known as the "father of hybrid rice", Yuan said the third-generation hybrid rice may yield more than 18 tons per hectare, which will continue to contribute to improved food security in China.
Improving food security has been listed as a major task in a proposed blueprint released last month for China's economic and social development over the next five years and beyond.
Supportive policies will include protecting farmland, developing infrastructure for water resources and making better use of science and technology, according to the blueprint.