Generous Brexit terms for London ruled out
By EARLE GALE in London | China Daily Global | Updated: 2020-12-03 09:33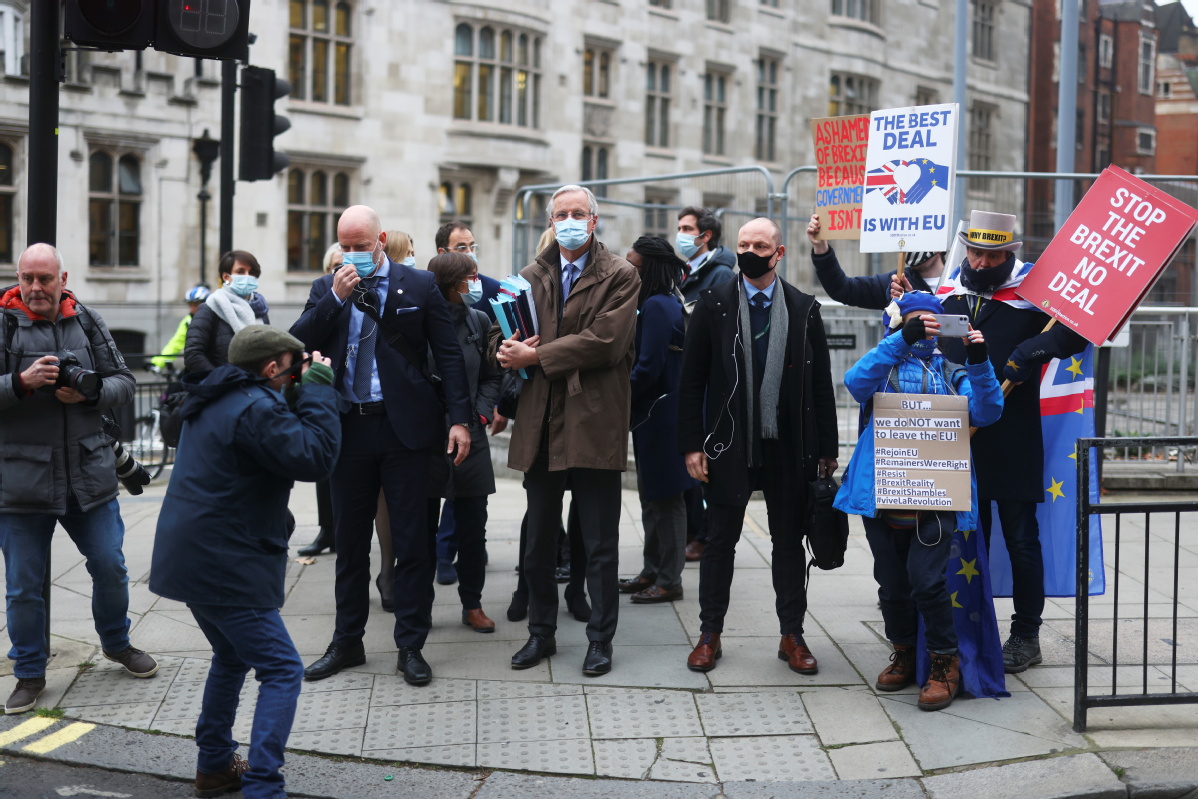 The European Union's chief Brexit negotiator, Michel Barnier, reassured ambassadors from the bloc's 27 member nations on Wednesday that he will not grant excessive concessions to the United Kingdom in order to land a free-trade deal.
Speculation had been rife prior to the video meeting that Barnier would give too much ground in talks that have continued ever since the UK left the bloc at the end of January.
Negotiations have intensified as the clock ticks down to the Dec 31 end of the transitional period, during which the two sides have traded as if the UK were still a EU member.
But the Financial Times reported an unnamed EU diplomat had said France and some other nations were "nervous" about potential concessions and wanted Barnier "to include them before agreeing to anything".
"France will not accept an agreement that does not respect our long-term interests," French President Emmanuel Macron said on Tuesday.
Negotiators are understood to have agreed on many points to pave the way to a comprehensive deal but have failed to compromise on fishing rights in British waters, the degree to which nations should subsidize their businesses, and an acceptable mechanism to resolve future disputes.
But while those sticking points remain, the EU is understood to have given ground recently on smoothing roll-on, roll-off freight movements between the ports of Dover and Calais, and reducing the percentage of a product made locally in order to qualify for tariff-free trade.
Those concessions are understood to have troubled some EU diplomats who fear the UK could end up with the benefits of the single market without the costs, the Financial Times reported.
Overshadowed talks
The talks have also been overshadowed by the UK's plans to pass a finance bill that includes controversial clauses that allow the Brexit withdrawal agreement to be overruled, something that has angered the EU.
However, The Guardian newspaper has reported London is now prepared to drop that legislation, if the two sides agree a trade deal.
There has been speculation that a deal is close, and the flames were fanned this week when business leaders reported they had been told to prepare for a conference call on Thursday with Michael Gove, the UK's Cabinet Office minister.
London is continuing to prepare for trade with the EU on Jan 1 without a deal in place.
The BBC reports that the Commons Public Accounts Committee, which oversees government spending and comprises lawmakers from all parties, has warned in a new report that London has taken "limited responsibility" for ensuring its readiness for such an eventuality.