5G, industrial internet changing production
By MA SI | China Daily | Updated: 2020-12-03 10:02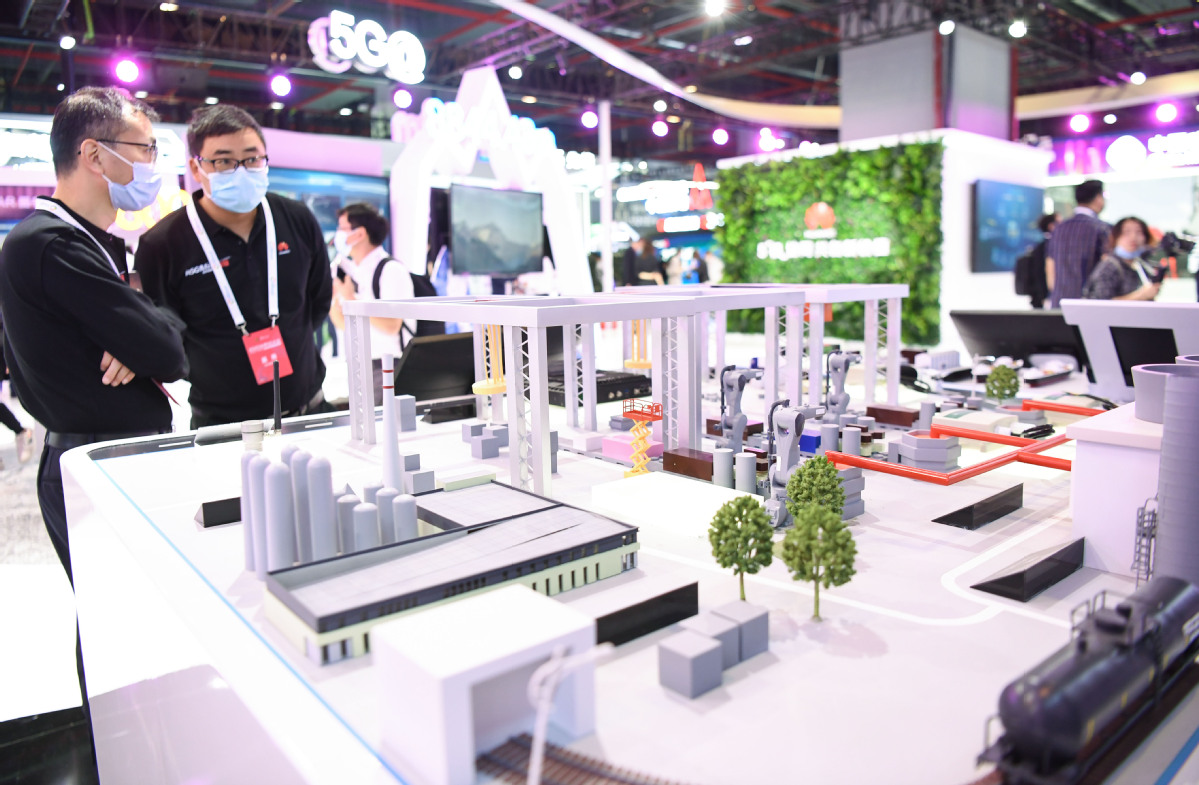 Steel, automobile, hydropower among important sectors pursuing transformational shifts in modes of doing business
Factories in China are increasingly going digital, internet-connected and smart, thanks to growing application and integration of 5G and industrial internet technologies, government officials, company executives and experts said.
From using machine vision technologies to automatically inspecting industrial products to employees harnessing 5G to allow remote control of cranes in steel plants hundreds of kilometers away, industrial production is becoming more efficient and safer in reality.
Xiao Yaqing, minister of industry and information technology, said over 1,100 projects that focus on implementing integration of 5G and the industrial internet have been built across China.
"China's industrial internet is entering the fast lane, with a wide range of applications having emerged in manufacturing, healthcare, energy, smart ports and other sectors," Xiao said.
China's rapid 5G rollout has laid a sound network infrastructure for better use of the industrial internet, he said. The nation so far has erected more than 700,000 5G base stations, about twice the amount in the rest of the world.
Zhao Houlin, secretary-general of the International Telecommunication Union, said via video link, China has built the largest commercial 5G network, and the nation's consumer internet and industrial internet have also entered the fast lane, putting China among the leaders in global innovation and development.
The industrial internet refers to the convergence of industrial systems with the power of advanced computing, analytics, sensing and new levels of connectivity.
It used to be jargon known only to telecom industry insiders, but now the term has wider resonance with people from a wide range of sectors, with front-line workers particularly benefiting from the technology.
Liu Jiwen, who is in charge of Hunan Valin Xiangtan Iron and Steel's 5-meter-wide thick plate production facility, said he has a deep sense of what the integration of 5G and the industrial internet can deliver.
In a control room of the company's steel plant in Xiangtan, Hunan province, four technicians operate joysticks to remotely control bridge cranes in a neighboring high-temperature plant. Via a big screen that displays real-time video of the plant, the employees monitor the processes and all the equipment moves about in an orderly fashion.
"Previously, the control center had to be placed within a steel plant to allow it to control the process without a time delay. We had to work in an environment with high temperatures, noise and dust. But all of this has changed due to the 5G network," said Liu.
Liu added that 5G's low latency and big bandwidth allow the control center to be located in a comfortable workspace outside of the mill and just one employee can remotely operate multiple bridge cranes simultaneously, thus significantly boosting efficiency.
This is in stark contrast to the often seen image of steelworkers toiling away in mills amid difficult conditions. The typical labor-intensive iron and steel industry is undergoing transformations thanks to the commercialization of 5G and other cutting-edge technologies.
The steel plant also offers a glimpse into how Chinese tech companies are scrambling to partner with a wide range of traditional sectors to promote the industrial use of 5G and unleash the full potential of the most advanced communications technology so far.
Auto manufacturing is also getting upgraded thanks to the use of 5G and the industrial internet. Zhu Yanfeng, chairman of Dongfeng Motor, a major carmaker based in Wuhan, Hubei province, said, "The application of 5G and the industrial internet has helped the company shorten its entire product development cycle from 36 months to 24 months."
Also, technologies make its manufacturing more resilient and better able to recover from the COVID-19 pandemic, which hit Wuhan hard early this year, Zhu said.