Chinese team unveils exceedingly fast quantum computer
By Zhu Lixin in Hefei and Zhang Zhihao in Beijing | chinadaily.com.cn | Updated: 2020-12-04 06:59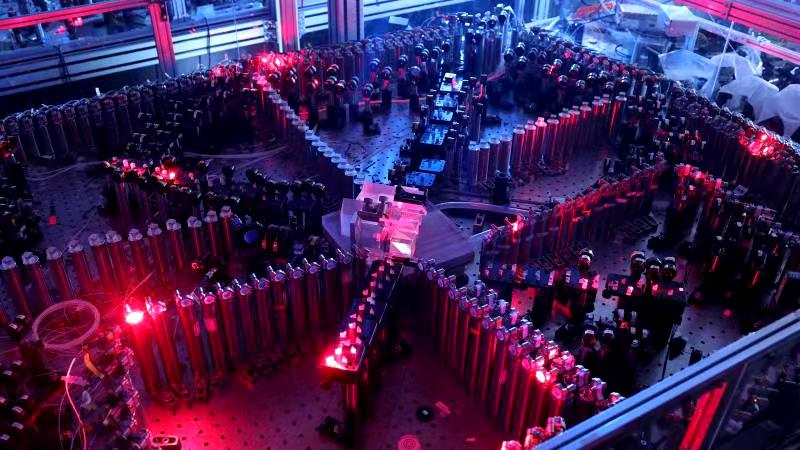 A new approach to computing by a group of Chinese scientists raises the possibility that today's supercomputers may not be so super for long.
The scientists revealed a prototype quantum computer that can calculate 100,000 billion times faster than today's best supercomputers.
The group, led by professors Pan Jianwei and Lu Chaoyang of the University of Science and Technology of China, unveiled their prototype on the website of the journal Science on Friday.
The computer, which they named Jiuzhang, after the ancient Chinese mathematics text, was able to manipulate 76 quantum bits, or qubits, for calculations.
Quantum mechanics is defined as the body of scientific laws regarding nature at the smallest scale — the energy levels of atoms and subatomic particles.
Unlike classical computers, which handle data in binary bits, quantum computers process data using qubits, which can be identified as 0, 1or both. As a result, the computing power of quantum computers can increase exponentially as the number of qubits increases.
The computing speed of a quantum computer could appear overwhelming — so much that no classical computer could perform the same task in a reasonable amount of time.
The advantage enjoyed by quantum computers is unlikely to be overturned by classical computers' algorithms or hardware improvements, even though the two types of computers are still in competition, Pan said.
His team prefers to call it the quantum computational advantage, though it is more widely known as quantum supremacy.
"The achievement of the quantum computational advantage is the first milestone for quantum computing research, and our latest breakthrough has brought China to that point," Pan said.
Pan is also an academician of the Chinese Academy of Sciences and vice-president of the University of Science and Technology of China, based in Hefei, Anhui province.
Last year, Google claimed it had reached this milestone by using a 53-qubit processor named Sycamore to solve an arbitrary mathematical computation in 200 seconds. The same task would take what was then the world's most powerful supercomputer, the Summit, more than 10,000 years to complete, according to a study published in the journal Nature.
However, IBM, the creator of Summit, later challenged Google's findings by adjusting the way its supercomputer approached the task and said it could come up with a solution in 2.5 days, a reasonable amount of time.
Pan said his team could have achieved the breakthrough a little earlier if it didn't have to deal with restrictions placed on international scientific collaboration by the United States government.
"Scientific research requires international collaboration, and it will benefit all of humankind," Pan said, adding that future universal fault-tolerant quantum computers will enjoy wide application in areas including weather forecasting and medicine design.
"The restrictions will turn out to be useless because we will ultimately overcome all the obstacles by ourselves," he said.