Eastern wisdom underpins cultural links
By LIU XUAN | China Daily | Updated: 2020-12-05 09:48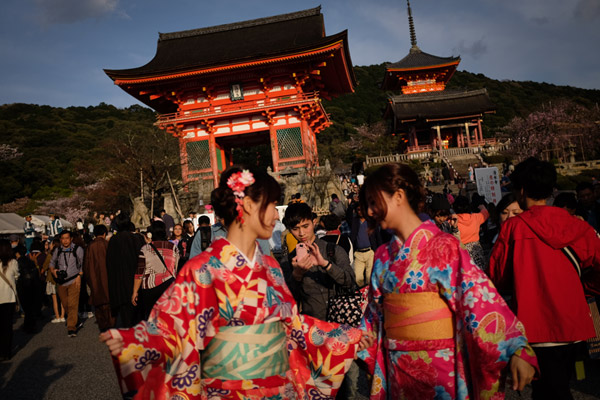 With a similar cultural background and coming from the same part of the world, Chinese and Japanese can benefit from efforts to deepen mutual understanding via cultural exchanges in various forms, a forum has heard.
The cultural closeness between China and Japan is the foundation of dialogue and mutual trust, said Liu Yandong, director of the International Confucian Association, an academic and cultural association focused on Confucianism.
She said the neighbors should use their respective advantages to build a platform for communications and cooperation among professionals in various fields, such as the arts, the protection of cultural relics, environmental protection, scientific research and archaeology.
Yasuo Fukuda, head of the Cultural Exchange Institution for an Asian Community and a former Japanese prime minister, said culture is the most effective tool to help Japanese and Chinese understand each other.
Although there are differences between the cultures, Fukuda said people will find ways to seek common ground and be able to share each country's culture, as cultural exchange is an important tool to build a community with a shared future.
"Culture is life itself, and has been playing a very important role since ancient times," he said. "Moreover, cultures should have no national boundaries, so I sincerely believe that culture can serve as a bridge between countries."
Communication plaza
The webinar, held simultaneously in Beijing and Tokyo on Friday, focused on providing Eastern wisdom for the international community and deepening mutual understanding by cultural exchanges.
Kazuo Ogura, an adviser to the Japan International Exchange Foundation and a veteran Japanese diplomat, suggested a "communication plaza", where everyone can gather and talk to one another.
"Now that the technology is so advanced and the application of social networks is very common, we can also extend the dimension of communication to the internet," he said."For example, we can invite Japanese and Chinese professors to give us lectures through the internet."
Hao Ping, president of Peking University, focused on academic communications among young people, saying universities should strengthen educational cooperation through more channels.
Yuji Miyamoto, a former Japanese ambassador to China, echoed Hao's view and said the exchanges between the young people of the two countries have already created a solid foundation.
"In East Asia, we share similar affections for anime, pop culture, science fiction, food, and even the fashion trends," he said.