Ambassador: Reset China-US ties to avoid 'irreparable damage'
By Zhao Huanxin in Washington | chinadaily.com.cn | Updated: 2020-12-11 04:15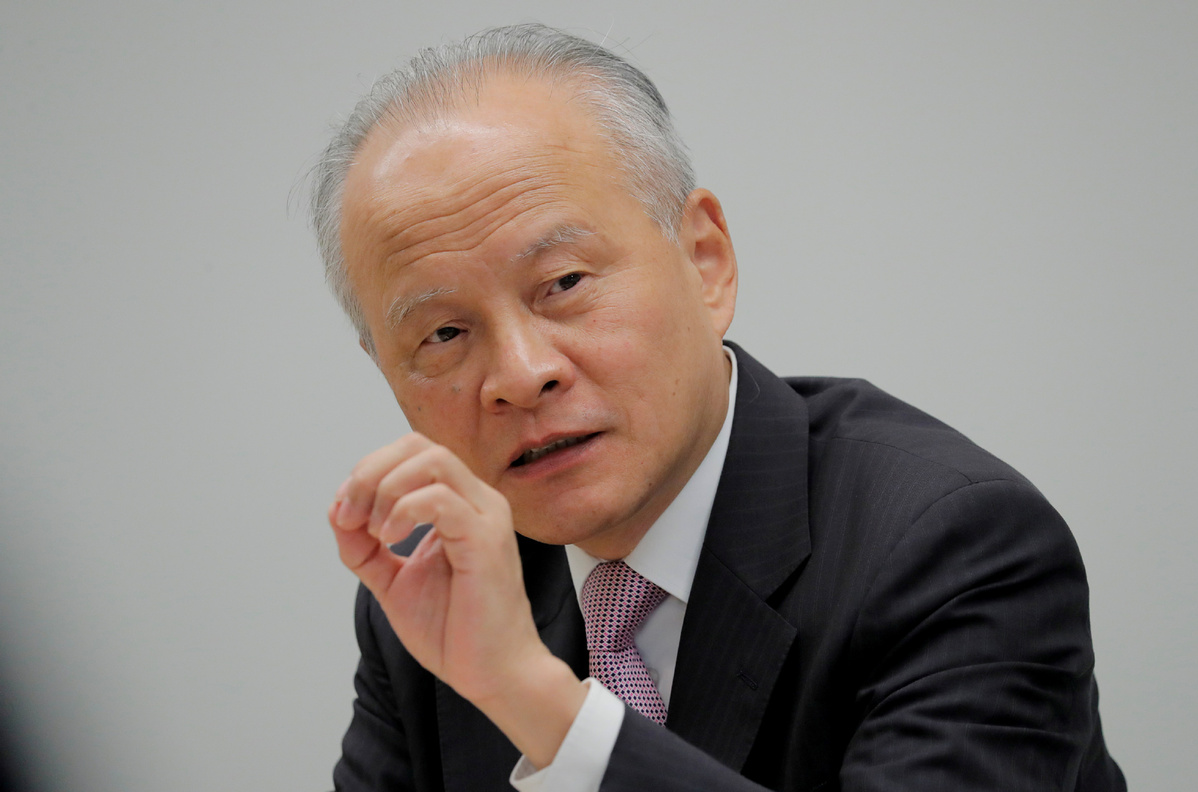 The continuing deterioration of US-China relations, already at their lowest point in decades, will cause "irreparable damage" to the fundamental interests of both countries, Beijing's top envoy in Washington has warned, as he called for a reset of the relationship toward cooperation and stability.
"At a time of deepening globalization and closely intertwined interests between the two countries, a new 'Cold War' and 'decoupling' will lead nowhere," Chinese Ambassador to the US Cui Tiankai said.
"China and the United States should have the wisdom and capability to overcome their differences and rebuild a strategic framework of relations featuring win-win cooperation and sustained and stable development," he said at a virtual US-China Business Council 2020 annual gala Wednesday night.
Never before have relations between the two countries been strained and reduced to a level as they stand now, with trade and investment held back, scientific and technological cooperation blocked, while people-to-people exchanges dampened, the ambassador noted.
"It seems that the relationship is on a precipice of confrontation and conflict, and some people's Cold-War mentality and ideological bias are pushing it even closer to the edge," Cui said.
US Secretary of State Mike Pompeo has "castigated China on almost a daily basis" over a whole range of issues, including China's Xinjiang, Taiwan, Hong Kong, and the South China Sea, The Associated Press reported on Thursday.
"As we speak, this dangerous trend is still continuing," Cui said. "If left unchecked, it will cause irreparable damage to the fundamental interests of both countries and peoples."
The ambassador noted that the year 2021 is essential for breaking new ground and sustaining new momentum for China-US relations. That year will mark the 50th anniversary of Dr. Henry Kissinger's first visit to China and the "Ping-pong Diplomacy".
Over the past five decades, the two countries have risen above ideological differences and Cold-War confrontation and made huge progress in their relations, which has had positive impact on both countries and profoundly changed the entire world, according to Cui.
"Some are trying to deny these basic facts and redefine the relations with conflict and confrontation," he said. "What they are doing is to distort and repudiate history and dig pitfalls for the future. That will only lead China-US relations down a dangerous path."
Henry Kissinger, the former US secretary of state, has repeatedly cautioned the consequences of an ever-souring relationship between the world's top two economies.
During an event in Beijing on Nov 21 last year, Kissinger said the two countries were in the "foothills of a cold war", a comment that Cui quoted at his speech Wednesday.
About a year later, Kissinger urged Washington and Beijing to define what to avoid and achieve, and to forge a "strategically stable relationship" capable of preventing a catastrophe comparable to World War I.
In his speech at the gala, Ambassador Cui reiterated that cooperation is the only right choice for both countries, adding that their shared interests always come first, so much so that no difference justifies any conflict or confrontation.
He also said that in the post-pandemic era, China-US cooperation cannot and should not be absent.
"We believe that whenever human society faces major difficulties and challenges, countries with stronger capabilities shoulder greater responsibilities," he said.
China and the United States should coordinate and cooperate to combat COVID-19, promote world economic recovery and growth, and reform and improve international governance system and architecture to better address global challenges, such as climate change.
"This is also what the international community expects of us," the ambassador said.
On Thursday, incoming US climate envoy John Kerry said he expected to work with China on climate change despite the differences between the two countries on a host of other issues.
"They were a partner on climate as we competed with them at other things during the Obama administration," he told National Public Radio in the morning when asked about whether the US would cooperate with China on climate issues.
"We've been there, done that. But if we don't work as a primary extraordinary effort on climate, we're all cooked," the former secretary of state said.