High-speed trains buoy freight sector
By ZHONG NAN | China Daily | Updated: 2020-12-24 09:27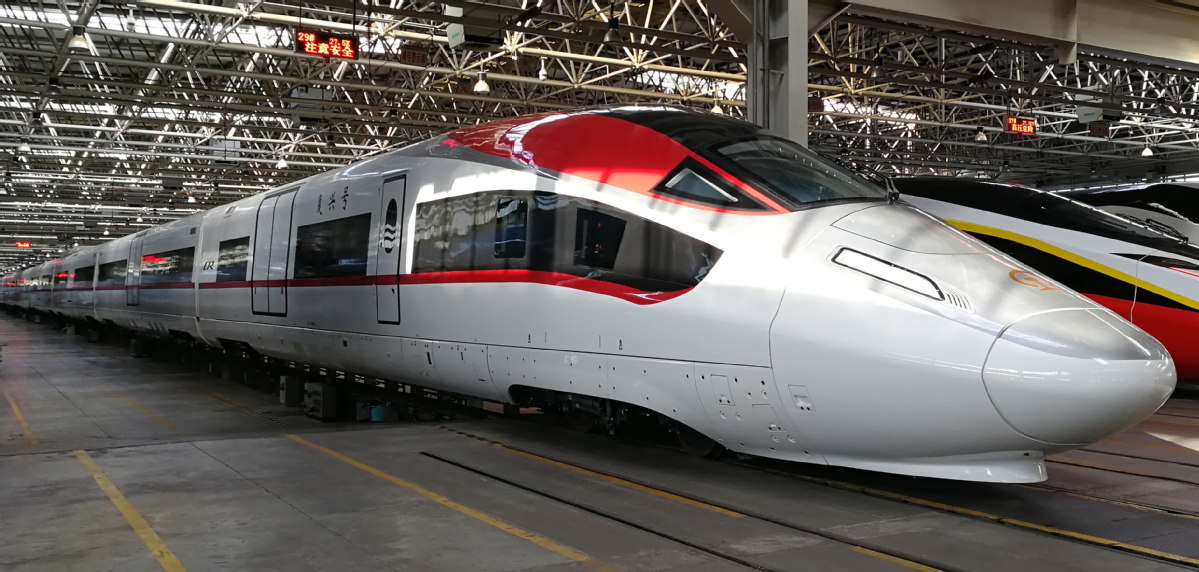 A new generation of high-speed cargo trains that can carry up to 110 metric tons of goods rolled off the production line on Wednesday in Tangshan, North China's Hebei province.
The new trains, developed by CRRC Tangshan Co Ltd, a unit of China Railway Rolling Stock Corp, the country's largest rolling stock manufacturer by production volume, can travel at a top speed of 350 kilometers per hour.
Equipped with eight carriages, the train also features enhanced adaptability to environmental changes.
It can operate in temperatures of between -25 C and 40 C, the company said in a statement.
Unlike air and road transport, high-speed freight train is less affected by weather factors such as heavy rain and strong winds, said CRRC Tangshan, adding that it can travel 1,500 kilometers within five hours.
The high-speed freight train unit uses technologies such as big data analysis, Beidou satellite navigation systems, cloud virtual stowage, ultrawide band solutions, precise weight controls and advanced algorithms to realize the intelligent stowage of goods and the smart distribution of vehicle load. They are also helpful for working procedures such as precise identification and positioning of cargo in operations.
The high-speed freight trains meet demand for medium and long-distance fast freight transportation for distances between 600 km and 1,500 km, said Zhou Zhicheng, a researcher at the market research department of the Beijing-based China Federation of Logistics and Purchasing.
"They have significant advantages such as high transportation timeliness, high operating frequency, low transportation costs and all-weather operational capability," he said, adding this is the first time in the world that high-speed cargo trains are being run at a top speed of 350 km/h, highlighting China's innovation strengths in this area, he said.
The front of the high-speed cargo train uses the bionic design of a Chinese sturgeon skeleton, which increases the slenderness ratio at the front. Results of wind tunnel testing also proved that the train's front is advanced, and it greatly reduces the running resistance compared with existing models.
Each carriage has a pair of 2.9-meter-wide loading doors with the largest degree of opening in the world, said the statement.
Feng Hao, a researcher at the Institute of Comprehensive Transportation affiliated with the National Development and Reform Commission, said high-speed freight trains, new special trains for standardized containerized freight, cold chain logistics, and cross-border passenger and freight transportation, will be the next growth point for China's railway transport equipment sector, apart from regular and maglev high-speed trains, high-power locomotives, railroad trucks and urban rail transit vehicles.
"The pushing power behind the application of such high-speed cargo trains is China's booming e-commerce sector and fast urbanization pace," he said. It is also a notable move to show global companies that China is continuing to build world-class transportation infrastructure to attract foreign investment and enrich its new dual-circulation development pattern. This views the domestic market as the country's economic mainstay with domestic and foreign markets complementing each other."
A modern comprehensive transport system will be in place by 2035 to substantially improve public satisfaction levels and better support national modernization, according to a white paper titled "Sustainable Development of Transport in China" released by the State Council Information Office earlier this week.
The nation aims to raise its global competitiveness in the railway sector by expanding its railway networks with wider coverage and higher speeds. It plans to have 200,000 km of track laid by the end of 2035, including about 70,000 km of high-speed track, China State Railway Group, the country's railroad operator, said in its latest national railway development plan released in August.
All cities with a population of over 200,000 will be connected to the railway network by 2035, and those with a population of over 500,000 will be on high-speed rail lines.