Drones take drudgery out of farmwork
By FAN FEIFEI | China Daily | Updated: 2020-12-25 10:09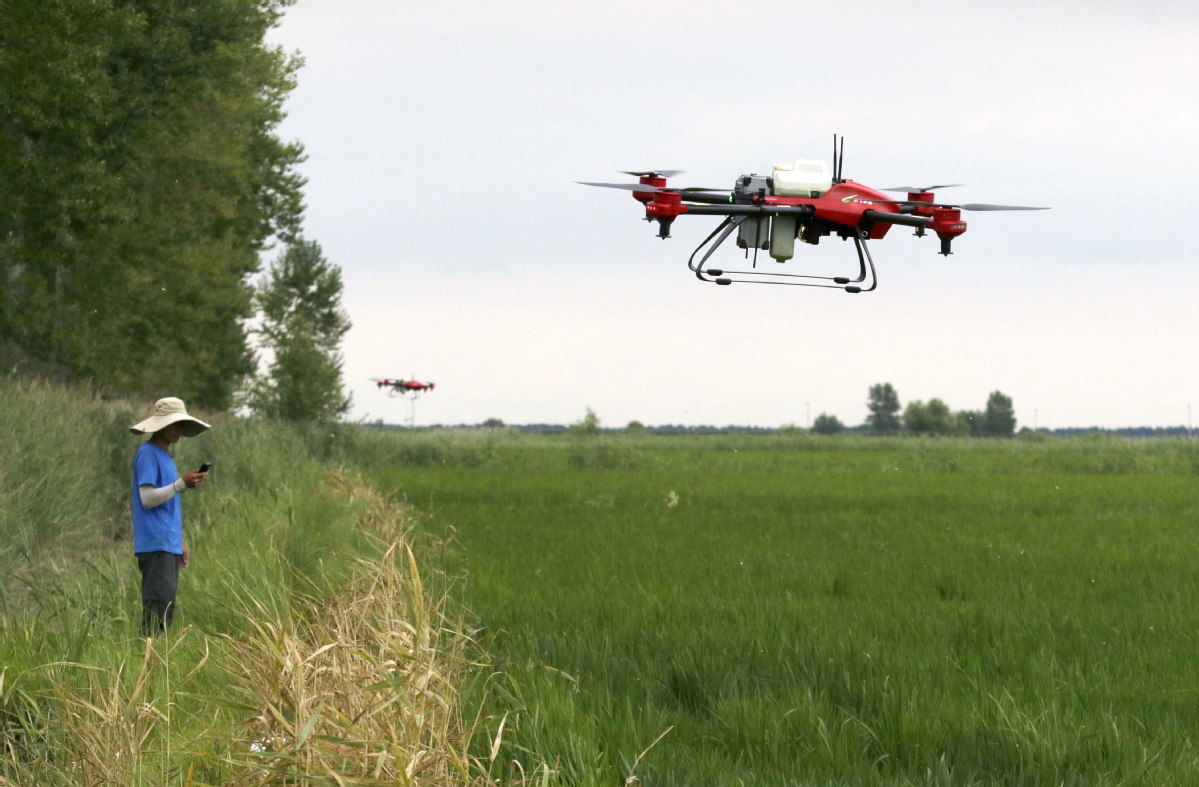 DJI's agricultural-use business began in November 2015 when it launched its first such drone, the MG-1, marking its diversification into the segment. It unveiled an upgraded agricultural drone, the MG-1S, in 2016 and the MG-1S Advanced in 2017, with upgraded flight control systems, radar capabilities and sensors.
In 2018, it launched the T16, which features an upgraded loading capacity, and the T20 in 2019.
Chen Shengdou, director of the China Agro-tech Extension Association, said farm drones are being used to safeguard a wide range of crops. He added that farmers have high expectations for modern agricultural equipment, which plays a critical role in prompting the transformation, upgrade and development of traditional agriculture.
China's largest agricultural drone maker-XAG Co Ltd-has stepped up efforts to develop drones and self-driving utility vehicles for use on farms in an attempt to introduce digital agricultural solutions and build smart farming ecosystems.
Last month, the company announced it completed a 1.2 billion yuan round of financing led by Baidu Capital and SoftBank Vision Fund 2, and subsequently followed by Sinovation Ventures, Guangzhou Yuexiu Industrial Investment Fund Management and Guangzhou Emerging Industry Development Fund.
This is so far the largest commercial financing in China's agri-tech sector.
Peng Bin, CEO and founder of XAG, said the company will enhance research and development, boost manufacturing and service capabilities, enrich sales channels and accelerate the construction of digital agricultural infrastructure with the proceeds from this round.
The domestic sales volume of its drones is expected to rise to 50,000 units in 2020 from 25,000 in 2019, said Justin Gong, co-founder of the Guangzhou, Guangdong province-based company XAG.
He said agriculture is now facing great challenges, such as an aging rural population and a lack of farmhands. Also, in China some 12 million people move from rural areas to cities every year, and they are increasingly unwilling to take over tedious, laborious farmwork from their parents.
"We develop agricultural drones, farming robots, the internet of things systems and smart agriculture farm management software to conduct fieldwork as tedious and laborious as seeding, spraying pesticides and crop inspections," said Gong.
He said younger farmers are now able to focus more on managing agricultural inputs and making decisions to optimize production workflows.
The total number of agricultural drones in China will grow to 1 million units within the next five years, Gong said, adding that China is at the forefront of not only farm drone manufacturing but their myriad applications.
"Our ultimate goal is to create a smart agriculture ecosystem in which all the repetitive, tedious and dangerous jobs are handed over to drones and robots, allowing farmers to focus on the process of decision making with the aid of big data and artificial intelligence," Gong added.
"During this critical pandemic period, we launched an online program that trained farmers to become drone operators. And we also worked with seed companies to develop special coatings for rice seeds that could be directly spread by our drones," Gong said.
So far, XAG had introduced agricultural drones to more than 9.31 million farmers and serviced 52 million hectares of farmland.
China has 120 million hectares of arable land, and 300,000 agricultural drones are needed to meet the requirements of modern agricultural development, said Wang Zhiguo, director of the National Aviation Plant Protection Science Technology Innovation Alliance.
Yang Jincai, director of the Shenzhen Unmanned Aerial Vehicle Industry Association, said: "Drones are playing a vital and positive role in the fight against the spread of coronavirus, including spraying disinfectants, logistics and distribution, and delivering critical supplies."
Yang added that the domestic civil drone market has huge growth potential, with surging demand from agriculture, cargo transportation and wireless network data activities.