Education ministry sets out rules for teachers disciplining students
By ZOU SHUO | CHINA DAILY | Updated: 2020-12-30 08:58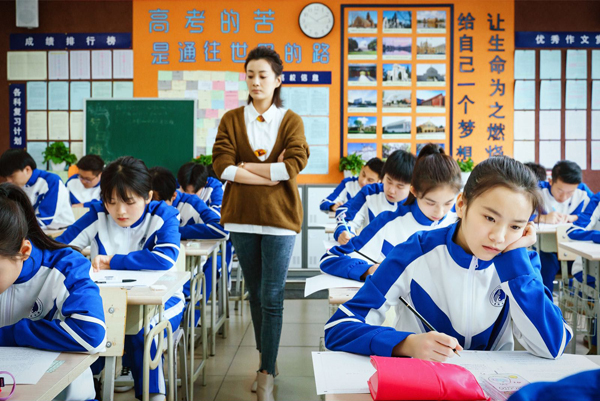 In its first official guideline on teachers' rights to discipline students, the Ministry of Education said primary and secondary school teachers have the authority to hand out punishment and clarified the kinds of punishment not allowed.
The guideline, which will take effect on March 1, comes amid long-simmering tensions between schoolteachers and parents over what kinds of misbehavior by students should be punished and how far the punishment should go.
The guideline bans teachers from using corporal punishment, including striking or poking students with sharp objects.
Teachers should not ask students to punish their peers or hand out punishments based on who they like. They should not punish students for poor academic performance, verbally abuse students, ask them to stand for too long, make them assume physically uncomfortable positions, or punish all students for an individual offense, the guideline said.
However, teachers can punish students for misbehaviors including deliberately failing to complete academic tasks, disrupting class order, drinking, smoking, harming themselves or others, or hitting or verbally abusing classmates or teachers.
For minor offenses, teachers can call out students, make them apologize, or keep them at school for additional teaching.
Teachers can suspend students for less than a week for serious or repeated violations, ask them to attend psychological counseling or transfer them to special education centers. Schools can give repeat offenders in primary and middle schools administrative punishment including warnings or demerits. They can expel high school students for serious and repeated offenses.
Yan Yun, a primary school English teacher in Wuhan, Hubei province, said disciplining students has been a difficult issue because many teachers have been punished by schools for doing so.
Some spoiled students have become "little kings" at home, so teachers just refrain from punishing them in case their parents make a scene about the punishment, she said.
Zhou Xue, mother of a first grader in Wuxi, Jiangsu province, said she agrees with giving teachers the right to punish students, such as asking students to stand up or assign punitive homework.
Verbal abuse and corporal punishment should be banned and teachers must not punish students based on personal feelings, she said.
Chen Zhiwen, editor-in-chief of online education portal EOL, said that while it was common for teachers to use corporal punishment in the past, things have swung to an opposite extreme nowadays and teachers rarely punish any bad behavior.
"Punishment is essential for students' growth because they need to know their bad behavior has consequences," Chen said.
Parents should also punish their children at home and education authorities should support teachers in using their authority to punish misbehavior, he said.
However, the education authorities and schools should show no mercy to teachers who punish students to gain personal satisfaction, he added.