Shanghai leads global robot industry with sales boom
By Zhao Shiyue | chinadaily.com.cn | Updated: 2021-01-04 16:25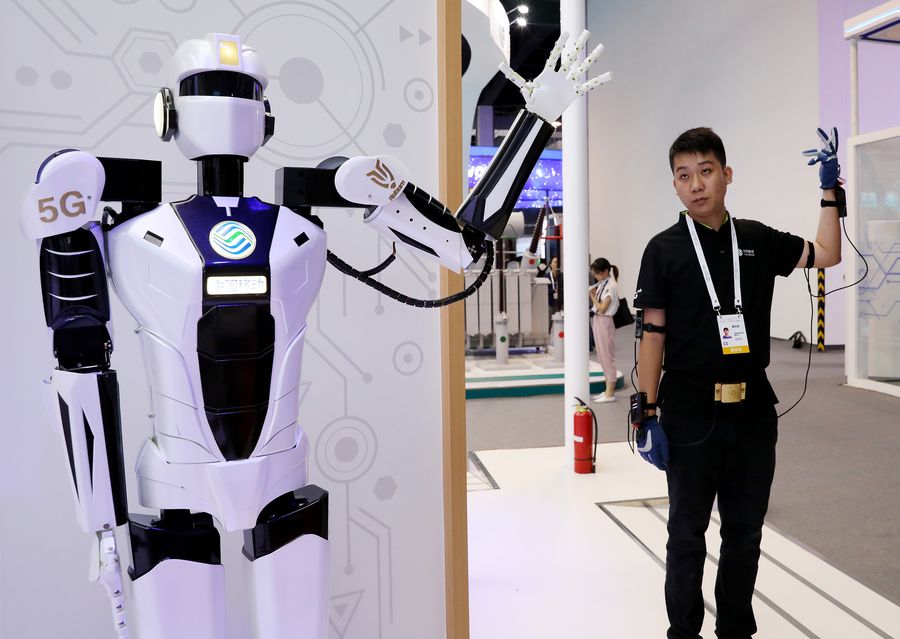 As one of the biggest robot manufacturing hubs in China, Shanghai takes the lead with one-third of national output, and the city's robot industry has grown into an important pillar to boost technological innovation and real economy, said Han Dadong, the director of smart manufacturing division at Shanghai Economy and Information Commission, reported Securities Times.
Robot sector, a crucial field in high-end manufacturing, gauges a country's innovation and scientific research capability. And China, the world's largest robot market, accounts for around one-third of global robot output.
Although the COVID-19 pandemic hurt robot production and sales across the country, leading companies such as Shanghai STEP Electric Corporation and SIASUN Co Ltd in Shanghai have tided over difficulties and made significant progress in 2020, Han said.
STEP Electric, the elevator control system and industrial robot manufacturer set up in 1995, made breakthroughs in motion control algorithms last year and saw net profit reaching 76.52 million yuan in first three quarters of 2020, a year-on-year increase of 36.64 percent, Ji Yi, president of the company's chairwoman, told Jiefang Daily.
"Although foreign demand dropped last year, domestic market continued to unleash its vitality," said Yang Li, president of SIASUN. The company eyed exploring diversified application scenarios of robots to promote sales.
"Major battlefields of the company have turned to industrial robot application in automotive OEMs, flexible chips production lines and medical surgeries," he said.
At the beginning of December, Shanghai-Fanuc Robotics launched the construction of phase III factory in Shanghai, covering an area of 431 mu (28.74 hectares) and total investment of 1.58 billion yuan. After completion, the annual output value is expected to reach 10 billion yuan.
Besides industrial robots, service robots sales also saw explosive growth, especially those applied in medical, business and educations scenarios.
CloudMinds Technology developed a series of smart robots for epidemic prevention and control, such as patrol robots, cleaning and disinfection robot and transportation robots, which were widely used in the temporary hospitals in Wuhan during the outbreak.
Dai Liu, chairman of Shanghai Robot Industry Association, said service robot is imbued with the technology from both high-end manufacturing and artificial intelligence. China's service robot sector is to welcome a "10-year golden period" in line with the development of AI, he said.
In November, Pudong in Shanghai rolled out plans to promote the high-quality development of robot sector. A robot valley and an industrial park are to set up in Zhangjiang and Jinqiao, covering 3.9 and 5.5 square kilometers, respectively. By 2023, Pudong is expected to grow into a national robot highland with industrial scale reaching 50 billion yuan, according to Shanghai government.