Policy to promote autonomous driving
By Xu Wei | China Daily | Updated: 2021-01-05 08:46
Nation targeting breakthroughs in key tech including smart road infrastructure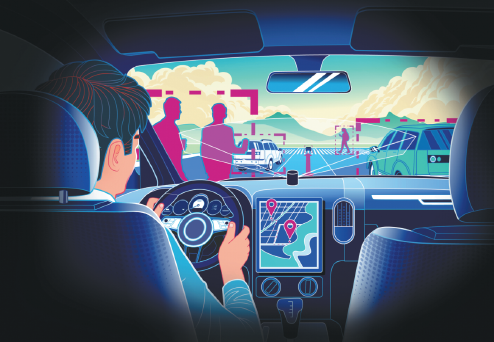 China has mapped out a new set of measures to promote the growth and application of autonomous driving technologies, with steps to bolster the research and development of key technologies and develop more intelligent road infrastructure.
A policy document published by the Ministry of Transport on Wednesday said the country is targeting key breakthroughs in crucial technologies including smart road infrastructure and cooperative systems between vehicle and infrastructure as well as the industrialized application of autonomous driving technologies by 2025.
In stepping up the research and development of technologies, the document pledged to integrate various innovative resources to enable breakthroughs in autonomous driving technologies, such as integrated sensing systems, smart roadside inspection systems and smart infrastructure.
To improve the level of intelligence in road infrastructure, the government will synergize plans in infrastructure development with the development of smart elements such as sensing networks, communications systems and cloud control systems.
The development of smart infrastructure will be moved forward in an orderly manner, with the interconnectivity of road infrastructure, vehicles, transportation management and services to be promoted, the document said.
Pang Song, head of the department of science and technology with the Ministry of Transport, said in a news release on Wednesday that the policy rollout is part of efforts to enable cutting-edge technologies to empower the transportation sector as autonomous driving technologies could be a precursor to the reshaping of road transportation systems.
Autonomous driving technologies could reduce traffic accidents caused by human factors, improve the traffic capacity of roads and reduce energy consumption and carbon emissions, he said.
Cooperation between carmakers, high-tech companies and telecommunications service providers has spawned a number of startups, which have already offered experimental services in cities including Beijing, Shanghai and Changsha, Hunan province, he noted.
In promoting the piloting of autonomous driving technologies and its application, the official document pledged support to cargo and passenger transportation services via autonomous technologies, saying that the piloting of new business models, such as car-sharing and smart parking services, and their commercial operations will be encouraged.
The government will accelerate steps to create an enabling policy environment, with steps to research the making of rules on operating autonomous driving vehicles and refine regulations on road tests for such vehicles, the document said.
The latest measures have been hailed by industry insiders, with some hailing the document as offering strong confidence in the growth of the sector.
Zhang Haizhou, spokesman of Pony.ai, an autonomous driving startup, said the company welcomes the policy document as it will be a boon for both the sector and its businesses.
"It shows that policymakers have recognized the value of autonomous driving technology in related areas and its safety," he said. "It is our hope that local authorities, under the guidance from the document, can encourage businesses to conduct more in-depth innovative and piloting efforts and quicken steps to roll out more open and pragmatic policy measures, including greenlighting the commercial use of cargo and passenger transportation services and issuing relevant licenses."
UISEE, another startup focused on high-level autonomous driving, said in a news release that the document has outlined a road map for the development of the sector and has delivered a boost to industry insiders.
The policy will expedite steps for businesses to transform, promote their research outcomes and create more commercial value, the company said, adding that the commercialization process of autonomous driving will also pick up under the policy incentives.
Zhang Li - chief operating officer with WeRide, an autonomous driving startup based in Guangzhou, Guangdong province - said the latest document is groundbreaking in that it emphasized the need to encourage the piloting of autonomous technologies.
"Autonomous driving is not a technology that comes out of laboratories. Rather, it requires constant testing on real roads on a massive scale to collect valuable data which, coupled with the iteration of algorithms, can ultimately lead to stable and safe self-driving," he said.
He explained that autonomous driving is a sector that involves multiple disciplines and sectors and no company can single-handedly develop the technology and put it into use, underscoring the importance of integrating resources for breakthroughs in key technologies.
"It not only requires highly strong innovative capacities to tackle technological challenges, such as computer vision, but also the strong productivity and platform of traditional sectors, such as auto making, transportation services and fifth-generation telecommunications services," he said.