Ministry: US will pay heavy toll for wrongdoing
By ZHOU JIN | China Daily | Updated: 2021-01-08 07:00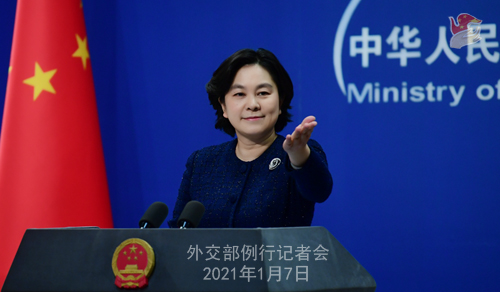 China said on Thursday that the United States will pay a heavy price for its wrongdoing, after US Secretary of State Mike Pompeo said Washington may sanction those involved in the recent Hong Kong arrests and that its UN ambassador would visit Taiwan.
Pompeo said in a statement on Wednesday that the 53 people who were arrested on suspicion of committing crimes, including subversion, under the National Security Law for Hong Kong, should be "released immediately and unconditionally".
Speaking at a daily news briefing, Foreign Ministry spokeswoman Hua Chunying said that Beijing opposes and condemns Pompeo's statement, which interferes in China's internal affairs and judicial sovereignty.
"We support the Hong Kong authorities in fighting illegal criminal activities in accordance with the law and firmly oppose any country, organization or individual in any way interfering in Hong Kong affairs and the region's rule of law," she said.
Some anti-China politicians in the Trump administration are engaging in a "last minute of madness" and are harming China-US relations to serve their selfish political aims, Hua said, adding that this goes against the will of the two peoples and will be punished by history.
She said that Beijing urged Washington to immediately stop interfering in China's internal affairs and undermining the country's interests and bilateral relations.
China will take all necessary measures to safeguard its sovereignty and security interests, she added.
In terms of the upcoming visit to Taiwan by US Ambassador to the United Nations Kelly Craft, Hua stressed that China opposes all forms of official exchanges between the US and Taiwan.
Also on Thursday, the US and Taiwan held a so-called political and military dialogue via video-link, over which the Foreign Ministry and the Defense Ministry have both lodged stern representations.
The Chinese People's Liberation Army is resolute and able to thwart any form of external interference and attempts to seek "Taiwan independence", and defend national sovereignty and territorial integrity, the Defense Ministry said in a statement.
Hua said that China urged the US to abide by the one-China principle and the three China-US joint communiques so that it won't further undermine cross-Straits peace and stability and bilateral ties.