Trump sees new 'witch hunt'
By AI HEPING in New York | chinadaily.com.cn | Updated: 2021-01-13 11:54
US President Donald Trump on Tuesday criticized House Democrats for seeking to impeach him for the riot at the Capitol last week, calling it a "continuation of the greatest witch hunt in the history of politics" and said it was "causing tremendous anger" and "danger to our country".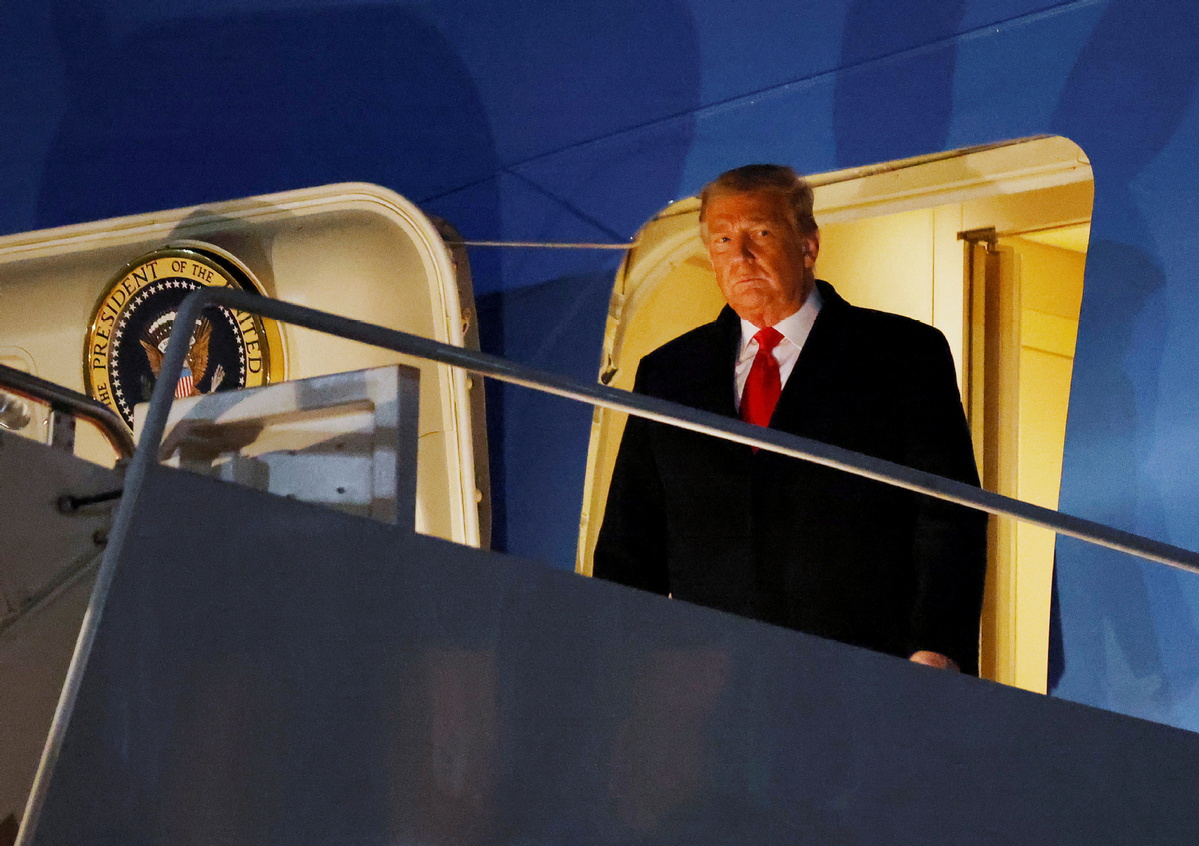 Trump made his remarks to reporters before boarding Air Force One at Joint Base Andrews and departing for a trip to the US-Mexico border wall near Alamo, Texas.
They were his first public comments since Jan 6 when the Capitol siege followed a speech near the White House in which Trump urged thousands of backers to march to the Capitol to persuade legislators to overturn President-elect Joe Biden's victory.
Before Trump spoke at the "Save America"' rally, his attorney Rudy Giuliani told the crowd a "trial by combat" was needed over the vote by Congress later that day to confirm Biden's Electoral College victory.
In Alamo, Trump dismissed Democrats' calls for Vice-President Mike Pence and Trump's Cabinet to declare him unfit from office and remove him from power using the 25th Amendment of the Constitution.
"The 25th Amendment is of zero risk to me but will come back to haunt Joe Biden and the Biden administration," Trump said. "As the expression goes, be careful of what you wish for."
"On the impeachment, it's really a continuation of the greatest witch hunt in the history of politics. It's ridiculous. It's absolutely ridiculous," Trump said. "This impeachment is causing tremendous anger, and you're doing it, and it's really a terrible thing that they're doing.
"For Nancy Pelosi and Chuck Schumer to continue on this path, I think it's causing tremendous danger to our country, and it's causing tremendous anger," Trump said. "I want no violence."
Asked by reporters whether he held any "personal responsibility" for the riot at the Capitol, Trump replied, "If you read my speech, and many people have done it and I've seen it both in the papers and in the media, on television, it's been analyzed, and people thought that what I said was totally appropriate."
Trump also lashed out at his banning on Twitter and other social media platforms as "a terrible mistake" by "Big Tech".
"There's always a counter move when they do that. I've never seen such anger as I see right now, and that's a terrible thing," he said. "We have tremendous support. We have support probably like nobody has ever seen before," he added, before saying, "always have to avoid violence".
The House on Tuesday evening was preparing to vote on a resolution that sets a 24-hour deadline for Pence to invoke the 25th Amendment.
Pence said in a letter to House Speaker Pelosi just as the House was preparing to vote that he wouldn't invoke the 25th Amendment, saying that he didn't think it was "in the best interest of our nation or consistent with our Constitution".
Pence wrote that "last week, I did not yield to pressure to exert power beyond my constitutional authority to determine the outcomes of the election, and I will not now yield to efforts in the House of Representatives to play political games at a time so serious in the life of our nation".
With Pence's refusal to invoke the amendment, the House on Wednesday will then vote on its second impeachment of Trump, with some Republicans expected to join this time.
Representative Liz Cheney of Wyoming, No. 3 Republican in the House, said late Tuesday that she will vote to impeach Trump, saying there has "never been a greater betrayal" by a president to his office and his oath to the Constitution.
The New York Times reported Tuesday that "according to people familiar with his thinking", Senator Mitch McConnell of Kentucky, the Republican leader, has told associates that he believes Trump committed impeachable offenses and that he is pleased that Democrats are moving to impeach him, believing that it will make it easier to purge him from the party.
The Times also reported in that article on Tuesday that according to three Republican officials briefed on the conversations, Representative Kevin McCarthy of California, the minority leader and one of Trump's steadfast allies in Congress, has asked other Republicans whether he should call on Trump to resign in the aftermath of the riot at the Capitol. There was no comment on the report from either McConnell or McCarthy.
The article of impeachment introduced in the House on Monday backed by more than 200 Democrats accuses Trump of "incitement of insurrection" and says he "gravely endangered the security of the United States and its institutions of government".
Though the Democrat-controlled House is expected to impeach Trump for a second time and send its articles of impeachment to the Senate, it wouldn't hold Trump's trial until after he leaves office on Jan 20.
At the Texas border, Trump autographed a plaque for the border wall and told a small group of Border Patrol agents and others that "we inherited a broken, dysfunctional and open border. Everybody was pouring in at will."
"It's been tremendously successful, far beyond what anyone thought. We're stopping in large numbers the drugs coming into the country for many, many years and decades. We're stopping a lot of illegal immigration," he said.
The president also warned that Biden would risk American security if he reverses Trump's hard-line immigration policies.
The editorial board of the Houston Chronicle expressed displeasure at Trump's visit, writing: "Trump seeks to use our conservative state, which he won in November with 52 percent of the vote, as a backdrop to lend a veil of normalcy to the last days of his failed presidency. It's the basest kind of political theater — and it's not welcome."
May Zhou in Houston contributed to this story.