Sinovac to double CoronaVac output by next month
By ZHENG YIRAN | China Daily | Updated: 2021-01-20 09:34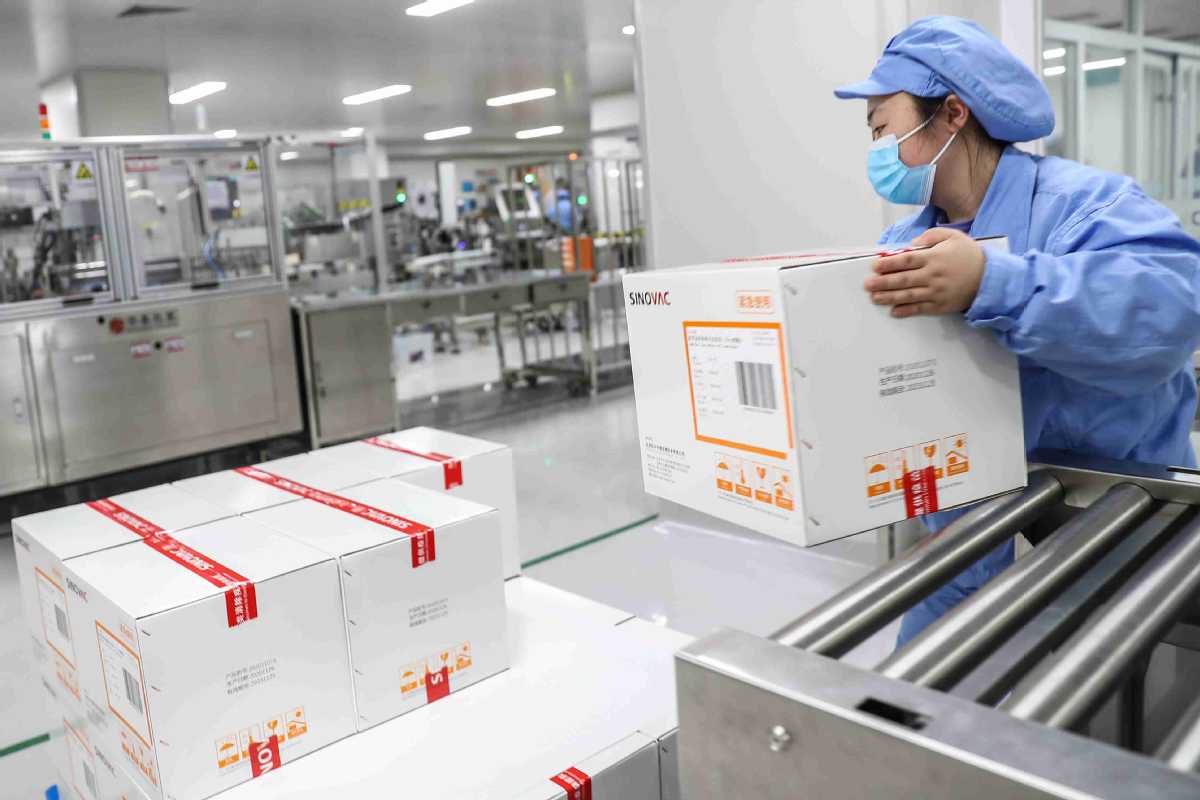 Sinovac Biotech Ltd will double annual capacity of its CoronaVac vaccine production to 1 billion doses by next month, said its top official.
The proposed plant expansion is an attempt to meet surging demand for COVID-19 vaccines at home and abroad.
"The yearly output of our first production line at the company's base in Daxing district of Beijing has reached 500 million doses. After the second production line starts operations in February, we will be able to produce 1 billion doses of vaccine every year," said Yin Weidong, chairman of Sinovac, a Beijing-based, Nasdaq-listed, private-sector company.
He said: "Ever since our first production line started operations in August, the machines ran almost 24 hours a day. Our employees worked round the clock in three shifts to ensure adequate vaccine supply domestically as well as keep our commitment of offering vaccines as a global public good to the rest of the world."
According to the National Health Commission, China started the COVID-19 vaccination program among target groups on Dec 15. By Jan 13, more than 10 million doses have been administered.
So far, vaccinations have been conducted in an orderly manner. In the next step, vaccinations will be gradually shifted to the general public, said the NHC.
Pearson Liu, director of brand management and public relations of Sinovac, said that most of the equipment involved in vaccine production is made in China. To ensure production safety, vaccines are developed at a P3-level laboratory-the second-highest level of bio-safety protection-and manufactured at a P3-level factory.
The production process comprises a series of strictly controlled procedures, including vaccine solution purification, semi-finished product proportioning, filling, testing and packaging. The vaccine is shipped by cold-chain trucks to the centers for disease control and prevention across China.
For international shipments, vaccines are stored in temperature-controlled boxes and shipped by air. A temperature-controlled chip tracks the internal box temperature throughout the shipment to ensure the safety and efficacy of the vaccine.
On June 24, the Chinese government approved the emergency use of COVID-19 vaccines, enabling the production of vaccines made by Sinovac and Sinopharm's Wuhan Institute of Biological Products, for use among key groups like medical professionals, epidemic prevention personnel and immigration inspection workers.
Tian Baoguo, deputy head of the Department of Science and Technology for Social Development at the Ministry of Science and Technology, had said that by the end of October last year, no severe adverse reaction has been reported among the 60,000 volunteers inoculated with the vaccine candidates during the phase 3 trials.
Preliminary results showed the vaccines were generally safe and produce only minor side-effects like pain and bruising at the injection site, as well as temporary low-grade fever.
According to Sinovac, by Jan 10, it had supplied more than 7 million doses of its vaccine to provinces and municipalities across China.