Rural returnees need negative test results
By WANG XIAOYU | China Daily | Updated: 2021-01-21 08:55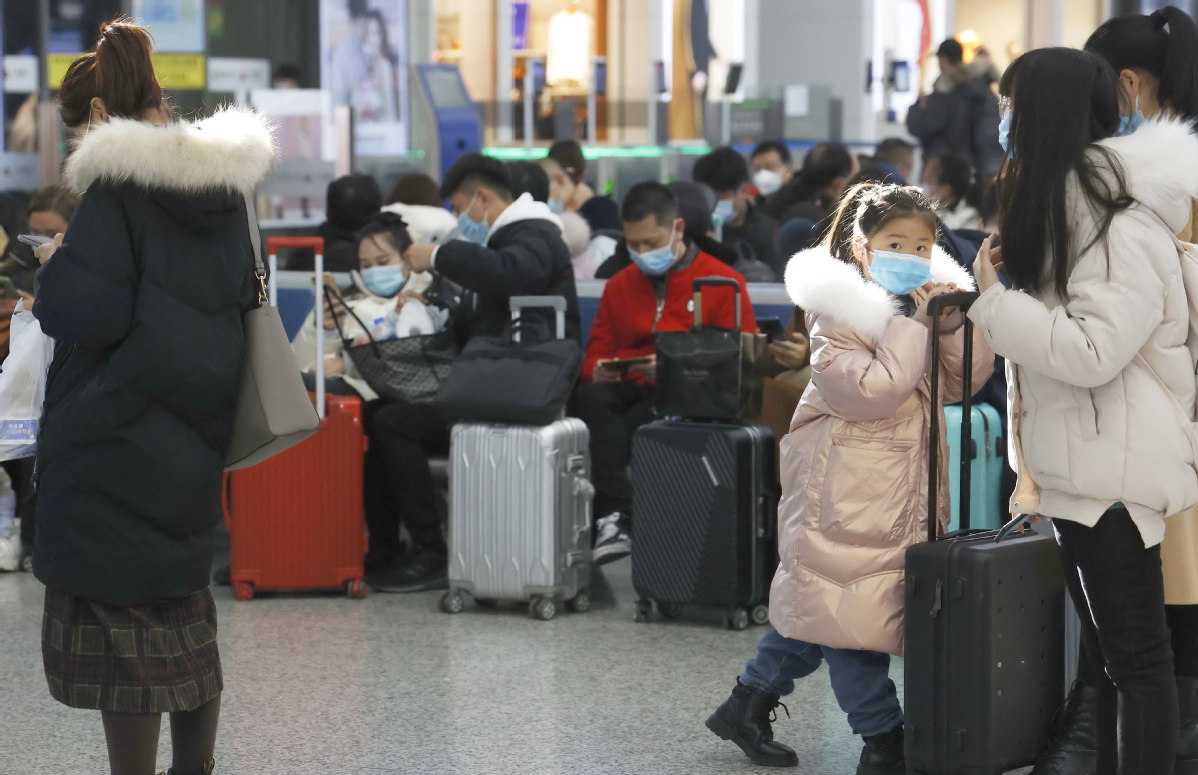 14-day home isolation also required for those heading back for Spring Festival
China's top health authority said on Wednesday that people intending to travel home to rural areas during the upcoming Spring Festival holiday must provide negative novel coronavirus test results taken within seven days of embarkation as part of measures to cope with rising risks of the virus' spread in winter.
About 1.7 billion passengers trips are expected during this year's 40-day travel rush around Spring Festival, which falls on Feb 12. That is down by 40 percent compared to 2019, before the emergence of the virus, but a 10 percent increase on last year, according to the Ministry of Transport.
The projected daily passenger trips-about 40 million a day-are double the current volume, putting the country's disease control work to the test, the ministry said during a news conference.
According to a notice released on the website of the National Health Commission, people returning to the countryside should also isolate themselves at home for 14 days and take nucleic acid tests every seven days.
Details of how these policies will be enforced have yet to be released.
Wang Bin, an official with the commission's disease prevention and control bureau, said that in addition to checking the test results of returnees during the festival, local governments must monitor and record their health status, increase local testing capacity and establish quarantine facilities in preparation for potential outbreaks.
"Local emergency response systems should be promptly activated once a new infection is detected, and the scale of nucleic acid tests should be expanded in a resolute and swift manner," she said. "The designation of areas at medium or high risk must be precise and timely."
In rural areas where loopholes in disease control work remain, Wang stressed that every county must have nucleic acid testing facilities and be able to present results within 12 hours.
"City-level and provincial-level governments should be prepared to send assistance to the countryside when a new outbreak arises," she said.
The tightened policy is being rolled out as a rising number of domestic cluster infections have been reported in recent weeks. Authorities have encouraged people to avoid unnecessary trips during the holiday or to stagger travel to off-peak times as the annual festival for family gatherings will bring increased population movement.
Wang Xiuchun, deputy director of the Ministry of Transport's department of transportation services, said disinfection and ventilation efforts at all public transport stations and airports and on vehicles will be further strengthened during the holiday.
Feng Zijian, deputy director of the Chinese Center for Disease Control and Prevention, suggested the public avoid crowded places or dining in public spaces during the holiday.
"The length of time spent on shopping at supermarkets or eating at restaurants is suggested to be capped at under two hours," he added.
Along with discouraging travel and intensifying testing, Chinese authorities are also carrying out a vaccination campaign targeting key groups aged 18 to 59, including public service workers, port officials and healthcare workers. The vaccine being used was developed by Sinopharm's China National Biotec Group, a State-owned company.
"More than 15 million people have been vaccinated thus far," Wang Bin said. "We will gradually expand the immunization to include children and the elderly."
As virus mutations in some foreign countries fuel concerns about new vaccines' efficacy, Zhang Yuntao, vice-president of the company, said available data show that the inactivated vaccine provides wide-ranging protection against all virus strains circulating around the globe.
"We are also keeping a close eye on the new variants detected in South Africa, the United Kingdom and Nigeria, and have launched tests to assess the vaccine's effect on them," he said.