California steps up rollout of vaccines
By LIU YINMENGin Los Angeles | chinadaily.com.cn | Updated: 2021-01-21 12:07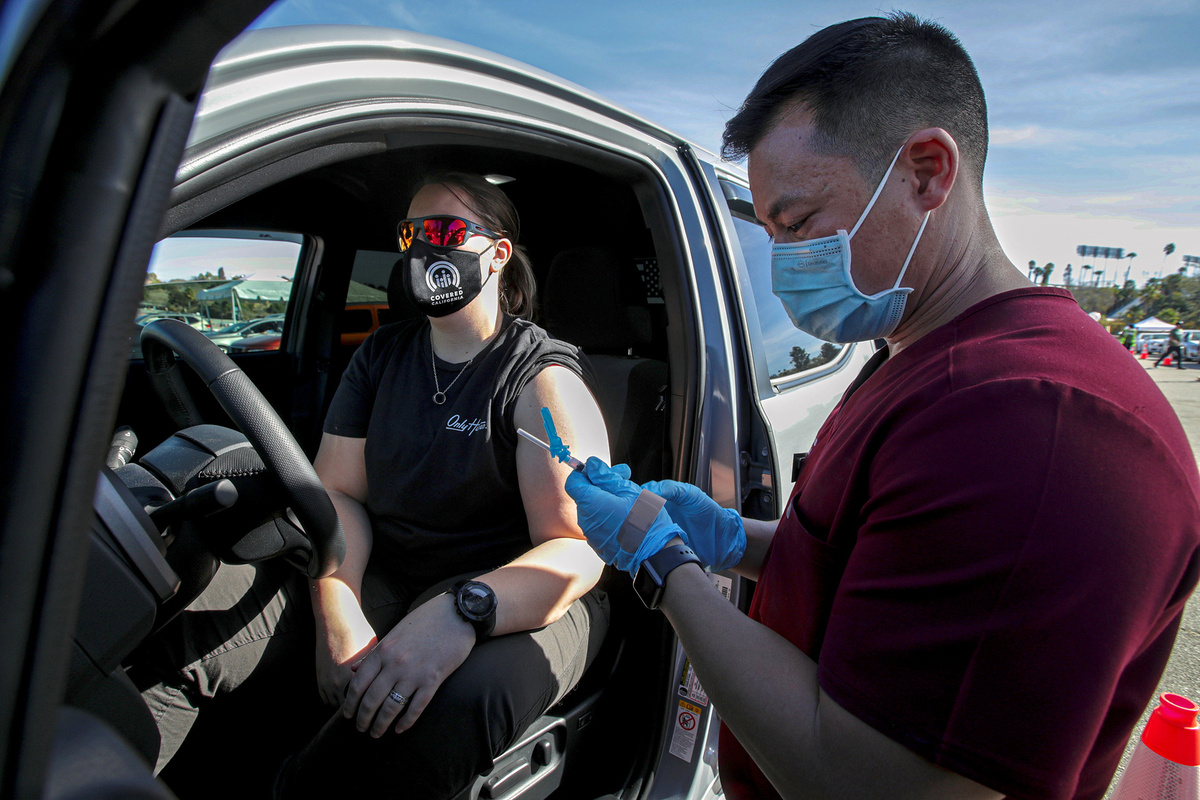 Despite earlier reports of slow vaccine rollouts, California officials said that the state is making steady progress in its mass campaign.
"Today we are reporting 1,525,815 doses administered, so this exceeds our 1 million doses goal," said California Health and Human Services Secretary Dr Mark Ghalyon Tuesday in an update.
"We still have data coming in. It's very much like testing was, where even if a test was administered on a certain day, it took a few days for the data system to catch up and count it as a test," said Ghaly, adding that the state is still tallying up the latest information from Friday.
In the nation's most populous state, 3,019,371 people have contracted the virus and 34,433 have died.
Despite the high caseload number, the state's rollout of vaccinations has so far been frustratingly slow.
According to the latest data from the US Centers for Disease Control and Prevention (CDC), as of Wednesday, California has administered 1,532, 329 shots of the more than 4.2 million doses received from the federal government, which means 3,878 doses per 100,000 residents, one of the slowest rates in the US.
The CDC estimated that 1,255, 311 Californians have received one or more doses, and 273,276 of them have gotten two or more doses.
There have been 35,990,150 doses distributed across the US, and 16,525,281 doses have been administered, the CDC reported.
California officials' assessment painted a rosier picture. California Governor Gavin Newsom pledged to inoculate 1 million more people against COVID-19 in a 10-day sprint.
When Newsom made the announcement on Jan 8, the state already had administered nearly a half-million doses. California had initially hoped to vaccinate 2 million people by the end of 2020, but it fell short of meeting that goal.
"I'll tell you that because of these data delays, that we are confident that even more than the 1.5 million individuals that we captured the data about, we believe that the number is an underestimate of the true number of Californians who have been vaccinated, which is really the ultimate goal and the best news," Ghaly said.
He said that just more than 3. 2 million vaccines have been shipped to California. Officials still are trying to figure out how many doses each health department across the state has already received.
"I know how frustrating it must seem now to folks in LA County. We're not done with our health care workers. And we actually don't have enough vaccine right now to be able to get done more quickly with our health-care workers," Los Angeles County Public Health Director Barbara Ferrer said.
Logistics challenges associated with managing a vaccination site, as well as finding enough clinicians to perform the injections in a strained healthcare system, have all been cited as causes for the slow vaccine rollout.
Healthcare workers in Los Angeles County, the state's epicenter of the COVID-19 pandemic, had received more than 279,000 vaccine doses of vaccine, including more than 219,000 first doses and over 60,000 second doses as of Jan 14, according to the Los Angeles Times. Officials estimated that roughly 450,000 healthcare workers still needed to be vaccinated.
Los Angeles County is now offering vaccine to people only phase 1A. Those eligible include healthcare workers who have the potential for direct and indirect exposure to patients or infectious materials, as well as residents of nursing homes.
County public health officials expected that all eligible healthcare workers will receive their first dose in the next two weeks. They will be able to move on to the next phase of vaccinations in early February.
Those eligible in the next phase include people age 65 and older, those who work in education, child care, emergency services, food and agriculture, as well as homeless or incarcerated individuals.