COMAC: Construction of CR929 wide-body aircraft to start this year
By WANG YING in Shanghai | China Daily | Updated: 2021-01-26 09:29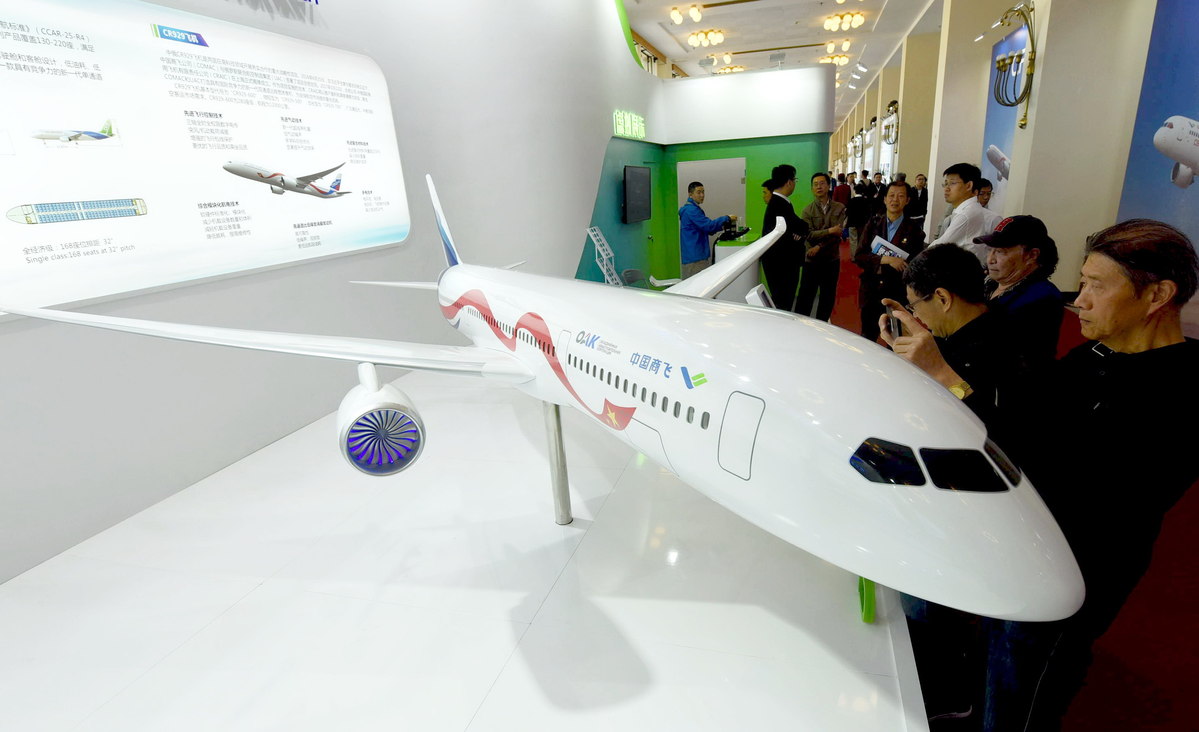 Construction of the CR929, a wide-body commercial jet being developed by Russia and China, is expected to start this year, while the C919, a narrow-body aircraft, will be ready for deliveries, according to officials from Commercial Aircraft Corp of China, which is making both the planes.
Speaking on the sidelines of the annual session of Shanghai Municipal Committee of the Chinese People's Political Consultative Conference, Yang Zhigang, chief technology officer for R&D at COMAC, said the company will soon freeze the aircraft design, which means no further changes would be made afterward, including the actual shape, size, structural materials, systems and key system suppliers.
"If it is possible, we would like to have two or more enterprises as suppliers for the core systems, purely as an insurance mechanism. It is also the international norm," Yang, who is also a member of the standing committee of the CPPCC Shanghai Municipal Committee, told ThePaper.cn in an interview.
The CR929 is jointly developed by COMAC and Russia's United Aircraft Corp. Targeting initially for the aviation markets in both countries, it is also capable of meeting regional and worldwide civil aviation demand. The first standard version of the aircraft, or the CR929-600, would be able to fly 12,000 kilometers with 280 passengers onboard, according to COMAC.
The C919, the nation's first homegrown narrow-body passenger plane, is currently undergoing intensive flying tests, and the first aircraft is scheduled for delivery to its customer within the year, said Yang.
China Eastern Airlines will be the first among global carriers to take delivery of the homemade single-aisle passenger aircraft C919, according to Zhai Zhigang, general manager of OTT Airlines, China Eastern Airlines' subsidiary for operating homegrown aircraft.
For the moment, the C919 prototypes are undergoing airworthiness tests at multiple locations, so that they can meet all the necessary requirements, said Zhai.
On Saturday, the C919 successfully completed flight tests in Hulunbuir in North China's Inner Mongolia autonomous region in extreme weather of-35 C, according to Xinhua Finance, an independent financial information and financial data provider.
The twin-engine, single-aisle C919, which is comparable to the updated Airbus 320 and Boeing's new generation 737 planes, made its maiden flight on May 5, 2017. To date, COMAC has received 815 orders from 28 Chinese and overseas companies.
Quite a few test flights are needed for a commercial aircraft to get the necessary airworthiness certificates and it needs to continuously improve the safety, reliability and economy parameters, said Lin Zhijie, an aviation industry analyst and columnist at one of China's biggest civil aviation websites carnoc.com.
In addition to the aircraft model C919 and the CR929, nearly 50 of the ARJ21 model, a regional plane developed and manufactured by COMAC, are in operation. More ARJ21s are expected to be delivered this year, said Yang.