Biden administration urged to reverse 'China Initiative'
By LIA ZHU | China Daily | Updated: 2021-01-27 07:10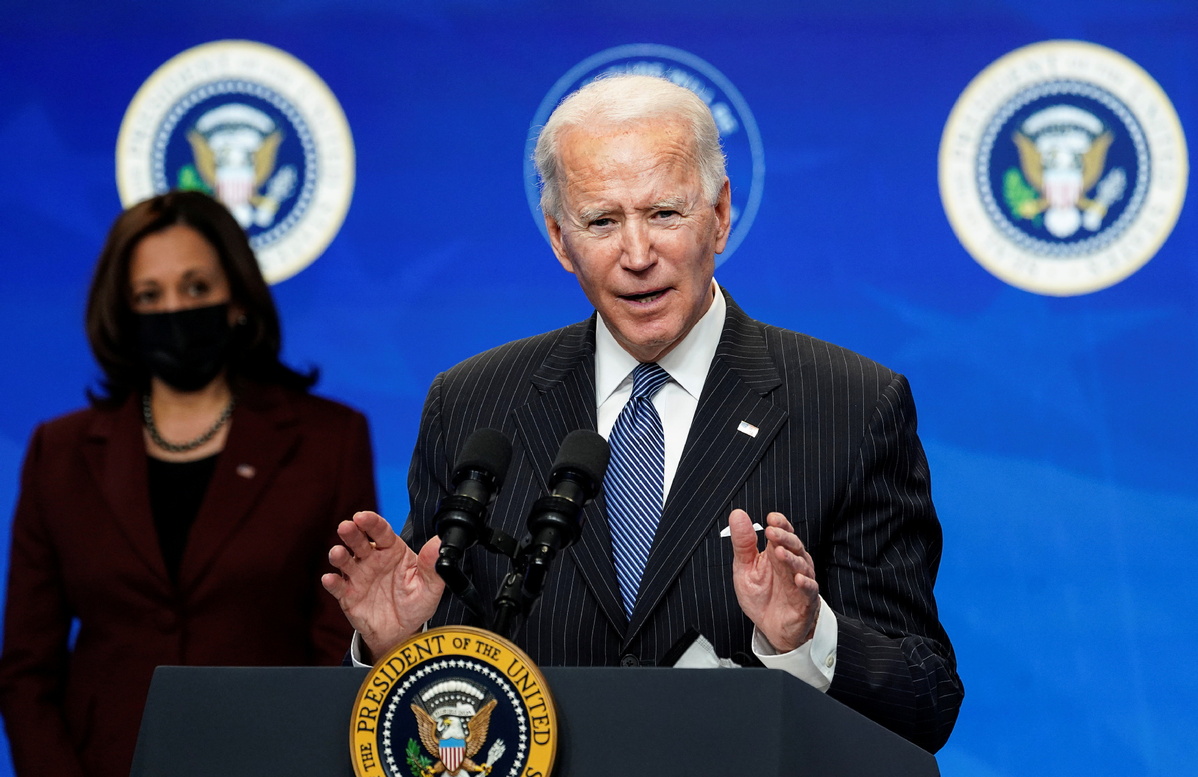 Academics and rights groups in the United States are calling on US President Joe Biden to reverse the Justice Department's "China Initiative" which they said harms US science and research by profiling scientists with ties to China.
The administration of former US president Donald Trump launched the "China Initiative" in 2018 with the aim of investigating cases of economic espionage. The program has resulted in dozens of prosecutions.
The latest case is that of Gang Chen, a professor and nanotechnology expert at the Massachusetts Institute of Technology who was charged with failing to disclose to the US Department of Energy millions of dollars in funding he allegedly received from China. He was arrested and released on bail this month.
Feng Tao, a professor of chemical engineering at the University of Kansas, was charged in 2019 with not disclosing on conflict-of-interest forms work he was allegedly doing for China. He was the "first victim tested by the government with the absurd prosecution theory under the China Initiative", according to an online fundraiser initiated by Tao's wife, Hong Peng. More than $207,000 has been raised so far.
"Researchers may not fully understand what they need to report on their grant proposals. Yet we face criminal prosecutions if we made an honest mistake in missing the disclosure requirements somewhere," Xiaoxing Xi, a professor of physics at Temple University, said at a webinar hosted by the physics department of Harvard University on Monday.
Xiaoxing Xi was arrested in May 2015 on charges of having sent restricted US technology to China. After experts signed affidavits testifying to his innocence, the federal government dropped the case in September 2015.
"This is scary. Personally, it makes me extremely nervous when applying for federal funding. In particular, when the DOJ (Department of Justice) uses funding to determine the damage caused by your crime, the more federal funding you get, the more serious your crime is," he said.
"So it has affected me in a very significant way. My research program is much smaller than it used to be before I was arrested," he added.
Calling Xiaoxing Xi's arrest a "tragic situation", Neal Lane, professor emeritus of physics and astronomy at Rice University and former director of the White House Office of Science and Technology, said few people in the Justice Department really understand what research is all about, how it is done and how it is shared, and they don't consult with anybody outside the agency.
"The 'China Initiative' is so clearly politically motivated, and has infected, I would say, quite a number of people in Congress on both sides of the aisle. The anti-Chinese rhetoric is also political, and to a great extent, is racist," Lane said at a recent webinar.
Anti-racism organizations also are urging the Biden administration to end racial profiling of Chinese scientists and researchers, especially under the "China Initiative".
The program has led to "the wrongful targeting and prosecution of Chinese scientists" and "has created a climate of fear and caused irreparable personal and professional harm to individuals and their families", said Stop AAPI Hate, a national coalition aimed at addressing anti-Asian discrimination.
"We call upon the Biden-Harris administration to end this program immediately, to drop investigations where no evidence of wrongdoing has been produced and to issue a formal apology for government abuse," the organization said.
In a Jan 15 letter to Biden, Asian Americans Advancing Justice and over 60 other organizations urged the government to immediately end the "China Initiative", which they said is based on the unlawful and bigoted premise that scientists of Chinese descent should be investigated without evidence of wrongdoing.
'Remedial action' urged
"Within the first 100 days of the Biden administration, the Justice Department should review all 'China Initiative' prosecutions and investigations … to determine whether these cases targeted individuals based on their race, ethnicity or ancestry, and, if so, take remedial action to prevent such profiling in the future," said the letter.
"This is a time when all of us and our federal agency should be exploring ideas to expand international cooperation, especially with China because of its scale," Lane said.
"China has many more scientists and engineers than the United States. We will never match China in terms of scientists, engineers, publications, probably patents. The way we will compete with China is by better educating our own people and continuing to encourage smart people to come from all over the world, study here, set up their careers, stay in America, contribute to the growth of the economy," Lane said. "And if we give that up, it's a dark future for America."