Dutch cities enforce curfew with emergency measures put in place
By JONATHAN POWELL in London | China Daily Global | Updated: 2021-01-28 09:34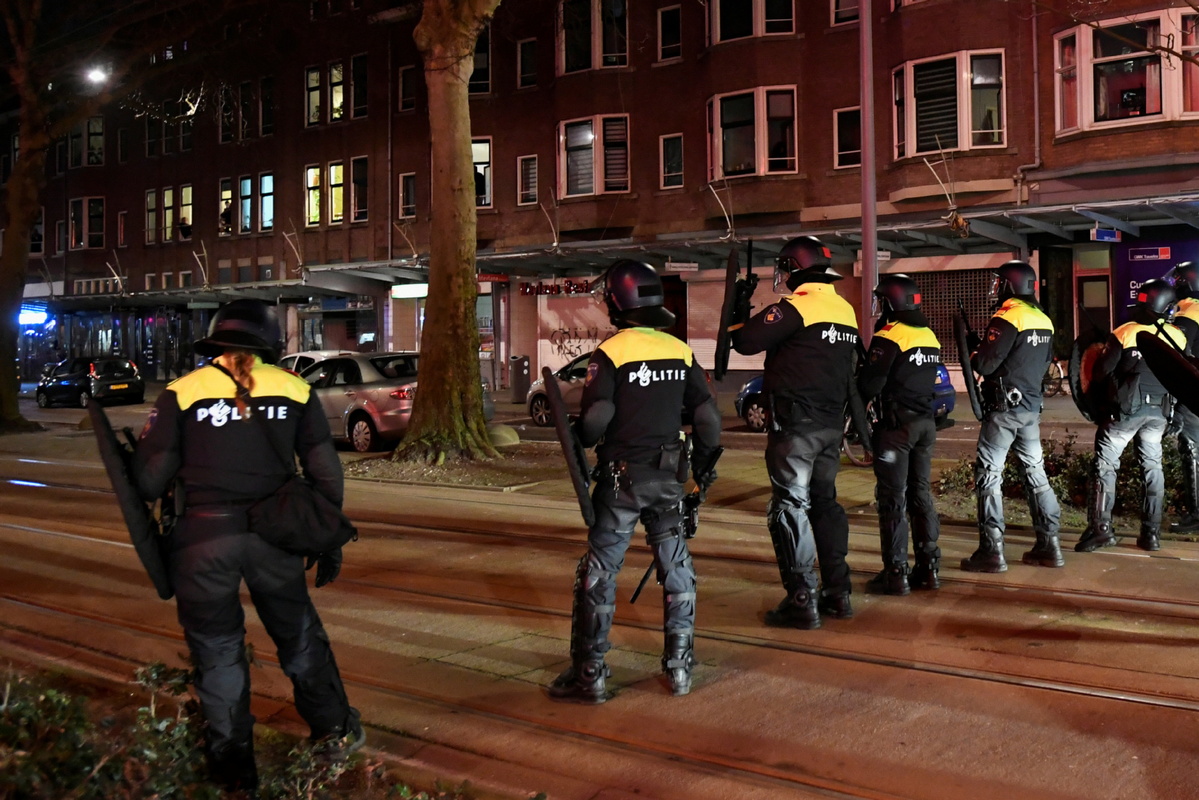 Following a third night of violent rioting in towns and cities across the Netherlands, the Dutch government said it would continue to enforce a strict night-time curfew set on Saturday that prevents people from leaving their homes from 9 pm to 4:30 am.
It was relatively calm in Dutch cities on Tuesday night as emergency ordinances were in place to give law enforcement greater powers to respond to the rioting, during which nearly 500 people were detained and thousands fined, Reuters reported.
On Monday night, in violence triggered by the curfew, set in an effort to curb novel coronavirus infections, roaming groups of rioters set fire to vehicles, threw stones, ransacked and looted stores, and in one case attacked a hospital.
Agence France-Presse quoted the Dutch chief of police, Henk van Essen, as saying the riots no longer had "anything to do with the basic right to demonstrate".
Protesters clashed with riot police in Rotterdam and Amsterdam, and trouble also flared in Den Bosch, Zwolle, Amersfoort, Alkmaar, Hoorn, and Gouda, "where several cars were set on fire", and in Haarlem, "where police were attacked with stones", The Guardian reported.
Police used tear gas, mounted troops and water cannons to disperse rioters after protests were banned and demonstrators asked to go home, agencies reported.
Most rioters were youths or young men, who reportedly used social media apps to organize, officials said. The worst disturbances were in Rotterdam where police said 10 officers were hurt, the BBC reported.
Several cities have issued emergency decrees giving the police broader powers of arrest, the Associated Press reported.
"These people are shameless thieves, I cannot say otherwise," Rotterdam mayor Ahmed Aboutaleb said.
An appeal was issued nationwide on Tuesday evening calling on parents to keep teenagers indoors.
The Netherlands has seen demonstrations against restrictions for many months, but this is the first time there has been serious violence.
The 9 pm curfew, the nation's first such social restriction since World War II, was implemented following a warning by the National Institute for Health over a new wave of infections due to the variant of the virus first detected in the United Kingdom, and was imposed despite weeks of declines in new infections, the Telegraph reported.
The Netherlands has had nearly one million confirmed COVID-19 cases, with more than 13,650 deaths.
One expert suggested some peaceful protests may have been "hijacked" by people looking for violence.
Quoted in The Guardian, a leading Dutch criminologist, Henk Ferwerda, said the riots involved "virus deniers, political protesters and kids who just saw the chance to go completely wild - all three groups came together".
Prime Minister Mark Rutte condemned the acts of "criminal violence" and said the riots would not affect the measures in place. "The curfew remains necessary. It is the virus that is robbing us of our freedom," he said.
After resigning last week over a social welfare scandal, Rutte's government is acting in a caretaker capacity before the election, scheduled for March 17.