East Century uses big data for flood control
By WANG XIAOYU and YANG JUN in Guiyang | China Daily | Updated: 2021-02-02 10:11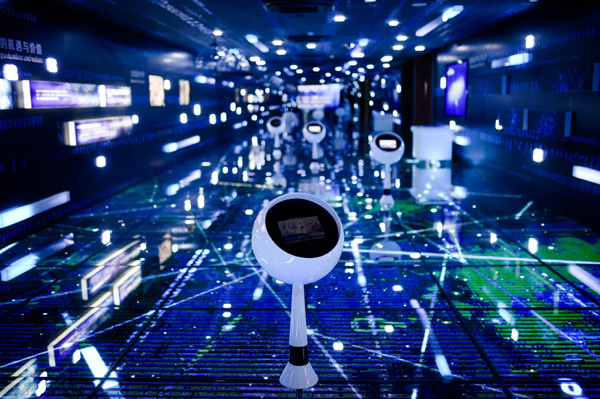 As climate change heightens the threat of flooding, a big data and cloud computing company in Guizhou province is intent on harnessing a range of information to track risk factors and send alerts in a rapid and cost-effective manner.
The conventional method for predicting floods relies on setting up physical hydrometric stations in high-risk areas. Based on information transmitted from sensors placed near waterways, a number of variables are monitored, including water level, flow rate, temperature, rainfall and evaporation, and then analysis is conducted accordingly.
The method is effective and essential, but the caveat is that to increase its precision inevitably requires investing more in infrastructure, said Li Tao, chief engineer at Guizhou East Century Science& Technology, a company founded in 2000 in Guiyang, capital of Guizhou province.
With extreme weather shifts becoming more common, it is not feasible to continuously establish new hydrometric stations in every area deemed as flood-prone, Li said.
The company, set up in the city regarded as the epicenter of China's emerging big data scene, has instead looked to the digital sphere to tackle mounting flood hazards.
The novel warning system, known as East Auspicious Clouds, first aggregates meteorological and geographic information, as well as data on water bodies and rainfall, from different government departments and research institutions.
Both real-time and historical data are fed into an analysis model that boasts one of the fastest speeds in the world to complete one session of comprehensive analysis of all data at hand.
"The system breaks from the traditional flood forecasting mechanism that usually costs a lot in terms of construction and equipment maintenance. It also covers a much wider range of areas and achieves a high precision rate," Li said.
"The traditional sensors measure the amount of water on the ground. By comparison, the system begins calculating and forecasting the amount of rainfall when raindrops begin forming from water vapor in the air," he said.
Yu Linmei, deputy general manager of the company, said in an earlier interview that the system is able to renew its alerts every 15 minutes. The normal speed for domestic counterparts is one hour to 90 minutes, and for most advanced global competitors about 30 minutes.
On average, the system is able to issue warnings for small and medium-sized bodies of water about one to four hours in advance. The window of opportunity for early preparedness is estimated to reduce economic losses by up to 90 percent, according to the company.
The idea of tapping into big data's potential for flood prediction work was first hatched in 2014. The first version of the system was rolled out in 2018 and the second in May 2019.
So far, the system has been mainly applied in Guizhou province and is also making headway in other parts of the country, the company said.
In June, the system had successfully predicted 10 hours in advance that a stretch of railway tracks connecting Guizhou and Sichuan provinces were at risk of being submerged.
The information enabled the railroad authority in Chengdu, capital city of Sichuan, to take precautions and minimize the flood's disruption to regular rail service.
"Imagine how many more physical sensors are needed to obtain such information. For the system to sharpen its sensitivity and accuracy, the key is to gather as much data as possible. The more the data, the better the outcome," Li said.
However, he added that the system at the moment only acts as an additional source of information for decision-making provided to those responsible for gathering insights from various parties before taking adequate precautions.
Predicting natural disasters is extremely complicated. None of the experts in the industry can assert that their projections are absolutely correct, but it is always helpful to see the issue from another perspective, he said. Li added that it will take time for flood-prevention workers and authorities to learn and adopt a brand-new system that overturns the conventional method and uses novel technologies such as big data and cloud computing.