Sunak to resist pressure to make tax-increase U-turn
By JULIAN SHEA in London | China Daily Global | Updated: 2021-02-03 09:52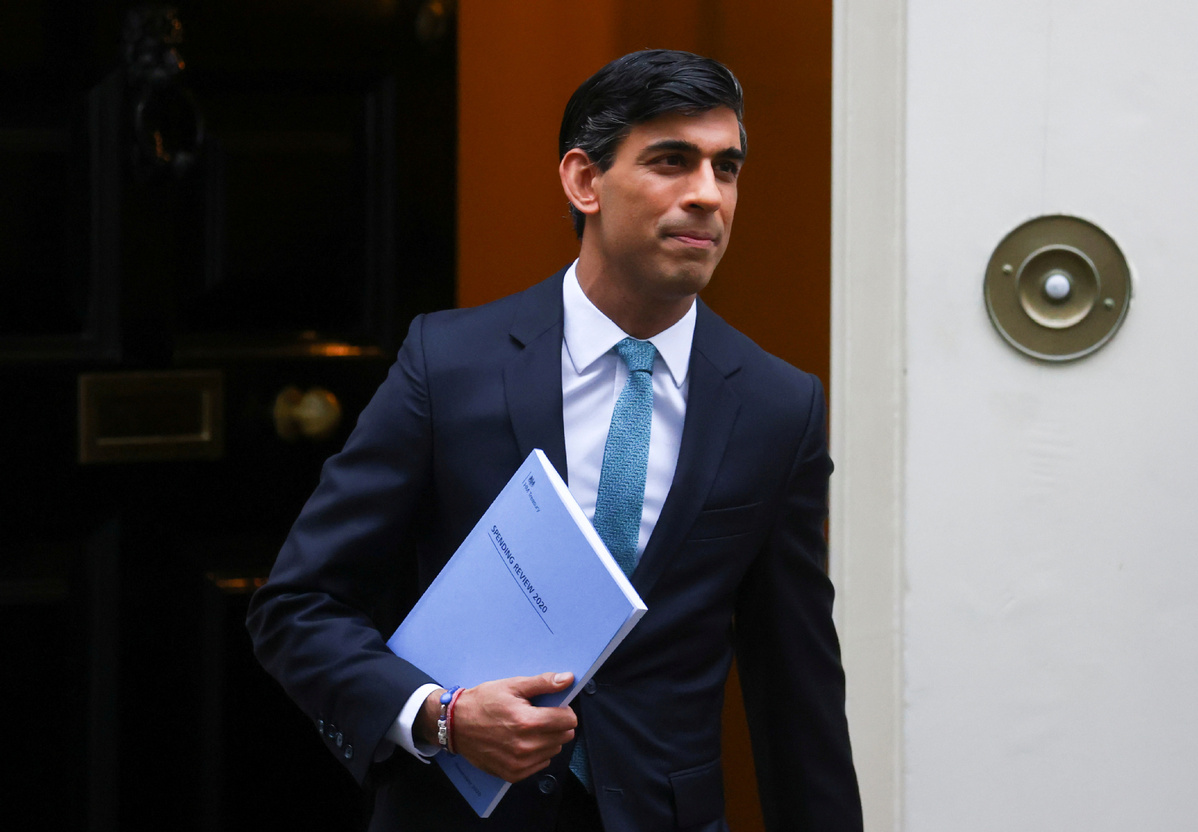 Britain's chancellor of the exchequer, Rishi Sunak, will reportedly resist pressure to go back on one of the government's key election manifesto promises and will not be raising income tax, national insurance or VAT in his budget, which is due to be unveiled at the start of next month.
With around 280 billion pounds ($382 billion) having been spent so far on fighting the novel coronavirus pandemic, and government borrowing on course to hit 400 billion pounds for this financial year, which would mean the highest ever budget deficit outside wartime, Sunak had faced calls to abandon the 2019 election pledge not to increase any of those taxes for five years.
A close adviser to the chancellor told the Financial Times that reversing a manifesto promise "would be a betrayal of trust, pandemic or no pandemic … it was a very significant pledge at the last election." However, that means the burden could be shifted elsewhere in the tax system, with corporation tax or capital gains tax possibly being increased instead.
Last October, the International Monetary Fund said Britain's ongoing budget deficit, which is likely to remain after the pandemic is over, made it likely tax rises would be necessary, but advised that they should not happen until the recovery was on a solid footing.
The Financial Times reports that there have been tensions between Sunak and Prime Minister Boris Johnson over potential tax rises, something Johnson is described as "instinctively opposing".
David Gauke, a former Conservative Treasury chief secretary who sat briefly as an independent MP after disagreements over Johnson's Brexit policy, said: "Rishi is serious and wants to sort out the public finances. I would be very surprised if that was the priority of the prime minister."
The Daily Telegraph reports that an alternative target for taxation revenue could be fuel duty, which has been frozen since 2010, in which time it is estimated to have cost the government 5.5 billion pounds each year.
Last week, Sunak told a meeting of the influential Conservative backbench 1922 Committee that imposing any necessary tax increases sooner rather than later would give him greater power to cut them in the run-up to the next election, in 2024, which would be popular with the public.
However, members of Parliament from the so-called Red Wall of traditional Labour Party seats across the Midlands and North of England won by the Conservatives in the 2019 general election, tipping the balance of power their way, have warned against taxation policy that could be seen as being regionally biased.
"Fuel duty and beer duty are basically Red Wall taxes, because if you're a Londoner, you probably don't have or need a car, but families in towns in the North and Midlands do," one unidentified MP told the Telegraph. "Alcohol consumption is also higher in the North."