Winter economy booms amid big freeze
By ZHENG YIRAN | China Daily | Updated: 2021-02-11 11:03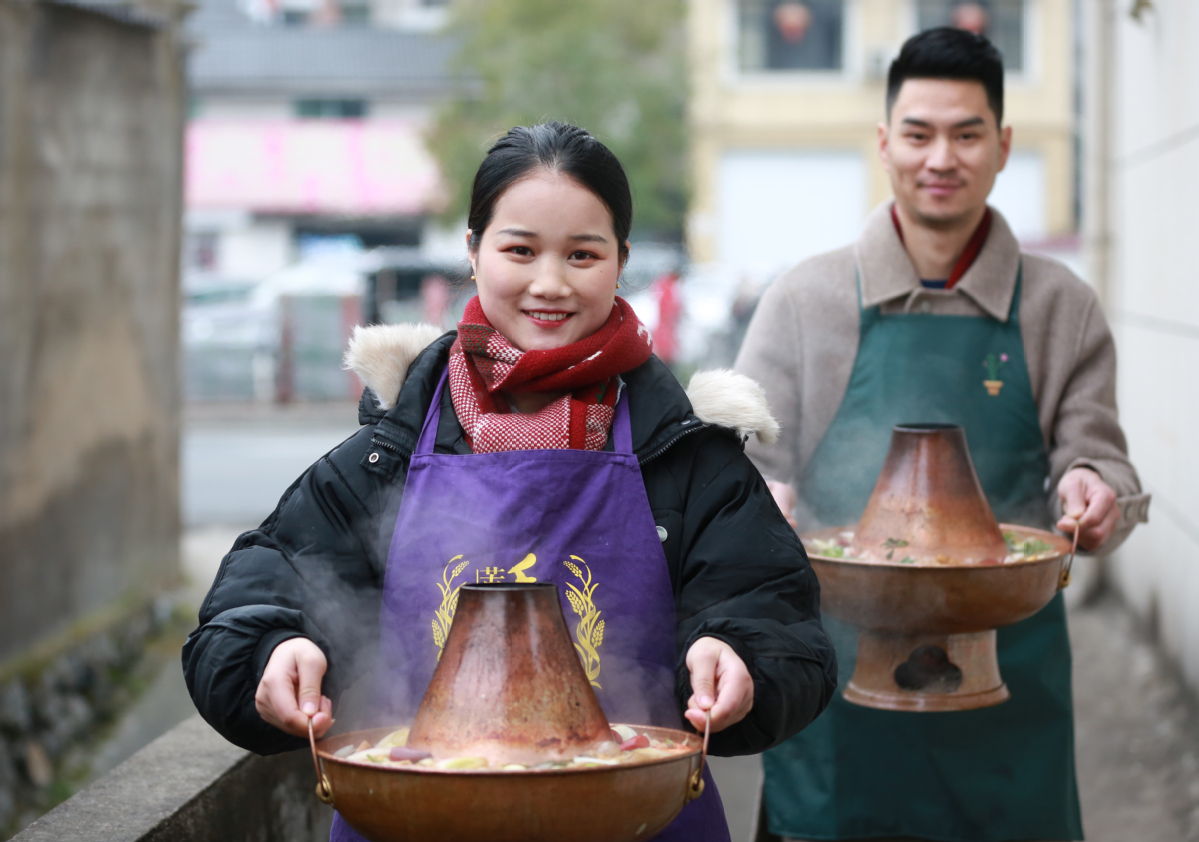 Beijing and Shanghai lead Chinese cities in bumper sales of outerwear, hot food and heating products
On a typical afternoon in January, Hu Yuan, operations manager at Beijing-based New World Department Store China Ltd, busily checked the showcase in the shop floor display area and nicely adjusted some coats and jackets, to make an impression on consumers visiting the shopping mall.
January happens to be the make-or-break month for sellers of winter products. Typically, consumers load up before the start of the Spring Festival holiday, and tend to steer clear of woolen wear and similar goods later.
For retailers in China, particularly those in Beijing, the winter economy ends around late February. Hu is intent on making the most of every shopping day until then, given recent new COVID-19 cases in Beijing and subsequent lockdowns in a couple of districts of the national capital.
"This winter has been extremely cold. The sales peak for coats arrived 45 days earlier than usual. Spring Festival is fast approaching, and so is the concern about epidemic prevention and control. As retailers, we've been fully prepared," Hu said in January.
Data from the National Meteorological Center showed that on Jan 7, Beijing shivered at minus 19.6 C, the coldest temperature since 1966.
But retailers tended to see the brighter side of the story, which is the so-called winter economy, or the season's consumption activities that span warm clothing, heating devices, hot food, and hot springs to soak feet in.
"At each garment store, we reserved the prime display area for down coats. Since the cold wave arrived in Beijing earlier than normal, consumer demand for coats surged. Therefore, we launched the winter catalog 45 days earlier than usual. The number of down coats we sold between Dec 22 and Jan 12 surged 20 percent year-on-year," Hu said.
At Uniqlo outlets in Beijing, store displays of warm clothing are changed every week. Seamless down jackets, which prevent slippage of down feathers from inside the jacket, and polar fleece jackets, found pride of place for weeks in succession.
Uniqlo launched its "Heattech "series this winter. The warm clothing series incorporates its exclusive self-heating technology and comes in three versions: Heattech, Heattech Extra Warm, and Heattech Ultra Warm.
To keep consumers' feet warm, US footwear maker Skechers launched the 4.0 version of its bestseller D'Lites series.
"The 4.0 version adopts ultra-thick soles, so that even on freezing cold days, its wearers can still stay warm," said a shop assistant at a Skechers store in Beijing.