Chinese New Year celebrations in Canada
By Zachary Wayne | chinadaily.com.cn | Updated: 2021-02-17 09:16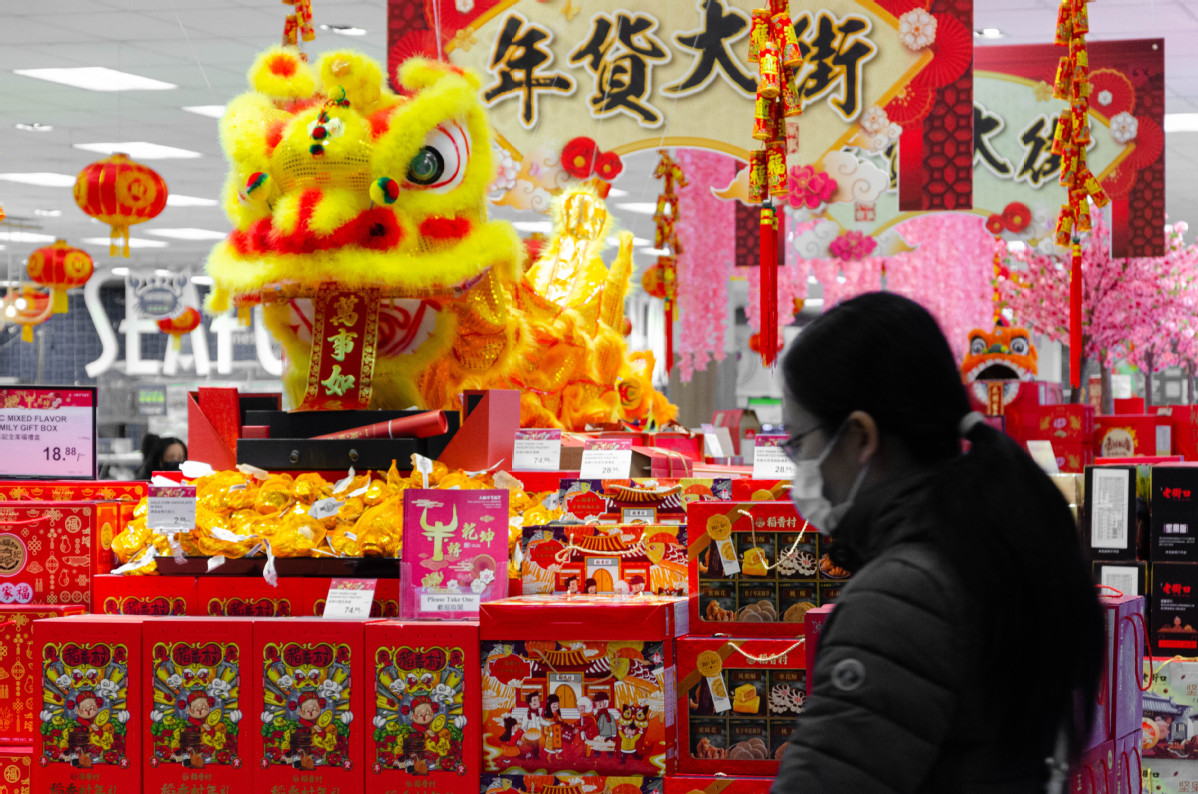 Last December Canadians spent the most bleak, fun-deprived Christmas ever due to COVID-19 restrictions. This week, many Canadians, particularly those of Chinese descent, had to let go of another occasion for fun – the Chinese New Year (also known as Lunar New Year or Spring Festival), which fell on Friday, Feb 12 this year – as the number of novel coronavirus cases remains high and health authorities decided to keep the restrictions in place indefinitely.
In years when there isn't a pandemic, Chinese New Year celebrations are held in major cities across Canada, notably Vancouver, Toronto and Montreal. Festivities usually feature a parade through downtown or Chinatown, lion and dragon dances, multicultural performances, New Year banquets and street fairs. Traditionally, among the widely recognized highlights of festivities in Canada are the parade in Vancouver's Chinatown, which draws 100,000 spectators to watch over 3,000 performers, musicians and dancers (including the best lion dance teams in Canada) putting up a show along a 1.3 kilometer route, and the temple fair at the nearby Dr. Sun Yat-Sen Classical Chinese Garden.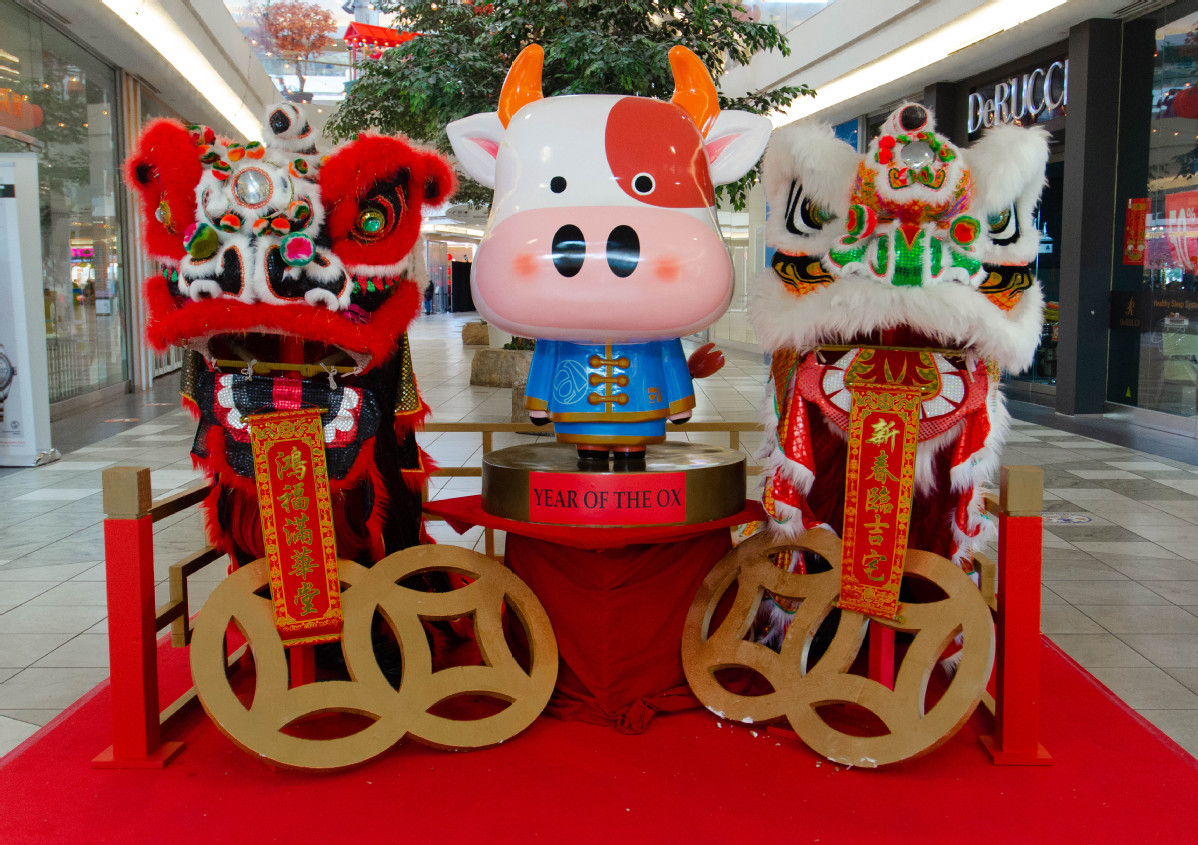 Today the Chinese New Year is celebrated well beyond familiar venues like Chinatown. In Vancouver and neighboring cities like Richmond and Burnaby, lively decorations adorn many public spaces in the run-up to the Lunar New Year. The International Village Mall (Vancouver), Aberdeen Centre (Richmond) and Metrotown (Burnaby) for example, decked out in red and gold at such times, host free and family-friendly activities such as lion dancing, live music and other forms of entertainment on New Year's Day. In schools where there is a sizable Chinese international student population, kids don red and yellow to welcome the New Year and celebrate the cultural diversity in their midst.
Just as it has been with their ancestors for millennia, the Chinese diaspora in Canada spend the New Year renewing kinship, reconnecting with friends and looking forward to a better year ahead. The New Year's Eve is almost always spent with family over a sumptuous dinner. The first few days of the new year, people visit each other and exchange New Year wishes. It is also a time to catch up on news, meet new friends, and share information and ideas about the future.
The Chinese New Year is a good time for business and children, too. Shopping malls and supermarkets stock up New Year merchandise to attract patrons as New Year shopping is a big part of the Spring Festival and helps these retailers boost sales and revenues. Similarly, children and young adults fatten their piggy banks or savings accounts by coaxing red envelopes out of their parents, elder relatives and bosses during the first fortnight of the New Year.
While the Lunar New Year is celebrated in pretty much the same spirit in Canada as in China, there are a few noticeable differences. Whereas in China people get a weeklong holiday for the Spring Festival, Chinese living in Canada do not take days off as the Chinese New Year is not a statutory holiday -- people simply make time to honor the tradition. In their home country everyone is an actor and spectator in the annual New Year drama; here in Canada most Chinese largely celebrate the New Year for their own sake, but publicized programs take on an added look of performance as the promoters, most notably historical Chinatowns, struggle to keep their small-enclave culture alive while adapting to relentless changes. The drawing of hundreds of thousands of spectators goes some way in creating vibe and interest in their favor.
Other differences are more subtle. I recall a New Year banquet I attended years ago. I had expected a few welcoming speeches, a lion dance and performances given by cute little kids. What I hadn't expected was then Vancouver mayor Gregor Robertson showing up and talking at length about his planned trade mission to China. Even more surprising was to see politicians from neighboring ridings handing out red envelopes (containing token amounts – usually a quarter coin) alongside the Fortune God, decked out in his silk robe and pompom headdress, dispensing New Year blessings. It was quite amusing to see Canadian politicians competing with Chinese deities in nurturing a bond with Chinese Canadians.
Few know exactly when Chinese New Year celebrations caught on in this part of the world. The first Chinese to settle in Canada came in the late 18th century to assist in the building of a sea otter pelt trading post in Nootka Sound. The 1858 Fraser River Gold Rush drew more Chinese immigrants from San Francisco. During the 1880s between 7,000 and 17,000 Chinese coolies were brought in from southern China to help build the western section of the Canadian Pacific Railway. Many stayed after the transcontinental railway was completed, making a living as laundry cleaners, shop owners, small restaurateurs or domestic helpers. It is hard to imagine these people bothering with a Chinese New Year extravaganza as we know it today. The current tradition began in 1979 when the Chinese Benevolent Association of Vancouver put together the first high-profile parade through downtown Vancouver.
This year COVID-19 has changed everything. Instead of gathering in person to celebrate the Spring Festival, people hunker down at home, staying connected with family and friends via WeChat or Douyin. They also get creative by doing things that are safe -- sharing Chinese New Year menus, painting and hanging up New Year couplets on door posts, trying out traditional costumes, exchanging gifts within the small family bubble, or watching the Chinese New Year party broadcast on CCTV. The novel coronavirus pandemic may have disrupted the usual festivities, but the popularity of Chinese New Year remains. On New Year's Day, CBC Radio ran a half-hour program bringing in guests to share the Chinese culture of having dumplings during the Spring Festival and the many examples of symbolism embedded in this tradition.
Let's hope next year everyone will be able to enjoy the Chinese New Year to its fullest.
The author is a teacher in British Columbia, Canada.
The opinions expressed here are those of the writer and do not necessarily represent the views of China Daily and China Daily website.
If you have a specific expertise and would like to contribute to China Daily, please contact us at opinion@chinadaily.com.cn, and comment@chinadaily.com.cn.